How To Do A Smoky Eye With Natural Makeup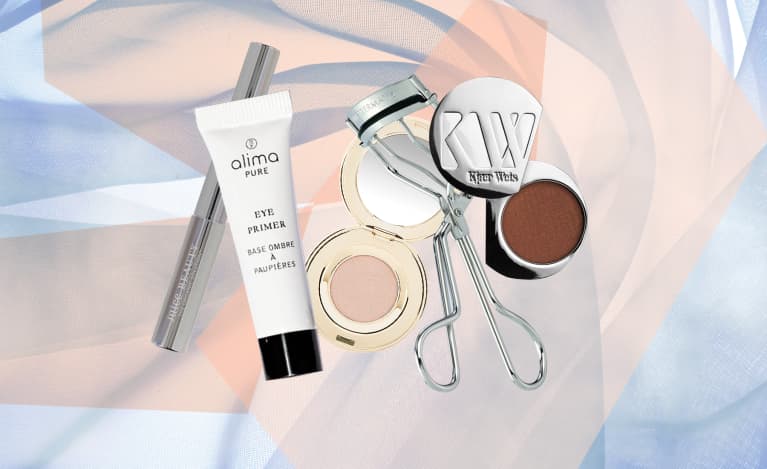 Our editors have independently chosen the products listed on this page. If you purchase something mentioned in this article, we may
earn a small commission
.
"As a veteran makeup artist, a smoky eye is probably the No. 1 thing women ask me to teach them," said Jessa Blades, an mbg Collective member, makeup artist, and herbalist who is well-known for her natural approach to skin care and makeup. It's true—learning how to master a smoky eye isn't a life skill everybody learns, but it does come in handy!
First, a few pro-tips on the smoky eye.
For years, you had to choose between "going green" and wearing makeup, but thanks to major innovations in the natural beauty space—particularly around makeup—that's no longer the case. Many brands have stepped up their formulation games, creating products that are as creamy, pigmented, and saturated as trusty, conventional favorites.
"A smoky eye is so personal," Blades said. Don't get too caught up in doing the technique perfectly—she encourages you to use her tutorial as a guide and to have fun experimenting with colors, brushes, and your own flair. She also insists that the smoky eye isn't as intimidating as it looks. "It's easy to master once you understand the 'theory,'" she said, which is that a successful smoky eye is a balance of contrast and blending.
If you're doing a full makeup look, she recommends starting with your eyes before applying foundation or other face makeup. That way, any excess powder and product that falls onto your cheeks can be easily removed without ruining your handiwork. "It's a lot of doing and checking and doing and checking," she said. With makeup and specifically a smoky eye, it's important to have a light hand at first. You can always go back in and add more, but removing makeup is more difficult. Last but not least, use squeaky clean brushes.
Now that you're imbued with some smoky eye wisdom from one of the best natural and holistic makeup artists on the planet, we leave you with Blades' official tutorial, including all the tools and products she recommends for an easy-to-wear smoky look.
What you'll need:
primer
3 brushes: a small, flat brush for your lighter color, a pointy brush for smudging, and a contour brush for your darker color
access to water or a spray hydrosol
one skin-tone eye shadow color
one darker-than-skin-tone eye shadow color
one dark eyeliner
mascara
eyelash curler
highlighter
With the small lid brush or your finger, coat your lid in primer from your lash line all the way up to your crease (where the top of your eyeball meets your eye socket). It's crucial to let it dry before beginning the next step.
Blades likes the ingredients in Alima Pure's eyelid primer but says you might need to splurge on Urban Decay or another "conventional" primer if you have oily lids. "It's OK to use one or two conventional products here and there, as long as it's not your daily practice," she said. It's all about the balance.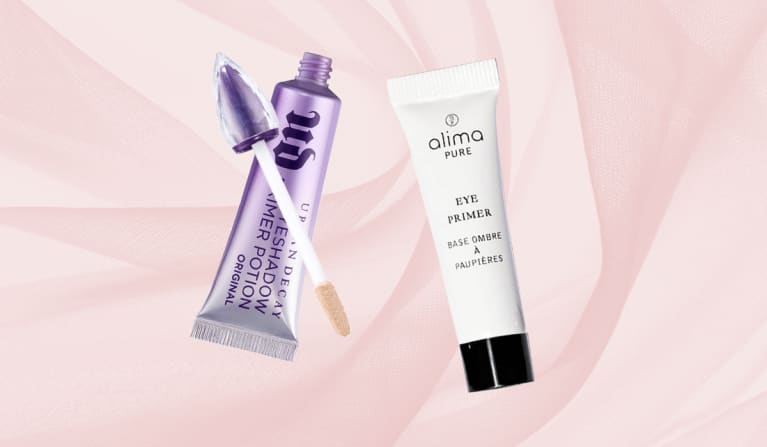 2. Apply your underlayer.
Jane Iredale's Pure Pressed Eyeshadow has a lovely selection of neutral shades that work for a wide range of skin tones. Choosing your color depends on your skin—select one that's closest to what your eyelid skin looks like when it's wet. For example, Blades likes working with the "Allure" shade on herself.
Add a drop of moisture to the same brush you used for your primer. It's designated for your lighter color—don't use it for anything else! When you're adding moisture, be careful not to go overboard. You can spritz it with toner or hydrosol, or use a single drop of tap water. Then, take the lid color and apply it everywhere you put primer in windshield-wiper strokes.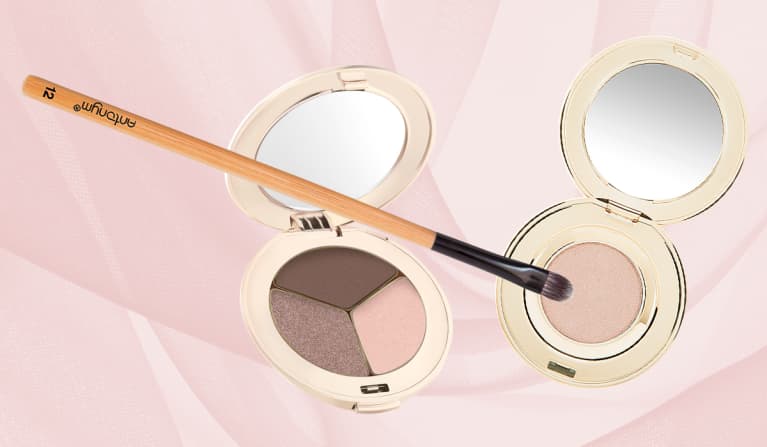 Starting at the outer part of the lid and moving in toward the center, draw on your liner as close to the lash line as possible. Stop when you get to the center of your lid—you can always make the look more dramatic by bringing the line in toward your nose but stopping halfway gives the smoky eye a softer, more wearable look. Blades prefers pencil like Alima Pure or Jane Iredale because it lends itself to smudging nicely, but if you want something more precise, a liquid liner will do the trick.
Then, if you used pencil, take some liner and apply it to the bottom lash line about halfway across. For a more dramatic effect, you can always elongate the line into the inner eye later.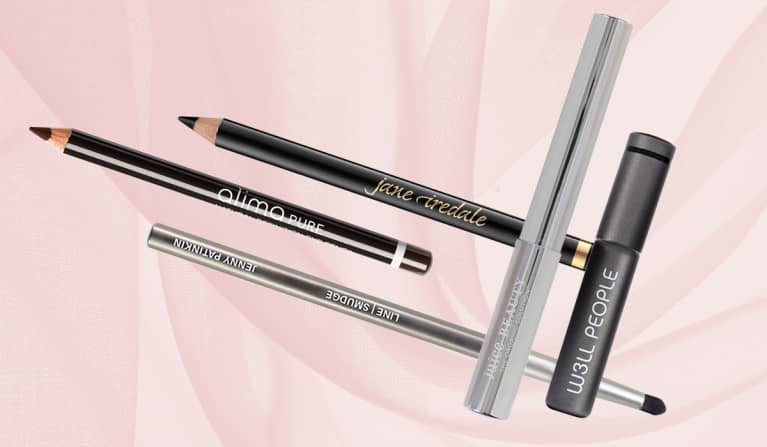 If you used liquid liner, skip this step. Otherwise, using a pointier brush like this one by Jenny Patinkin, gently smudge and soften the top and bottom liner. You can use short, quick strokes to smudge the lines to your liking.
This is probably the most crucial part of the smoky eye and is usually the step where people make mistakes. Using a contour brush like this one by Alima Pure, which is a little more round and flat-bristled than your primer/light shadow brush, moisten it. Again, a drop of water or a spritz of toner is all you need! Take the brush into the dark color, pick up a tiny bit, and wipe any excess off on the back of your hand or a tissue.
Apply it to the lid on the outer corner of the eye, below the crease, keeping it as close to the lash line as you can. Then, using a windshield wiper motion, add color into your crease—the soft spot between your eyeball and your eye socket. "I think of it as a sideways V-shape," Blades said. To keep your smoke subtle, stop here. But if you want to play with drama, there are some smoky eyes that have dark all the way across the lid. some have it just on the outside.
A note on choosing your contrast color: Have fun! Brown, black, gray, dark green, aubergine, and navy are all solid choices, per Blades. Kjaer Weis makes rich, dark shades—Transcend is great for a warm-toned smoky eye, and Onyx is ideal for a full-on smolder, Blades suggests. For a wider and more affordable selection of neutrals with varying amounts of shimmer, try p/y/t's no BS palette.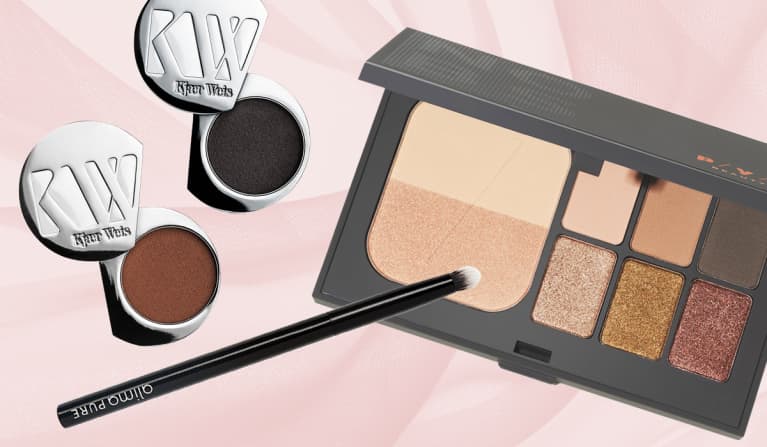 Now's your chance to correct any mistakes and blend the colors together so they take on a more cohesive look. Using the brush saturated with your lighter color, go back across the lighter areas first. This can also work like an eraser—if you've made a mistake with the darker color, or if added too much, fix it here.
It's time to put the finishing touches on your masterpiece. Mix the pointy brush you used to smudge your liner into your dark shadow color and go over the top and bottom lash line. Then, add a touch of the light eyeshadow or highlighter to the inner corner of your eye. Blades likes Maya Chia Afternoon Delight.
To polish off the look, curl your eyelashes close to the root—Blades uses this solid standby by Tweezerman—and add two coats of mascara. The one she carries in her shop is a 2018 mindbodygreen Beauty Award winner!
With a smoky eye, you'll also want to make sure your brows are done. Check out Blades' brief video tutorial on brows if you're not sure where to start.