January 13, 2017
When my husband and I got engaged last year, the sheer thought of planning a traditional American wedding was enough to make me want to elope.
As a self-described environmentalist, minimalist, and overall conscious consumer, I wanted nothing to do with the incessant waste and over-the-top spending that the wedding industry perpetuates.
Advertisement
This ad is displayed using third party content and we do not control its accessibility features.
And I know I'm not alone—the sustainability and ethics behind the "biggest party you'll ever throw" is something that can stress out brides and grooms alike.
While the most sustainable option would be to simply go to your local courthouse, it's understandable that many couples want the experience of a traditional wedding. With that in mind, I'm going to share the process my husband and I went through to incorporate elements of sustainability and plan a wedding that was both conscious and low-impact.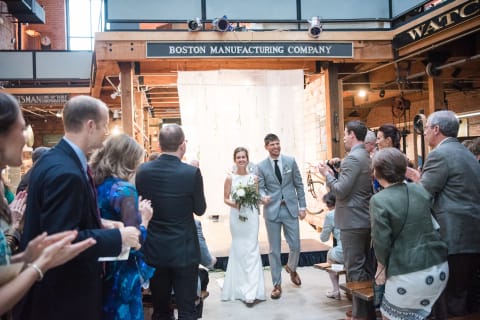 The dress
The dress is the first thing people ask about when they want to know how wedding planning is going. Having worked in the sustainable fashion industry my entire career, the pressure was on. I knew from my work that the average wedding dress undergoes an extensive chemical dyeing process, often being made overseas with questionable labor practices, before it arrives in your local bridal boutique. And then you wear it for a day.
Oftentimes, even if you find a dress that's "made in the USA," the fabric and materials were likely made in a country on the other side of the world without fair labor laws. I spent seven months searching for secondhand gowns, reaching out to friends who were recently married, and even explored the idea of getting a dress custom-made. And then, at the eleventh hour, I found bridal designer Paloma Blanca.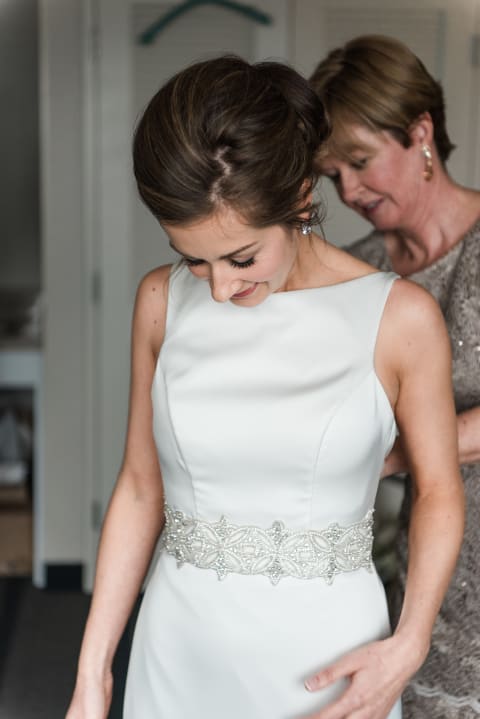 Advertisement
This ad is displayed using third party content and we do not control its accessibility features.
While buying a dress secondhand is the most sustainable option, it's not always feasible because of sizing and availability. I went with Paloma Blanca because it's a family-owned business and 100 percent made in Canada, from fabric to materials to cut and sew. I purchased secondhand wedding shoes and jewelry on Tradesy and plan to sell my dress, now that my wedding is over, through Tradesy too. As for the groom, he wore a suit that he borrowed from a friend!
The food
Both my husband and I are vegetarians, so we were firm in our desire to have a meatless wedding (luckily, our parents obliged). More than just the lack of meat, though, we knew that if we were feeding 150 people then we wanted to do it in a way that we could feel good about. The last thing we wanted was to have leftover food thrown away. One of the first things we did when we embarked on wedding planning was Google "zero-waste catering" in our city. We found an events company just a few towns over that was not only zero-waste but was also able to source all of the food for our wedding from local, organic farms.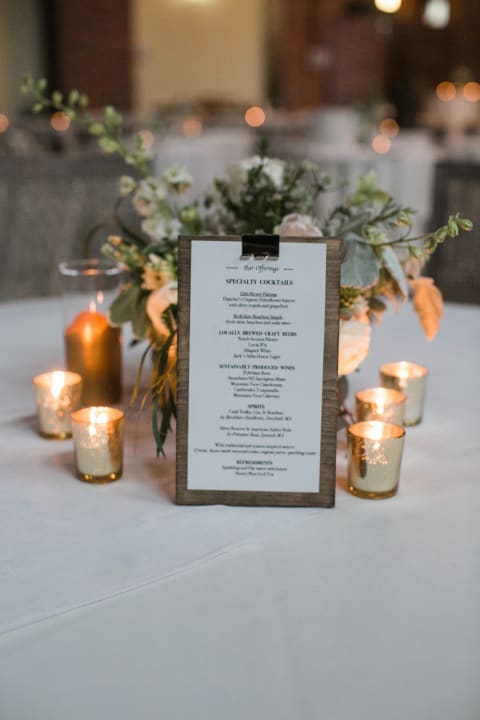 Advertisement
This ad is displayed using third party content and we do not control its accessibility features.
The beer, wine, and liquor for our bar was sourced only from local distilleries, breweries, and wineries. And after the wedding, the food waste, cutlery, and plates could either be composted or reused for a different wedding. If you live in a major metropolitan area, then the chances are good that there's an organic caterer in your midst. With the rise in awareness around ethics and environmental impact, there are more and more events companies popping up that specialize in "conscious" catering.
If that's not an option, then removing meat from your menu alone will significantly reduce the footprint of your big day. If you try to source as much as you can locally, then you'll be putting money back into your community and local economy.
The flowers
We were lucky that the same company who did our catering could also source our florals from a local greenhouse, but here is the secret solution to sustainable florals: Use succulents and cactuses.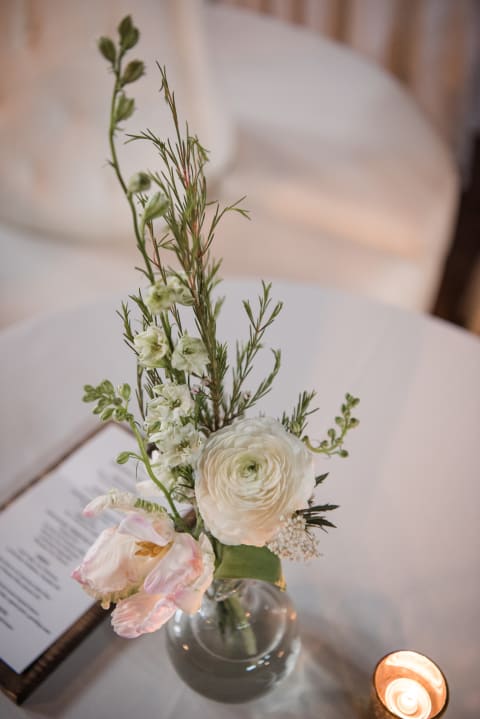 Advertisement
This ad is displayed using third party content and we do not control its accessibility features.
Unlike cut flowers, which are usually grown with pesticides and imported from South America or Africa, succulent plant arrangements can be taken home and planted after your wedding. In lieu of wedding favors, you can tell your guests to take home the centerpieces. For the vases and glassware, try to rent them used so that they can be reused again. Or, go into your local charity shop like Goodwill and mix and match the glassware from their shelves for a dollar a piece.
If you can't bear the idea of not having traditional flowers, then try to find blooms that were grown as close to where you live as possible, and make sure they're pesticide and insecticide free.
The rings
Similar to wearing a secondhand dress, the most ethical and sustainable option for your rings are vintage or heirloom. My husband's mom gave us her mother's ring from the late 1800s, and we were able to redesign it into a more updated style. The next time you're in an antiques shop, peruse their rings. Even if the styles don't look like anything you'd wear, a jeweler can extract the stone(s) and remold the metal to create a new ring out of reused materials. It should save you a significant amount of money, too.
Advertisement
This ad is displayed using third party content and we do not control its accessibility features.
If "repurposed" isn't your thing, then a surprisingly great place to find small-batch jewelers is on Instagram. Search hashtags for fair-trade diamonds, ethically mined jewelry, recycled metal, and conflict-free diamonds. When you reach out to the jeweler ask if their diamonds are certified conflict-free or certified fair trade and where the metal is sourced from; go for recycled if you can. We designed my wedding band using a husband/wife team who source only fair-trade-certified stones from Australia and use only recycled metal. Ethically made jewelry is out there if you take the time to look for it!
The details
I know that not all of these suggestions are feasible for every wedding, but you can always find ways to make small decisions that have a big impact. For example, instead of mailing out paper save-the-dates and invitations, we sent everything electronically through Paperless Post. Not only did it save us money, but it reduced the carbon footprint of shipping invitations across the country, as well as saving paper. If you're planning to give gifts to your family, bridal party, or officiant, consider buying handmade items that are locally made. One of my favorite parts of planning our wedding was being able to support my friends who own small businesses as well as other local makers.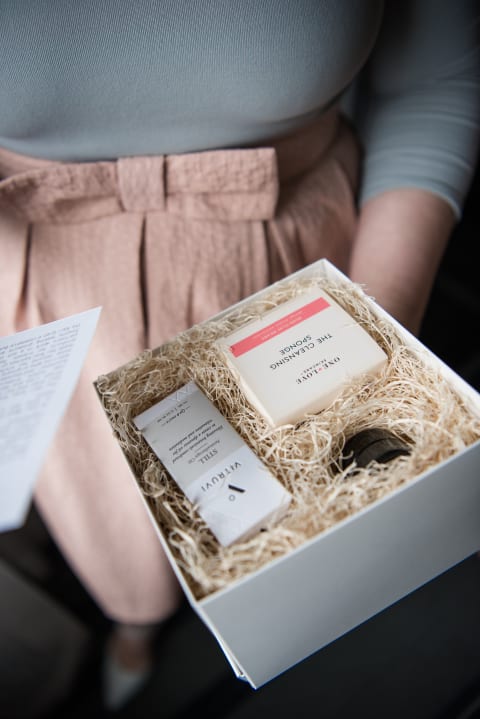 I gave my sister and two best friends clean beauty boxes from Art of Organics and bought custom-made mementos from the handmade section of Etsy. For my wedding gift to my husband, I asked 20 of his friends to write him a letter to read on the big day and compiled them into a handmade album with pictures of when they were all kids.
More than anything, planning a wedding that you can feel good about comes down to trusting your instincts, asking for help, and being as thoughtful as you can. With whatever you decide, there's no such thing as "perfectly sustainable," but you can plan a wedding with your values at the forefront.

Shannon Whitehead Lohr
Shannon Whitehead Lohr is an advocate for a more sustainable fashion industry and the founder of Factory45. She works with aspiring entrepreneurs to launch clothing companies that are sustainably and ethically made. Join a growing movement of fashion changemakers here.