Close Banner
Advertisement
This ad is displayed using third party content and we do not control its accessibility features.
My Nieces Beg For These Vitamins & They Bridge The Most Common Nutritional Gaps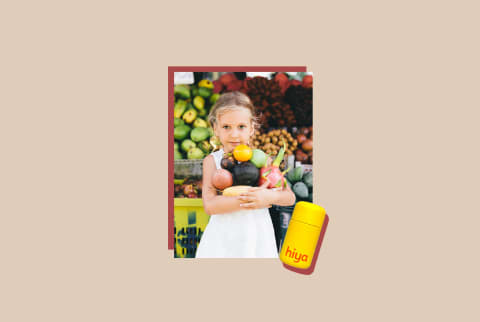 We carefully vet all products and services featured on mindbodygreen using our
commerce guidelines.
Our selections are never influenced by the commissions earned from our links.
That's why I actually did a double take when I heard my nieces approved of Hiya multivitamins—and "approved" may even be an understatement. Seriously, my sister swears her daughters beg for their Hiya vitamins each morning.
I know what you're thinking: These kid-loved vitamins must be loaded with sugar. Quite the contrary, though. Hiya's first children's vitamin are not just glorified candy.
What is Hiya?
Founded by two dads who were frustrated with the children's supplement landscape, Hiya offers vitamins, probiotics, and sleep supplements for kids. Each product is made with no sugar, artificial flavoring, or additives, and contains science-backed ingredients to support your child's health and well-being.*
The founders worked for years with pediatricians, scientists, nutritionists, and other parents to develop a junk-free multivitamin recipe with 16 essential vitamins and minerals. Since the launch of the brand's hero product (the multivitamin), Hiya has added a children's probiotic for digestive enhancement and a nighttime vitamin for sleep support.*
Our verdict on the Hiya Multivitamin
I won't bury the lede: The Hiya Multivitamin checks all our boxes. The gummy-free, zero-sugar aspect alone blows other children's vitamins out of the water. And yet, the more we learned about Hiya, the more we loved the brand.
Hiya Multivitamin pros & cons
Pros:
Formulated for children 2 and older
No sugar added
Kid-approved taste
Formulated with pediatricians and scientists
Sustainable packaging
15 essential vitamins and minerals
Subscription savings
No refrigeration required
Cons:
Subscription required
Some parents wish the bottles weren't glass
Includes sugar alcohols and added flavors
Contains coconut oil powder (tree nut allergen for some)
What is the Hiya Multivitamin?
The chewable Hiya multivitamin (that's right, no gummies here) contains key vitamins and minerals that represent major dietary gaps2 in children, such as vitamins D, iron, calcium, and folate, among a slew of others (outlined later on).
It's not easy to find a quality multivitamin as it is, but children's supplements in particular tend to come with a handful of unwanted, cavity-inviting ingredients.
This vegan, gluten-free, dairy-free, non-GMO formula even features a cute blend of organic fruits and vegetables, such as apple, beet, broccoli, carrots, cabbage, and strawberry. There's even kale hiding in these chewables.
But your children won't be tasting any vegetables—and I know that for a fact, because my nieces wouldn't beg for broccoli or kale.
The vitamins get their kid-approved sweetness from the fruits and a natural sweetener blend, which contains mannitol (a natural sweetener from strawberries) and monk fruit extract, in lieu of sugar.
A quick note on sugar: The average children's vitamin (i.e., in gummy form) has up to 5 grams of added sugar, which is equivalent to a store-bought cookie. In other words, those vitamins are not doing any favors for your child's health. It's no surprise studies show over 80% of children are eating too much sugar3.
By filling common nutritional gaps and not adding any of the bad stuff, the Hiya multivitamin is meant to support healthy growth and development; increase immunity; improve focus, energy, concentration, sleep, and mood; and boost eye, bone, and tooth health.*
My sister's 4-year-old daughter has been enjoying Hiya vitamins for two years, and her 2-year-old takes them now too (another huge win, since many kid's vitamins are not recommended for children under four).
I can't say my nieces were ever lacking energy, but my sister loves knowing just one vitamin per day is helping her kids get the nutrients they need.*
And she's not alone. Hiya's website is flooded with thousands of reviewers from parents swearing the same: Their kids love Hiya and the parents actually see a difference in things like mood, focus, immunity, and overall health.*
What's in the multivitamin?
As we said, the comprehensive formula opts for thoughtfully-sourced ingredients, with 15 essential vitamins and minerals. Let's take a look at what's inside (and why it's important).
Hiya ingredients, functions, and benefits:*
Vitamin A: This essential vitamin supports immunity4 and eye health5 in children and adults.
Vitamin C: One of the most powerful antioxidants, vitamin C supports your child's immune system.
Vitamin D: Over 60% of children are estimated to have a vitamin D 6insufficiency. And, yes, sunlight is important—but a lot of this comes from dietary gaps.
Vitamin E: Vitamin E plays a role in brain development and cognitive function.
Thiamin (B1): Thiamine is found in food sources such as whole grains, meat, and fish, which my nieces aren't particularly fond of. Still, this nutrient is essential for cardiovascular function, a healthy nervous system, and converting carbohydrates into energy.
Riboflavin (B2): Mostly found in meat, riboflavin plays a role in cellular energy production, a healthy nervous system, and red blood cell production.
Folate (B9): Children need folate to support healthy brain development, red blood cell production, among other essential bodily functions. It also promotes a healthy heart7.
Vitamin B12: Vitamin B12 is essential in people of all ages, but children in particular. It supports brain development, neural myelination, and cognitive function.
Biotin (B7): Your children need healthy skin, hair, and nails, too. But that's not all biotin supports. It also plays a key role in converting food into ATP energy8.
Pantothenic Acid (B5): This nutrient aids in the production of red blood cells9 and is another helper in converting food into cellular energy.
Calcium: Essential for strong bones, calcium is an important nutrient in your child's diet.
Iodine: Studies have linked suboptimal iodine intake with decreased mental development in children10. It's also essential for thyroid function.
Zinc: Zinc is important for healthy growth and development, as well as immune function. Studies have indicated that zinc supplementation could support growth11 and motor development12 in children.
Selenium: Children need selenium to maintain healthy heart function and blood flow.
Manganese: Along with calcium, manganese is critical for healthy bone development13, especially early in life.
Vitamin K: Provided in the vitamin K2 form, vitamin K is essential for children, supporting healthy bone formation and development14.
Hiya packaging & sustainability
There's a lot to love about Hiya when it comes to ingredients, nutritional value, and taste—but, if I were a parent I'd buy these vitamins for their packaging alone. It's adorable.
Hiya sends the first order with a refillable, recyclable bright yellow glass jar (no plastic!) and a sheet of fun stickers. Future orders arrive in recyclable pouches to fill your existing bottle.
Your child can use the stickers to decorate their bottle and even spell out their name. My nieces made a whole activity out of this, which is another added bonus!
We love that Hiya uses no plastic in its packaging. Not only does glass keep the vitamins fresher for longer, it's significantly better for the environment.
After all, we're helping our children grow into strong, healthy adults—so don't we want to give them a stronger, healthier planet, too?
How much do Hiya Multivitamins cost?
We'll take a page from Hiya's book and not sugarcoat it: Vitamins are an investment, especially when they're truly high quality. If you have multiple kids, the cost of supplements is sure to add up.
For one child, Hiya costs $30 per month/bottle. When you think about the nutritional gaps this multivitamin could be filling in your child's diet, we'd call $1 per day a fair cost.
That said, we love that Hiya multivitamins actually get less expensive as you add more children to the order. Plus, right now you can save 50% on your first month.
See below for a rundown on costs, depending on the number of children you're ordering for.
Hiya multivitamins can be ordered on the brand's site, where you'll set up a subscription account. Orders will automatically renew every 30 days, but you can cancel anytime.
Other Hiya products
As mentioned, Hiya also makes a probiotic and a nighttime vitamin. Both are sold on the same model as the multivitamin, on a 30-day subscription basis with savings offered as you add more children to the order.
Once my sister tried out the multivitamin with her kids, she was immediately sold on the toddler probiotic, too. Having recently seen the impact a probiotic had on her own digestion, she eagerly added this one to her children's routine.
The Hiya Daily Probiotic is meant to foster the healthy kind of bacteria in your child's gut, which supports digestion. It's also great for healthy skin and a stronger immune system.*
Similar to the multivitamin, the probiotic is a great option for picky eaters, since probiotic-rich foods (read: cabbage, miso, cottage cheese) are not often the most toddler-approved.
Hiya's blend is optimized for kids, with 10 billion live cultures of three probiotic strains including Lactobacillus rhamnosus (GG), Lactobacillus paracasei (UALpc-04™), and Bacillus lactis (Bl-04®).
As for the taste, unsurprisingly, my nieces love these chewables. Like the multivitamin, the texture is akin to a Sweet Tart—and, yes, it's sugar-free.
However, we should note the probiotic does have sugar alcohols, along with added flavoring (albeit natural) and gums (arabic).
The Hiya Probiotic costs the same as the Hiya Multivitamin and is sent in a similar refillable glass bottle (it's a fun green color, while the multi bottle is bright yellow).
The Nightly Essentials Vitamin
Even us non-parents know how difficult the toddler stage can be for sleep. And when your child isn't sleeping, I'm guessing you're not either.
No matter your age, quality rest is essential to your health and well-being. Hiya's Kids Bedtime Essentials uses sleep-supporting nutrients to help your child wind down at bedtime, with no melatonin or sugar.*
The carefully curated formula utilizes vitamin B6, calcium, choline, magnesium, L-theanine, GABA, and chamomile flower extract.
Not only do these ingredients promote better sleep and restoration, they also support brain health, relaxation, and focus, and help decrease stress.*
What's great about the Bedtime Essentials tablet is that it doesn't contain excess overlap with Hiya's multivitamin. Instead, each contains a unique list of vitamins and minerals to complement the other.
The takeaway
My nieces love these vitamins so much, chaos ensued when my sister accidentally skipped an order. Hiya's thoughtfully selected ingredients fill nutritional gaps in even the pickiest eaters, and the non-GMO blend is free of added sugar. Our advice: Toss your gummy vitamins and give your children something that will support their health, growth, development, and cognitive function.*
*These statements have not been evaluated by the Food and Drug Administration. This product is not intended to diagnose, treat, cure or prevent any disease.
If you are pregnant, breastfeeding, or taking medications, consult with your doctor before starting a supplement routine. It is always optimal to consult with a health care provider when considering what supplements are right for you.

Carleigh Ferrante
mbg Commerce Editor
Carleigh Ferrante is the Commerce Editor at mindbodygreen. She is a certified Health & Nutrition Coach and a born and raised New Yorker with a B.A. in Creative Writing and Psychology. Her work has appeared in Bustle, The Zoe Report, PureWow, The Everygirl, and more, covering topics such as fitness, travel, home, fashion, beauty, and dating, sex, and relationships. When she's not testing and reviewing products and services, you can find Carleigh training for her next World Major marathon, planning her next vacation, or interviewing experts on her dating podcast, Mostly Balanced.