By Debra Haugen
mbg Contributor
Debra Haugen is the founder of Gemstone Organic. She has a masters in geological engineering from University of Minnesota.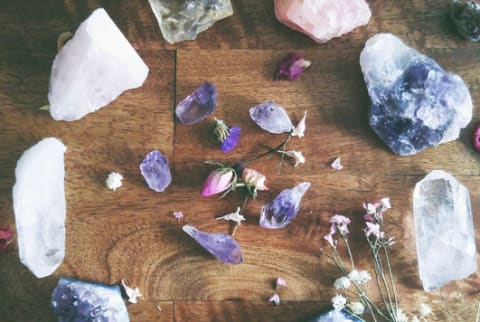 January 11, 2017
Everyone loves a good herbal facial steam and when we take the time to treat ourselves we often wonder why we don't do it more often. But want to up the ante?
Adding gemstones to your herbal facial creates a steam bath for your face that creates healing not only on the outside but the inside, too. The steam is wonderful for your skin and pores, and the essential oil is great for your lungs and blood—adding the gemstones to the water creates a water that is highly charged with the properties of the gemstone—giving your skin and lungs and blood a boost along with your energetic body.
Water is a beautiful conduit for energy, and this is a great way to boost the potency of the herbs and oils along with getting the healing properties of the gemstones. Did you know that once you boil water it loses its memory? So adding crystals to the water allows the water to take on their healing properties as it cools to give your skin extra love and healing.
A rose quartz steam
Rose quartz is great for creating soft, velvety skin and opening your heart to give and receive love—we can all use a little more love in life—always. Gather a few tumbled rose quartz gemstones—one or two will be plenty when using the boiling method. Note, "the more the better" does not apply here! You are out to create a gentle, not intense, gemstone water to blend with your herbs and flower oils.
Geranium oil
Geranium essential oil is what we use for the heart chakra. It improves blood circulation; minimizes inflammation; balances hormones; benefits the health of your skin; supports detoxification; and balances the love of self and others.
Herbs
For this steam, herbs we love to gather include comfrey, calendula, rose petals, lavender buds, and a little chamomile.
Cleanse your rose quartz gemstones—this is a simple yet important step! First wash them with a clean soap like Dr. Bronner's Tea Tree or use an organic tea tree or rosemary essential oil with water to remove dirt and bacteria.
Next, rub them under cold running water until you feel them squeak with joy and they let you know they are cleaned and ready for your pot.
Find your quiet spot where you want to experience your facial. Put on some light music and grab your towel and your essential oil; we love to use 5 drops of geranium oil with our rose quartz water.
Grab your pan and place the gemstones inside—add reverse-osmosis or distilled water to the pan—best to use a water that is clean and empty of all chemicals.
Give your gemstones a little kiss and a small prayer of gratitude placing your intention in the water for your face, skin, and soul.
Bring the water to a low boil (you don't need to bring it to a high boil, but it is OK if you do. Be aware that some gemstones may break if they have any fissures or cracks due to the heat).
Once the water comes to a boil, add the herbs of your choice and stir gently; cover the pot and remove from the heat.
Place the pan on a towel on the table or pour the water into a bowl.
Sit down and place the towel over your head and breathe in the love and healing properties of the gemstones and geranium oil. Listen to your crystals; they may share some words of wisdom with you—and trust whatever comes through your gems—they are voices not to be taken lightly when they share.
Stay under the towel for at least 5 minutes and no more than 12 minutes.
Towel-dry your face and then spray with Gem Juice to bring your skin back into its proper pH, and then use your favorite Gemstone Crème—this is a gemstone facial steam after all!
Debra Haugen
Debra Haugen is the founder and "Chief Alchemist" of Gemstone Organic, where she develops their advanced earth-based formulas. In her devotion to holistic healing Haugen also found her love for science and mathematics, leading her to pursue a degree in geological engineering. She received her masters from University of Minnesota. Haugen is also a engineering consultant, a Shamanic Reiki Practitioner and a skilled leader inside ceremony.