4 Middle Eastern Dishes You Won't Be Able To Get Enough Of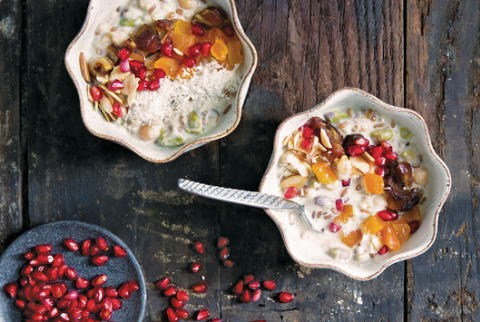 November 13, 2016
Sofra is an extremely popular cafe and bakery in Cambridge, Massachusetts. Their new cookbook, Soframiz: Vibrant Middle Eastern Recipes from Sofra Bakery and Cafe, is full of beautiful Middle Eastern dishes that have us rethinking the way we use vegetables, fruits, whole grains, and nuts. We can't wait for you to try these dishes for yourself.
Advertisement
This ad is displayed using third party content and we do not control its accessibility features.
Asure (Grain Pudding)
Turkish legend has it that the first version of asure (pronounced a-SHUR-a), also known as Noah's pudding, was made by Noah. After weeks on the ark, as the food supply dwindled, he threw a little of everything he had into one pot.
What he got was this delicious pudding that kept everyone well-fed until the ark finally rested on Mount Ararak in Turkey. It is considered one of the oldest desserts in the world, but we serve it as a breakfast cereal.
Beyaz asure, or white asure, is a version in which the grains are cooked in milk instead of water, making it perfect for breakfast. It is also traditionally made with beans, but we have substituted more grains and cooked the pistachios until they become soft and beanlike in texture. There are no rules with asure; you can play around with any type of grain you like.
Serves 6
Ingredients
1 cup hulled barley
½ cup rye berries
1 cup dried chickpeas
4 cups whole milk
½ cup sugar
½ cup shelled raw whole pistachios
2 tablespoons fine-ground bulgur wheat
2 teaspoons rosewater
Garnishes: honey, chopped apricots, sliced almonds, chopped medjool dates, unsweetened shredded coconut
Advertisement
This ad is displayed using third party content and we do not control its accessibility features.
Preparation
1. Put the barley, rye berries, and chickpeas in three separate bowls and cover each with 3 cups water. Set aside to soak overnight.
2. Drain each type of grain and the chickpeas separately. Transfer to three separate pots, each filled with 4 cups water. Bring to a boil and cook barley and rye berries until each grain is plumped and softened, 20 to 25 minutes.
3. Drain but do not rinse (the starch will help thicken the milk). Bring the chickpeas to a boil in 6 cups of water over medium heat, for about 35 minutes until just soft but not falling apart.
4. Combine the milk and sugar in a large pot and bring to a boil over medium heat. Cook until the sugar is dissolved, about 3 minutes. Add the cooked grains and chickpeas. Lower the heat and simmer until the mixture begins to thicken, 10 to 15 minutes. Add the pistachios and simmer for 10 additional minutes. Stir in the bulgur and continue cooking until thickened, an additional 5 to 10 minutes.
5. Remove from the heat and stir in the rosewater. Serve warm, garnished with a drizzle of honey and dried fruits and nuts.
COOK'S NOTE: Plan ahead. Cooking each grain separately takes a lot of time. Cook larger batches of each grain and freeze. You can thaw them in the refrigerator the night before you plan on making this.
Carrot Kibbe with Golden Raisins + Pine Nuts
The word kibbeh in Arabic and the word kofte in Turkish and Armenian refer to a bulgur wheat dumpling when made with vegetables, or a meatball when made with meat. My version uses a carrot puree that is thickened by fine bulgur wheat until it forms a dough that can be baked, steamed, fried, or stuffed.
At Sofra we have a lot of carrots from October until March grown on my husband's farm, Siena Farms, in Sudbury, Massachusetts. The orange color and sweet flavor of fall carrots make an excellent carrot kibbeh stuffed with chopped Swiss chard, pine nuts, garlic, and raisins. This version of kibbeh is baked and steamed, which gives it the consistency of a dumpling: soft, pliable, and with a creamy center.
Serves 10 to 12
Ingredients
5 tablespoons extra-virgin olive oil, plus more if needed
1½ pounds carrots, peeled and cut into 1- to 2-inch chunks
¼ cup brown butter
1 onion, finely chopped
1 medium green bell pepper, stemmed, seeded, and finely chopped
2 teaspoons sweet Hungarian paprika
1 teaspoon tomato paste
1½ cups fine-ground bulgur wheat
Kosher salt and freshly ground black pepper
2 bunches Swiss chard, stemmed, leaves coarsely chopped, stalks discarded
2 cloves garlic, finely chopped
½ cup golden raisins
½ cup pine nuts, lightly toasted
1 cup plain whole-milk Greek yogurt
Advertisement
This ad is displayed using third party content and we do not control its accessibility features.
Preparation
1. Preheat the oven to 375°F. Brush a 9-inch-square baking dish or an 11-by-7-inch baking pan with 1 tablespoon of the olive oil.
2. Put the carrots in a heavy saucepan over medium heat and cover with water. Bring the water to a boil, lower the heat, and simmer until the carrots are very tender when squeezed with a pair of tongs, about 25 minutes. Drain.
3. Combine the carrots and 1 tablespoon of the brown butter in a food processor fitted with a metal blade and puree until very smooth. You should have about 2 cups.
4. Combine the onion, bell pepper, and 2 tablespoons of the olive oil in a medium saucepan over medium heat and sweat the vegetables until they are soft and translucent but not brown, about 8 minutes. Stir in the paprika and the tomato paste. Stir in 2 cups of the carrot puree and cook until heated, 3 to 5 minutes. Lower the heat to low and stir in the bulgur wheat.
5. Remove from the heat, cover, and set aside for 15 minutes. The mixture should be soft, like dough. Season with salt and pepper to taste and stir in the remaining 3 tablespoons of brown butter. Stir the dough vigorously with a wooden spoon for about 5 minutes, until the dough is soft and very smooth. The goal is to get the mixture as smooth and creamy as possible. Set aside to cool.
6. In a saute pan over medium heat, sweat the chard with the remaining 2 tablespoons of olive oil until it wilts, 2 to 3 minutes. Add 2 tablespoons water to the pan to lower the heat, cover, and steam the chard for 1 minute. Stir in the garlic, raisins, and pine nuts and cook until the chard is tender and all the water has evaporated from the pan, 4 to 6 minutes. Season with salt to taste.
7. Place half the carrot kibbeh in the prepared pan. Using your hands, press it into the pan, forming an even layer all the way to the edges. Use a little olive oil on your hands if it's sticking. Distribute the yogurt as evenly as possible by dolloping it in the middle and spreading it out to the sides. Top with the chard filling and then press the rest of the carrot bulgur mixture onto the top by flattening some in your hands and laying it over the filling. You can roll any edges over and press them into the top piece, sealing the pie by pressing it all together.
8. Bake until it rises a little and is hot all the way through, about 30 minutes. Set aside to cool for 15 minutes. Cut into 10 to 12 equal portions.
COOK'S NOTE: The carrot puree can be made up to 3 days ahead so that the assembly goes faster. This is delicious as is or served with labneh.
Barley + Chickpea Salad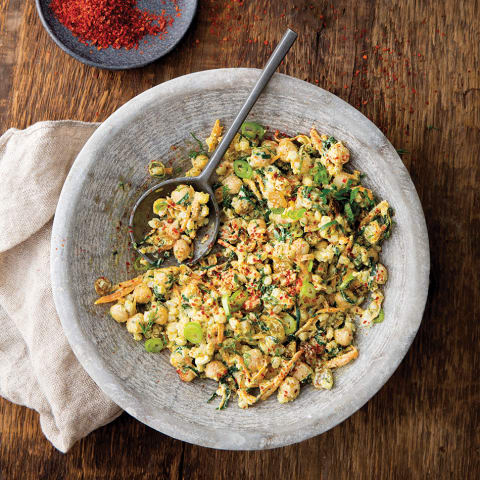 Advertisement
This ad is displayed using third party content and we do not control its accessibility features.
Didem Hosgel is our talented chef de cuisine at Sofra. She and I collaborated on this recipe to create a grain and legume salad for a quick-grab lunch.
Barley is one of our favorite whole grains, and we are lucky enough to have access to barley grown nearby at Four Star Farms. Other fall vegetables like cabbage or golden beets can be used as a substitute or in addition to the carrots, depending on your preference or the season.
Barrel-aged Greek feta is the way to go here because it's more crumbly than the creamy French-style (which I prefer for other recipes). The combination of chopped fresh parsley, mint, and dill is a staple in our kitchen (affectionately referred to as PMD at Sofra) and is used in many different meze and fresh salads.
Serves 8
Ingredients
½ cup dried chickpeas
¾ cup hulled or pearl barley
1 bay leaf
¼ cup extra-virgin olive oil
1 cup grated carrots (about 1 large)
¼ cup golden raisins
2 cups spinach or Swiss chard leaves, cut into thin ribbons
Kosher salt and freshly ground black pepper
3 to 4 ounces crumbled barrel-aged Greek feta
¼ cup finely chopped scallion, mostly the white part
2 tablespoons finely chopped fresh flat-parsley leaves
2 tablespoons finely chopped fresh spearmint leaves
2 tablespoons finely chopped fresh dill leaves
¼ cup plain whole-milk yogurt (not Greek)
¾ teaspoon ground cumin
1 teaspoon dried spearmint
1 teaspoon dried oregano
½ teaspoon Maras pepper
1 tablespoon freshly squeezed lemon juice
Grated zest of 1 lemon
Preparation
1. Put the chickpeas and 4 cups cold water in a bowl and soak overnight. Drain.
2. Put the chickpeas in one saucepan and the barley in another. Cover each with 4 cups water and add the bay leaf to the chickpeas. Bring both pots to a boil over high heat. Lower the heat to a simmer and cook until both are tender, skimming off any foam that might come to the surface during the cooking. The barley should take about 25 minutes if you are using pearled and about 40 minutes if you are using hulled. The chickpeas should take 40 to 45 minutes, depending on the size and the age of the chickpeas. Drain and set aside to cool to room temperature. Remove the bay leaf. This can be done the day before.
3. Meanwhile, place a saute pan over medium-low heat and add 1 tablespoon olive oil. Add the carrots and sweat until just tender, about 5 minutes. Off the heat, stir in the raisins and spinach. The residual heat from the mixture and the pan will wilt the spinach just a little.
4. Combine the barley, carrot mixture, and chickpeas in a large mixing bowl and add 1 teaspoon of salt and freshly ground pepper to taste. Add the crumbled feta, scallion, parsley, fresh mint, and dill.
5. In a small mixing bowl, combine the yogurt, cumin, dried spearmint, oregano, Maras pepper, lemon juice and lemon zest, and remaining 3 tablespoons of olive oil, and whisk until you have a thin, emulsified dressing. Dress the salad and serve at room temperature or cold. Store covered in the refrigerator up to 4 days.
Advertisement
This ad is displayed using third party content and we do not control its accessibility features.
Buttermilk Hummus with Celery Root + Pumpkin Seeds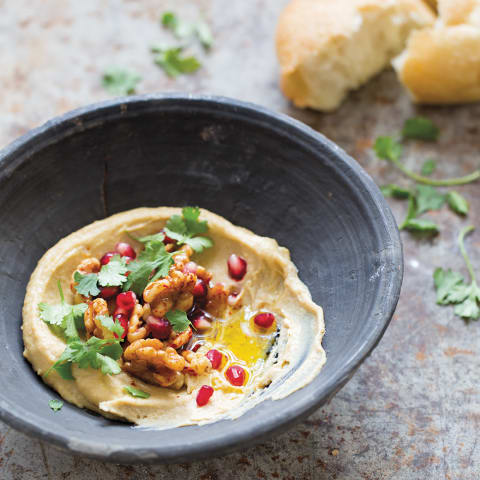 Buttermilk, like lemon juice, brings acidity to a rich hummus, but it also blends into a beautiful blond-colored puree with a light and creamy texture. It makes a delicious pairing with fall vegetables like celery root or watermelon radishes that are dressed with buttermilk and mustard, which mimics French celery root rémoulade or Turkish celery root salad with yogurt dressing.
I always love something crunchy on my hummus, and it's usually a nut or a rich seed like the Mexican pumpkin seed, or pepita. Pepitas get very plump and crisp when they are roasted and don't have the chewiness that larger pumpkin seeds have.
Serves 4
Ingredients
1 cup dried chickpeas, soaked overnight in 6 cups water
Pinch of baking soda
1 teaspoon kosher salt, plus more to taste
2 cloves garlic, peeled
¾ teaspoon sweet Hungarian paprika
½ teaspoon ground cumin
1 tablespoon plus 1 teaspoon freshly squeezed lemon juice
2 tablespoons tahini
3 tablespoons extra-virgin olive oil
5 to 6 tablespoons buttermilk or plain whole-milk Greek yogurt
½ medium-size celery root or 2 watermelon radishes
2 teaspoons Dijon mustard
1 tablespoon mayonnaise
2 scallions, mostly the white part, finely chopped
Freshly ground black pepper
¼ cup roasted pepitas
2 tablespoons coarsely chopped fresh cilantro leaves
2 large basil leaves, torn into bite-size strips
Preparation
1. Drain the chickpeas and combine them in a large saucepan with 6 cups fresh water. Add the baking soda and bring to a boil over high heat. Lower the heat to medium-low and simmer until tender and almost falling apart, about 45 minutes, using a ladle to skim any foam that rises to the surface. Add 1 teaspoon salt; stir and set aside for 5 minutes to absorb the salt. Drain in a colander.
2. Put the garlic in a food processor fitted with a metal blade, and process until finely chopped. Add the chickpeas and blend until finely ground and starting to resemble cookie dough. The chickpeas will form a ball in the machine as they become smooth enough. Add 1⁄2 teaspoon of the paprika, the cumin, and 1 tablespoon of the lemon juice and process until smooth. With the machine running, add the tahini, 1 tablespoon of the olive oil, and 4 tablespoons of the buttermilk, stopping once to scrape the sides of the bowl. Add 1 tablespoon more of the buttermilk if it seems too thick. Season with salt to taste.
3. Peel the celery root by first cutting off both of the ends so that it can stand upright on the cutting board. Using a knife, follow the shape of the celery root, starting at the top and working your way down to the bottom, trying to take off just the thick skin. If you have a very sharp peeler, you can use it, but often the skin is too thick and needs to be removed with a knife. Try to keep the celery root dry because it will brown if it gets wet. Cut the celery root in half and reserve the other half for another use. Using a mandoline or a knife, slice the celery root as thinly as possible. Stack the slices on top of each other and julienne them into ⅛-inch matchsticks.
Reprinted with permission from Soframiz by Ana Sortun and Maura Kilpatrick, 2016. Published by Ten Speed Press, an imprint of Penguin Random House LLC.Photographs copyright © 2016 Kristin Teig.

Ana Sortun
Ana Sortun and Maura Kilpatrick have traveled extensively throughout Turkey and the Middle East, researching recipes and gaining inspiration for their uber-popular cafe and bakery, Sofra.
In their first cookbook together, Soframiz, the two demystify and explore the flavors of this popular region, creating accessible, fun recipes for everyday eating and entertaining.