Found: A Healthy Swap For Every Junk Food You Crave

Contributing Food Editor
By Liz Moody
Contributing Food Editor
Liz Moody is a food editor, recipe developer and green smoothie enthusiast. She received her creative writing and psychology degree from The University of California, Berkeley. Moody is the author of two cookbooks: Healthier Together and Glow Pops and the host of the Healthier Together podcast.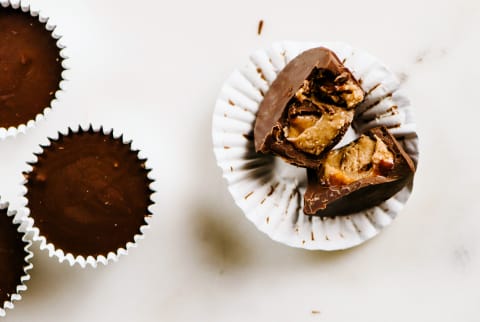 February 12, 2018
We all want to have our cake and eat it too—and now there are some amazing brands supporting healthy lifestyles with high-quality, good-for-you snacks and treats. We scoured the food world to find the absolute best swaps for your favorite cravables—get ready to get hungry!
Craving Doritos? Try Farmhouse Culture Kraut Krisps!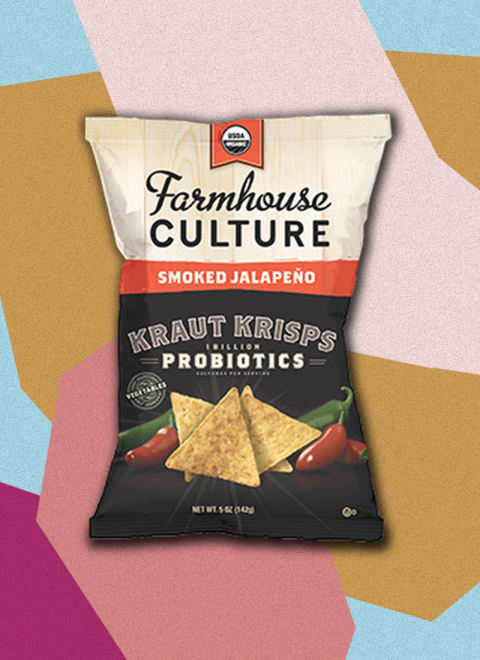 Photo by Farmhouse Culture + mbg Creative
These chips, from fermented food masters Farmhouse Culture, are insanely addictive—and their ingredients are even crazier. Made from sauerkraut (no joke) with a touch of brown rice flour, each bag is packed with over a billion probiotics. They're perfectly airy and crunchy, and the flavor is salty and umami-rich. While every flavor is delicious, the Dill Pickle and Zesty Garden Veggie are standouts. $2.99 for a 5-ounce bag.
Craving Cool Whip? Try So Delicious CocoWhip!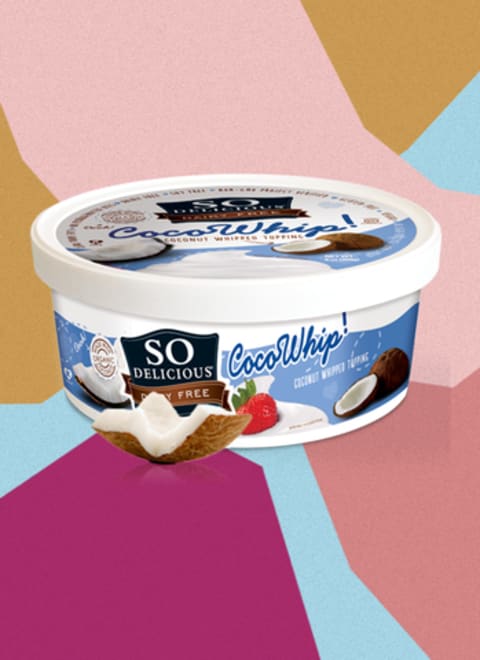 Photo by So Delicious + mbg Creative
If you like to top your ice cream with whipped cream (or just eat Cool Whip straight from the tub), you'll love So Delicious CocoWhip. With a perfect aerated, creamy texture and mouthwatering, just-sweet-enough flavor, you'll never believe it also has an organic, super-clean ingredient list based around coconut (yes, it's completely vegan). $4.29 for a 9-ounce tub.
Craving Chocolate Truffles? Try Made In Nature Figgy Pops!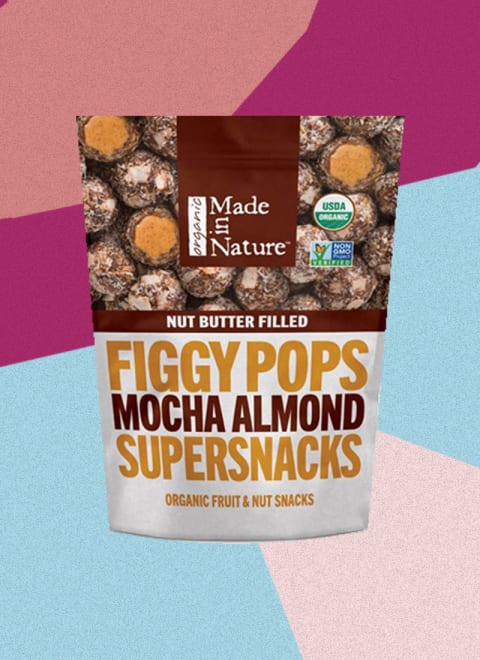 Photo by Made in Nature + mbg Creative
The fun part of truffles is biting into the surprising, creamy center and these genius treats for healthy snack aficionado brand Made in Nature take that experience to the next level. While they come in a number of flavors, the Mocha Almond truly hits the spot, with a date-and-nut-based cocoa mocha exterior and a creamy nut butter interior that will leave you drooling. $4.99 for a 3.8-ounce bag.
Craving Mac 'N Cheese? Try Annie's Grassfed!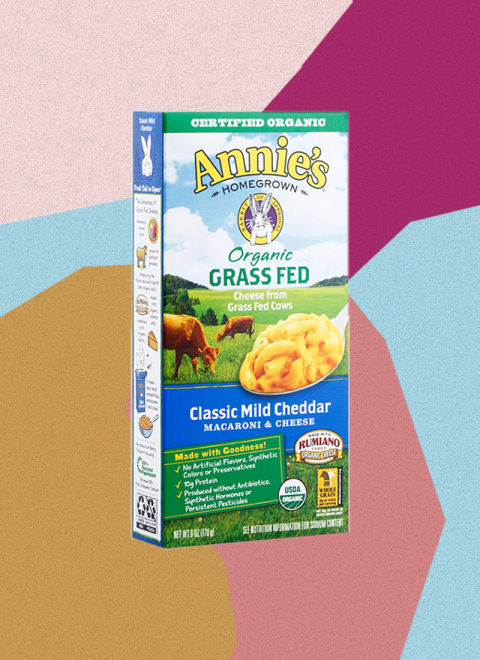 Photo by Annie's + mbg Creative
If boxed mac 'n cheese was a staple of your childhood, you'll get all the nostalgic feels with Annie's. The kings of making saner versions of hedonistic staples, Annie's swaps the traditional chemical-filled powders for real cheddar from grass-fed cows. Everything else, from the milk to the pasta, is also organic, making it a quick dinner staple you can feel good about (bonus points if you mix in some frozen broccoli!). $2.99 for a 6-ounce box.
Craving Cheez-Its? Try Simple Mills Farmhouse Cheddar Crackers!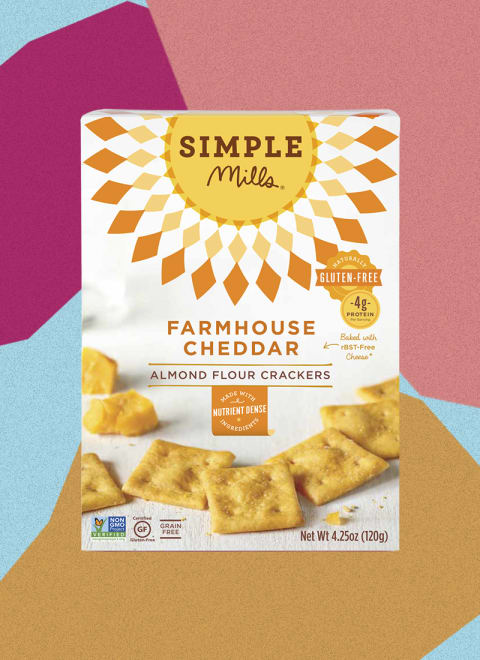 Photo by Simple Mills + mbg Creative
With a mission to simplify the ingredients in baked goods and boxed mixes, Simple Mills is changing the grain-free game with their delicious cookies, crackers, and cake, bread, pizza crust, and pancake mixes. These Farmhouse Cheddar Crackers are made from a blend of almond flour, sunflower seeds, and flaxseeds and use organic, non-GMO spices to get their savory, addictive flavor. With 3 grams of protein per serving, they'll also help fill you up—although with a flavor like that, you'll still likely want more! $4.99 for a 4.25-ounce box.
Craving Hot Chocolate? Try Four Sigmatic's Mushroom Hot Cacao!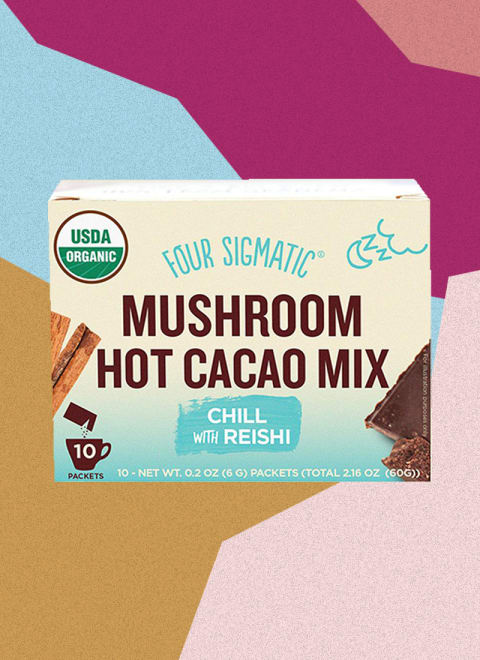 Photo by Four Sigmatic + mbg Creative
Mushrooms are the new darling of the wellness world, and for good reason: These potent fungi have been shown in a number of studies to boost brain power, immunity, and energy; alleviate anxiety; and more. They've only grown more popular since we featured them in our 2017 Wellness Trends, with brands like FourSigmatic leading the charge. They feature two hot cacao blends: one with cordyceps that's designed as a pick-me-up, and one with reishi that's meant to envelop you in a sea of Zen. With a creamy chocolaty flavor and potent effects that people can't stop talking about (particularly the reishi blend, which many swear by for sleep), this drink takes hot chocolate to the next level. $19.99 for 10 0.2-ounce packets.
Craving Reese's Cups? Try Unreal Dark Chocolate Peanut Butter Cups!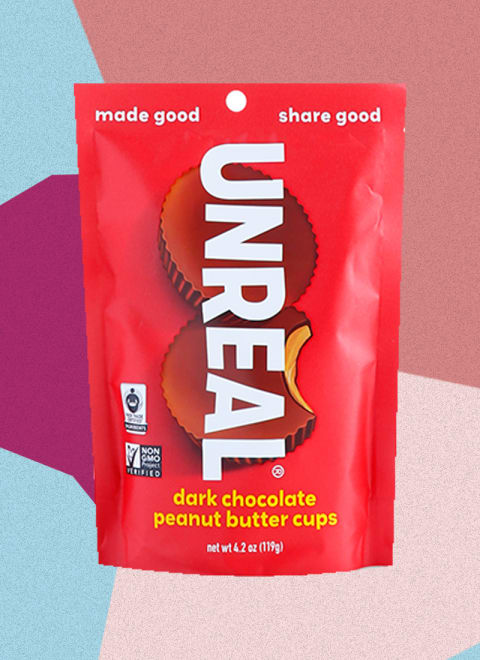 Photo by Unreal + mbg Creative
The genius premise behind Unreal is taking candy and getting rid of all the bad stuff to make a treat anyone can feel good about eating. They're completely free from artificial colors and flavor, GMO-free, and made with fair-trade, organic ingredients. The Dark Chocolate Peanut Butter cups were a revitalize favorite, as some of the biggest names in wellness snapped them up to fill their gift bags. With a perfectly sweet dark-chocolate coating and a creamy peanut-butter center, it's no wonder—they're essentially the perfect candy. $3.99 for 8 individually wrapped cups.
Craving Beef Jerky? Try Lorissa's Kitchen Beef Sticks!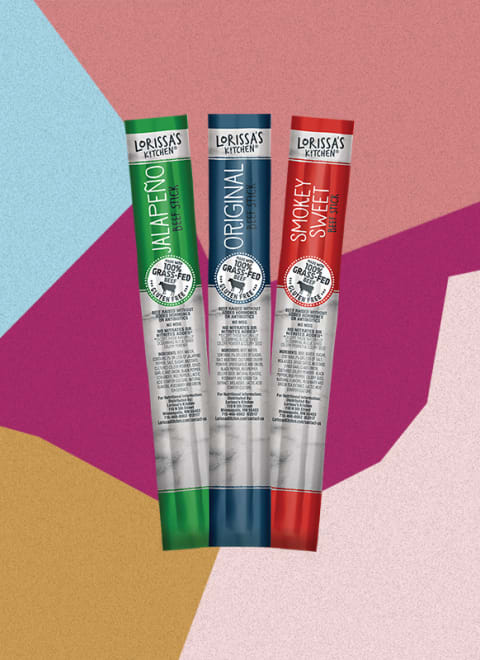 Photo by Lorissa's Kitchen + mbg Creative
Beef jerky has become increasingly popular as people take to the keto and paleo diets and are looking for high-protein snacks to keep their blood sugar balanced on the go. This beef sticks, from high-quality meat snack company Lorissa's Kitchen, are made from 100 percent grass-fed beef, which is better for both your body and the environment. With three flavors to choose from—the Smokey Sweet is an mbg favorite—you'll never get bored. $24 for 12 1-oz. sticks.