5 Days Of Healthy Meals: Anti-Inflammatory Cauliflower & Tahini Edition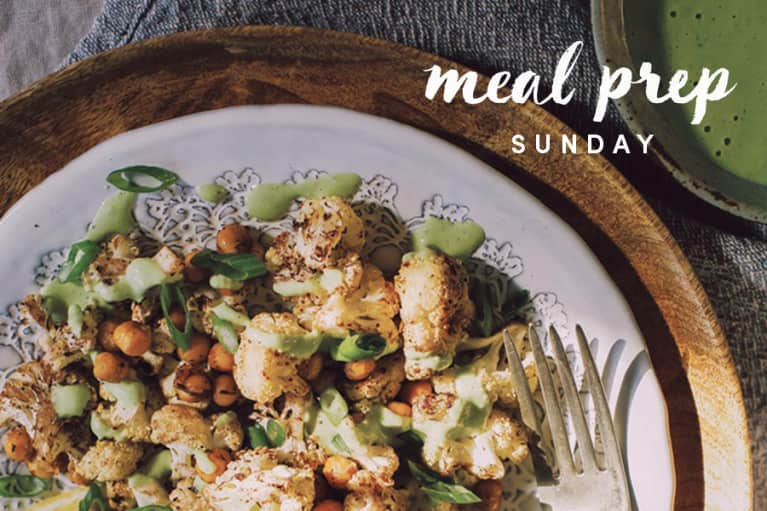 Our editors have independently chosen the products listed on this page. If you purchase something mentioned in this article, we may
earn a small commission
.
Welcome to Meal Prep Sunday, where you'll make a single, healthy recipe with serious bodily benefits, whether it makes your skin glow, helps soothe your gut, boosts your immunity, or more! Because it gets boring to eat the same thing every day, you'll do the bulk of the prep on the first day—and every day after that, there will be one small, five-minute-or-less tweak that will transform the leftovers into a new, amazing meal. Today, we're sharing a recipe from blogger Laura Wright, whose first cookbook, The First Mess Cookbook, is being released this week! We'll let her take it from here, but be sure to check back next Sunday for an all-new set of recipes.
A plate I enjoyed with friends at an incredible Israeli restaurant in Philadelphia inspired this recipe. Before we enjoyed meaty chunks of eggplant cooked over coals and after we voraciously ate up plates of salatim, there was a dish of crispy fried cauliflower with a deep-green, tahini-based sauce on the side. The cauliflower, in all its fried glory, was the perfect foil to the creamy and fresh-tasting sauce. It took every bit of the restraint I had not to greedily scoop all of it up for myself. I knew I could make a non-fried version at home that was just as satisfying, as long as I could nail the sauce. This recipe is pretty close.
Shopping List for the week
olive oil
1 small head cauliflower
1 cup cooked chickpeas
2 lemons
2 teaspoons za'atar spice
⅓ cup tahini
2 teaspoons apple cider vinegar
1 tablespoon maple syrup
1 bunch of fresh basil
3 cloves of garlic
1 bunch of green onions
1 bunch lacinato kale
¼ cup sesame seeds
1 package of organic, extra-firm tofu
brown rice pasta (or other pasta you like)
⅓ cup nutritional yeast
corn tortillas
1 ripe avocado
3 to 4 radishes
small head of cabbage
hot sauce
1 medium yellow onion
1 quart of vegetable stock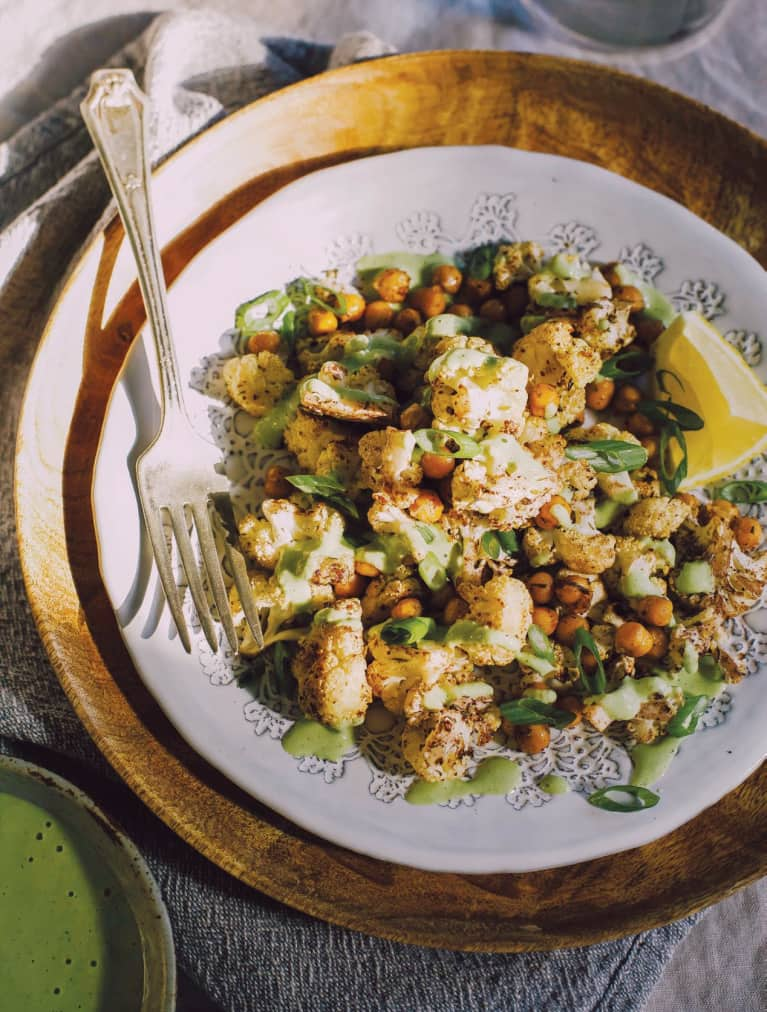 Roasted Cauliflower with Green Tahini
serves 4 as a side
Ingredients
5 cups (1.25 L) small cauliflower florets (about 1 small head)
1 cup (250 mL) cooked chickpeas
1 tablespoon (15 mL) virgin olive oil
2 teaspoons (10 mL) fresh lemon juice
2 teaspoons (10 mL) za'atar spice
salt and pepper, to taste
Green Tahini (makes extra)
⅓ cup (75 mL) tahini
2 tablespoons (30 mL) fresh lemon juice
2 teaspoons (10 mL) apple cider vinegar
2 tablespoons (30 mL) filtered water, plus extra (depending on thickness of tahini)
1 tablespoon (15 mL) raw agave nectar OR pure maple syrup
½ cup (125 mL) fresh basil leaves
4 green onions, chopped
1 clove garlic, chopped
salt and pepper, to taste
fresh lemon wedges (optional, for serving)
Preheat the oven to 400°F (200°C). Line a baking sheet with parchment paper.
Place the cauliflower florets and chickpeas on the baking sheet. Drizzle with the olive oil and lemon juice, and season with the za'atar spice, salt, and pepper. Toss the vegetables and chickpeas to coat.
Slide the baking sheet into the oven, and roast for 20 to 25 minutes, tossing the vegetables and chickpeas frequently. The chickpeas should be crisp and the cauliflower quite browned.
While the vegetables are roasting, make the Green Tahini: In a blender, combine the tahini, lemon juice, apple cider vinegar, filtered water, agave syrup, basil, green onions, garlic, salt, and pepper. Blend on high until it has a smooth, creamy texture. Add more filtered water if needed to make the dressing pourable. Check the seasonings and adjust if necessary.
Portion into 5 equal parts, then store four in the fridge and serve the last one hot with the Green Tahini drizzled over top and some fresh lemon wedges on the side, if you like.
DAY 2: Cauliflower rice and grilled tofu bowl
Take the cooled roasted cauliflower and chickpeas and pulse them in the food processor to form "rice." Quickly brush a piece of organic, extra-firm tofu with tamari, olive oil, salt, and pepper. Grill or roast the tofu until caramelized and brown in spots. Place the tofu on top of the rice. Drizzle the bowl with the green tahini and garnish with sliced green onions.
DAY 3: Creamy pasta with lemon and roasted cauliflower
Cook some brown rice pasta and, while it's still warm, toss it with the roasted cauliflower and chickpea mixture, the green tahini, garlicky olive oil, nutritional yeast, and an extra squeeze of lemon. Stir the mixture over medium heat until creamy and saucy, adding a few splashes of vegetable stock/water if necessary. Serve hot with extra sprinkles of nutritional yeast.
Warm some corn tortillas over a low flame or under the broiler. Place the roasted cauliflower and chickpeas inside of the tortillas. Top the cauliflower with sliced avocado, shaved radishes, or crunchy cabbage shreds; drizzles of the green tahini sauce; and a few drops of hot sauce.
DAY 5: Garlicky cauliflower and chickpea stew
Sauté an onion and two minced garlic cloves until soft and transfer to an upright blender. Add half of the roasted cauliflower and chickpea mixture to the blender, along with all of the green tahini, and enough vegetable stock to cover by about 2 inches. Blend until smooth and fluid. Transfer the blended mixture to a pot, along with the remaining roasted cauliflower and chickpeas. Bring the stew to a boil, adding more vegetable stock if necessary. Serve hot with a sprinkling of chopped green onions and a squeeze of lemon.