Meet Your New Addiction: Perfectly Fluffy, Bright Green Falafel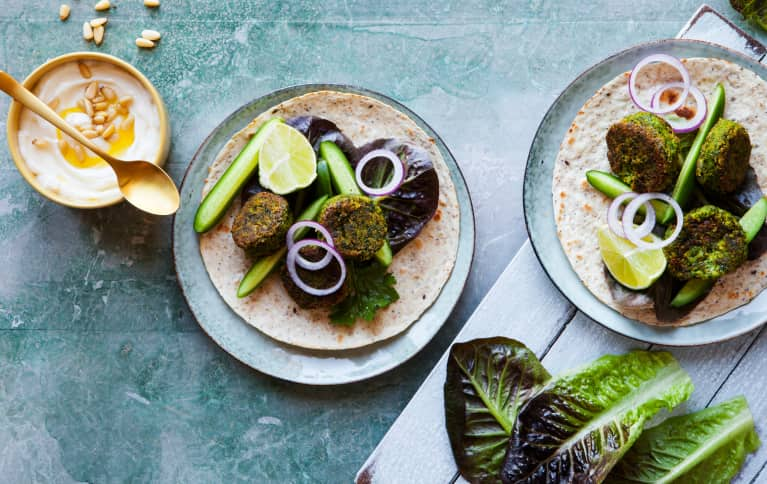 Our editors have independently chosen the products listed on this page. If you purchase something mentioned in this article, we may
earn a small commission
.
Alon Shaya is a two-time James Beard Award–winning chef, endorsed by none other than Yotam Ottolenghi. His new cookbook, Shaya: An Odyssey of Food, My Journey Back to Israel, is part memoir, part recipes, and all mouthwatering—especially his ingenious take on a classic health food staple: falafel. While we love the protein-packed, super-savory chickpea balls, making them at home can often result in a dense, less-than-appealing texture. But Shaya has an ingenious solution: egg whites. By omitting the egg yolks, you end up with "feathery clouds," in Shaya's words (although he notes that if you're looking for a vegan option, the egg whites are easily omitted). The fresh herbs turn the batter a beautiful green color and add even more phytonutrients. Sign us up!
Alon Shaya's Bright Green Falafel
Makes about 24
Ingredients
1⅓ cups dried chickpeas
¼ cup water, plus plenty for soaking the chickpeas
1 quart lightly packed fresh parsley leaves (from about 2 bunches)
¼ yellow onion, chopped
Grated zest of 1 lemon
1 tablespoon all-purpose flour
2 teaspoons Morton kosher salt
¾ teaspoon baking powder
½ teaspoon ground cumin
¼ teaspoon ground cardamom pods
¼ teaspoon cayenne pepper
2 egg whites
2 to 3 quarts canola oil or avocado oil, for frying
Put the chickpeas in a large bowl, and submerge in water. Soak overnight.
In the bowl of your food processor, pulse the parsley a few times, until it's roughly chopped. Drain and rinse the chickpeas, then add them along with the onion, lemon zest, ¼ cup water, flour, salt, baking powder, and spices. Process until the mixture is all the same color and starting to pull together.
Whip the egg whites to stiff peaks with a whisk or mixer. Fold the whites into the chickpea mixture, and chill for at least 1 hour.
Clip a thermometer to the side of a heavy-bottomed pot or Dutch oven, and add enough canola oil to come about halfway up the sides of the pot. Bring to 350°F over medium-high heat. While it warms up, line a plate or cooling rack with paper towels.
Working in batches of six to eight—just enough so they'll have plenty of space in your pot—shape the dough into golf-ball-size pieces; it will be pretty loose but should still hold together. Use a slotted spoon to lower them carefully into the oil, one at a time, and fry each batch for about 4 minutes. After about 1 or 2 minutes, if they're sticking to the bottom of the pan, nudge them loose with your spoon. These will look done before they're completely cooked through, so be patient and let the crust become a very deep, burnished brown. Cut into one—it should be firm, the same consistency throughout.
Once the falafels are cooked, keep them warm in the oven while you cook the rest. Serve warm on their own or with any of the suggestions mentioned in the headnote.