Going Camping This Summer? Bookmark These Easy, Healthy Recipes You Can Make Over A Fire

Contributing Food Editor
By Liz Moody
Contributing Food Editor
Liz Moody is a food editor, recipe developer and green smoothie enthusiast. She received her creative writing and psychology degree from The University of California, Berkeley. Moody is the author of two cookbooks: Healthier Together and Glow Pops and the host of the Healthier Together podcast.
If you've ever gone camping and found yourself wondering how the heck to eat healthy when everyone else is roasting s'mores and decidedly not grass-fed hot dogs over the fire, you're not alone. It's a tricky problem, and Laura Bashar has stepped up to solve it. In The Camp & Cabin Cookbook, she makes it easy not only to cook over a fire but to utilize it for even more delicious food than you could make in a home kitchen. Bookmark these three delicious recipes for your next forest adventure.
Breakfast Quinoa Bowl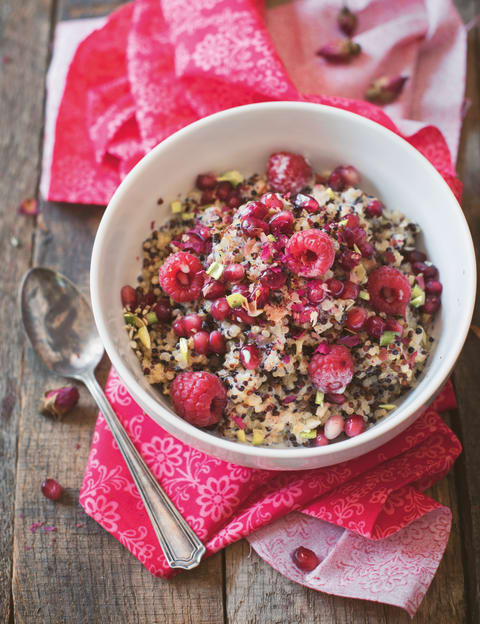 For those of you who love their bowl of oatmeal in the morning, you will love this breakfast quinoa bowl. Because quinoa is a seed and not a grain, it is gluten-free, as well as high in protein and fiber. This small breakfast bowl will keep you going all morning. Instead of cooking the quinoa in water or regular milk, I chose to use coconut milk. It is creamy and just mildly sweet, so you do not need to add any sugar. You can find rosewater at Middle Eastern markets. If you can't find rosewater, substitute with vanilla or omit altogether. For more smokiness, top with grilled fruit.
You Need: A Fire-Safe Pot on Grill
1 cup coconut milk, plus more for drizzling
½ cup dry quinoa
1 teaspoon rosewater
¼ cup pomegranate arils
¼ cup raspberries
2 tablespoons finely chopped pistachios
Prepare the fire for medium heat. Place the grill grate over the flames.
Place a small fire-safe pot on the grill and add coconut milk, quinoa, and rosewater.
When the milk begins to boil, cover the pot, and reduce the heat to low. Simmer until the quinoa absorbs all the milk, about 15 minutes.
Fluff the quinoa with a fork, then divide into two bowls.
Top with fruit and pistachios. Drizzle with a little more coconut milk, as desired.
Iron Man Protein Pancakes With Blueberry Syrup
Lazy mornings and a large stack of steamy pancakes are a match made in heaven. Whether you have a big hike planned or fishing on the lake, these protein-packed pancakes will fill you up and give you plenty of energy.
Makes twelve 3-inch pancakes
1 cup mashed bananas (see note)
4 large eggs
½ cup almond meal
¼ teaspoon baking powder
1 pint blueberries
¼ cup maple syrup
Prepare the fire for medium heat. Place the grill grate over the flames.
In a bowl, mash up the bananas until smooth.
Whisk in the eggs, then the almond meal and baking powder.
Heat a 10-inch cast-iron skillet over hot coals until medium hot but not smoky. You do not want to burn the pancakes. Pour ¼ cup of batter onto the hot skillet. When the edges start to firm up and the top just starts to cook, flip the pancake over.
Cook a few more minutes until done, then transfer to a serving plate. If the edges start to burn, remove the pan from the heat to cool, then reduce the fire and continue cooking.
When the pancakes are all cooked, combine the blueberries and maple syrup in the skillet and cook over high heat until the blueberries burst and the syrup is thick and bubbly. Serve with the pancakes.
Note: If you use overripe bananas, the batter will be more liquidy, so add a tablespoon or more of almond meal to compensate. The flavor of the pancakes will also be sweeter. Regular bananas work best.
Baked Provençal Tomatoes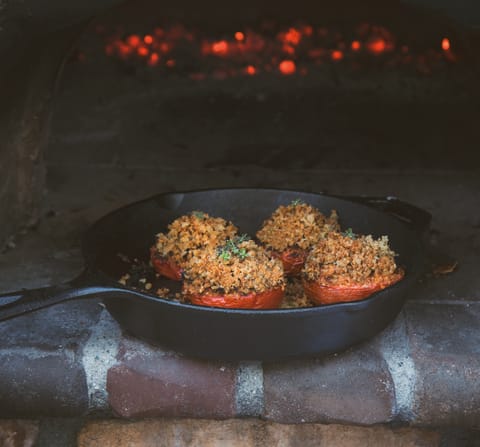 If you find yourself overflowing with sweet garden tomatoes, you are always looking for new ways to showcase them. These stuffed tomatoes originate from Provence, France. The roots of Provençal cuisine are fresh vegetables, herbs, and extra-virgin olive oil. Although these tomatoes may seem like a very simple recipe using simple ingredients, the dish is full of flavor. This versatile recipe can be baked in a Dutch oven, in a skillet, or wrapped in foil and cooked over coals.
You Need: A Dutch Oven, Skillet, or Foil
1 cup Panko breadcrumbs
⅓ cup extra-virgin olive oil
⅓ cup grated Parmesan cheese
2 garlic cloves, crushed
2 tablespoons fresh thyme
4 large tomatoes
½ teaspoon kosher salt
¼ teaspoon ground black pepper
1 lemon, cut into wedges (optional)
In a chimney, light up 26 coals.
In a bowl, mash together and combine with a fork the breadcrumbs, olive oil, Parmesan, garlic, and thyme.
Cut the tomatoes in half crosswise and place them on the bottom of your 10-inch Dutch oven, cut-side up.
Season the tomatoes with salt and pepper.
Press the stuffing evenly along the tops of the tomatoes, about 2 tablespoons per tomato.
Cover the pot and place 15 coals on top and 9 underneath the Dutch oven (375°F).
Bake for 20 minutes until tops are lightly browned.
Serve with lemon wedges (optional).
ALTERNATIVE COOKING METHODS: You can also make these by wrapping each stuffed tomato in a sheet of heavy-duty aluminum foil. Place this foil package in a campfire ring, surrounded by ash and hot coals, and cook for approximately 20 minutes. To prepare at home, place stuffed tomatoes on a lightly oiled baking sheet and bake at 375°F for 20 to 25 minutes or until breadcrumbs are lightly brown.