Healthy Power Baklava

By Nadya Andreeva
mbg Contributor
Nadya Andreeva is a certified wellness coach specializing in digestive health, author & modern Ayurveda girl.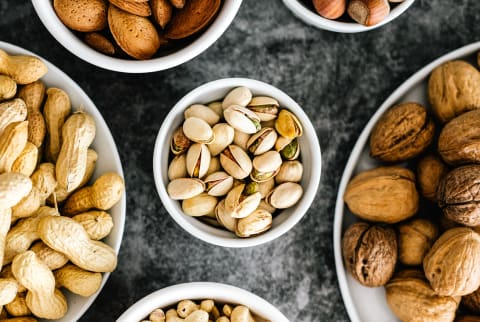 Image by Good Vibrations Images / Stocksy
August 25, 2011
This 'Healthy Power Baklava' can be a healthy snack (or post-dinner dessert), that can boost energy before a long yoga practice or nourish the muscles after an intense workout.
I based this recipe off of traditional baklava's main ingredients -- nuts and honey, but this version is rich, satisfying, and healthy!
2 tbsp raw shelled pistachios
2 tbs raw sunflower seeds
4 tbs raw buckwheat or flower honey
a drop of organic vanilla extract
Fresh lemon zest sliced in tiny pieces
Fresh ginger slices or ginger powder
Optional: To make this even healthier, try adding 1 tbs of bee pollen or Green Matcha powder. To increase fiber add 1 tbsp of roasted buckwheat groats or chia seeds.
Make sure that the honey is room temperature, not cold. Mix everything together and let it seat for 15-30 min for flavors to absorb. Enjoy a few spoons with a cup of fresh ginger tea. Store the rest in the fridge for a future treat.
This Power Baklava is a super dense source of nutrients. It has good fats, protein, and Omega 3's. The spices help to slow down carb absorption and stimulate digestion. If you have trouble digesting nuts and seeds, soak all the nuts and seeds overnight in warm water and make baklava in the morning. Soaking nuts makes them easier to break down and their nutrients easier to absorb. Try to get the freshest nuts available as old nuts are a lot harder to digest.

Nadya Andreeva
Nadya Andreeva is a certified wellness coach specializing in digestive health, author & modern Ayurveda girl. Professionally trained in mindful eating, yoga, and positive psychology, Nadya helps women create a pleasure and freedom based relationship with food that honors their body's unique chemistry and eliminates bloating and irregularity.
Nadya's book, Happy Belly: A woman's guide to feeling vibrant, light, and balanced is a go-to resource for women to prevent and eliminate bloating and constipation. If you want to reduce bloating, eliminate constipation, balance weight, and have higher energy, download your copy of Happy Belly Meal Plan with recipes, food shopping list, Happy Belly Approved products and brands, and other super useful tools here.
Nadya has been featured in various media including Huffington Post Live, Yoga Journal Russia, Glamour Magazine, Veria Living, and Ted Talks.