mbg Beauty Contributor
By Josh Rosebrook
mbg Beauty Contributor
Josh Rosebrook is the creator and founder of Josh Rosebrook Skin and Hair Care.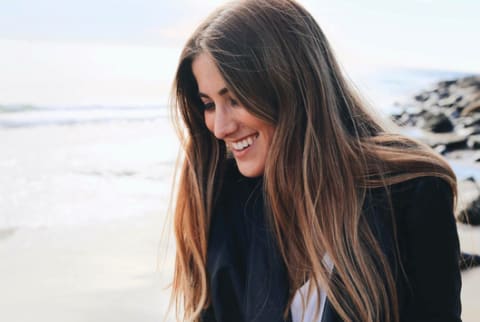 February 13, 2017
Nothing gives hair a quick-fix moisture boost quite like a quality hair oil, because oils are how the body protects the skin and the hair, naturally. Oils like jojoba and coconut share distinct molecular similarities to the oils of the body.
Remember, many hair care companies lead you to believe you are buying a clean, pure hair oil. In reality, they have filled the bottle mostly with silicones (like dimethicone and cetearyl methicone and which are non biodegradable, and water insoluble which causes them to build up on the hair shaft) and merely added a dash of actual plant nut or seed oil for marketing. Read the ingredients list and question what you are purchasing or using!
Consider your hair texture.
There is more than just hair type to consider when addressing which oils or any styling product will suit you best. It's equally, and many times more important, to consider hair texture. Many times going by hair texture verses type can better serve you more accurately in determining what is best for your hair.
Then consider how much hair you have!
After this, your hair density must be considered. Hair density is how much hair you have on your head and determines what kind of oil or styling product, and obviously, how much of it to use. If you have more hair, you need more product! And finally, the condition of your hair and how porous it is, determines what oil and how much your hair can and will absorb.
Hair oil has emerged in recent years as the ultimate elixir for softer, shinier, more luxe-looking lengths. But how exactly do you use oil without your hair actually looking oily?
Each hair type, texture, density and condition vary greatly and determine what oil or combination of oils will suit each person. Here's my go-to guide for finding the right type of hair oil for you without ever looking oily.
1. Straight to wavy, fine, healthy—no oil necessary
4. Wavy to curly, medium, dry to damaged—broccoli seed or marula oil
6. Wavy to curly, course, damaged—almond or marula oil
7. Curly to Coily, fine, dry—fractionated coconut or abyssinian oil
8. Curly to Coily, fine, healthy—fractionated coconut oil
How-to
Hair oil can be used several different ways depending on hair type and scalp condition. If you are having dry scalp dandruff, try massaging into your scalp—use shampoo direct before to cut the oil before water rinsing.
For styling, either apply a small amount before air or blow drying or apply a small amount once hair is dry.
I don't recommend applying oil near the scalp unless the hair near the scalp, and/or the scalp, is very dry and damaged. The scalp and produces enough oil and usually the first 3-5 inches of hair does not need oil.
When applying hair oil, focus on mid-shaft to ends and be careful not to apply too much to the ends, the oil has no further to travel and can gather there and appear too greasy and create weight.

Josh Rosebrook
mbg Beauty Contributor
Josh Rosebrook is the creator and founder of Josh Rosebrook Skin and Hair Care. After formulating effective natural treatments for his personal use, he began sharing his knowledge and insight with friends and clients. He is a well known hair stylist in Los Angeles and began developing pure, organic skin and hair care treatments over 13 years ago. His products, tips and interviews have appeared in Vogue, Vanity Fair, Elle, W, Marie Claire, Glamour, Harper's Bazaar and on Good Morning America.