You Have To Try This Genius Gut-Healing Mayo (It's Vegan!)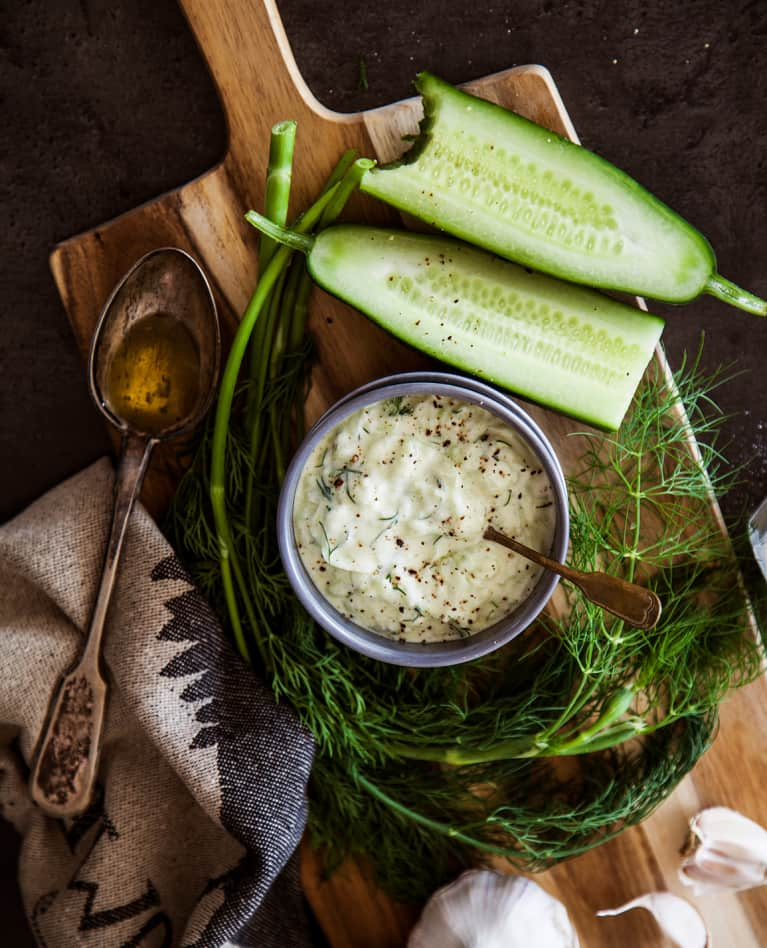 Our editors have independently chosen the products listed on this page. If you purchase something mentioned in this article, we may
earn a small commission
.
Anya Kassoff is the co-founder (along with her daughter, Masha Davydova) of one of the most gorgeous plant-based blogs around, Golubka Kitchen. Her recipes are genius, creative twists on plant-based staples, and her new book, Simply Vibrant, is no exception. Here, she reinvents mayonnaise, making the classic sandwich spread out of apples (!!!) and probiotic-packed miso. "I'm going to let go of any modesty and say that this recipe is quite revolutionary—amazingly close in flavor to mayonnaise, only more flavorful, and utilizing creamy, stewed apples and savory miso as its base," says Kassoff. "Use it as you would classic mayo—on sandwiches and in salads."
Makes about 1½ cups
Ingredients
2 medium apples: peeled, cored, and sliced
1 tablespoon apple cider vinegar
1 teaspoon coconut sugar or other sugar of choice
About 3 tablespoons purified water, plus more if needed
2 teaspoons Dijon mustard
2 teaspoons unpasteurized miso paste
⅛ teaspoon sriracha or other chili sauce of choice
½ tablespoon lemon or lime juice
Freshly ground black pepper to taste
⅓ cup (85 mL) plus 1 tablespoon olive oil
Sea salt to taste (optional)
Combine apple slices, apple cider vinegar, sugar, and water in a small saucepan. Bring to a boil, establish a slow simmer, and cook, covered, until apples are completely soft, about 15 minutes. Check periodically and add a splash of water if the liquid evaporates.
Combine cooked apples, mustard, miso paste, sriracha, lemon/lime juice, and black pepper in an upright blender or food processor. Blend until smooth.
With the blender still running on low, slowly pour in olive oil in small portions, making sure that each portion is fully whipped before adding the new one. Taste for salt, adjust if needed. Chill and keep refrigerated for up to 1 week.
Based on excerpts from Simply Vibrant by Anya Kassoff, with the permission of Roost Books, an imprint of Shambhala Publications, Inc. Copyright © 2017.