This Hot Chocolate Has A Secret Gut-Healing Ingredient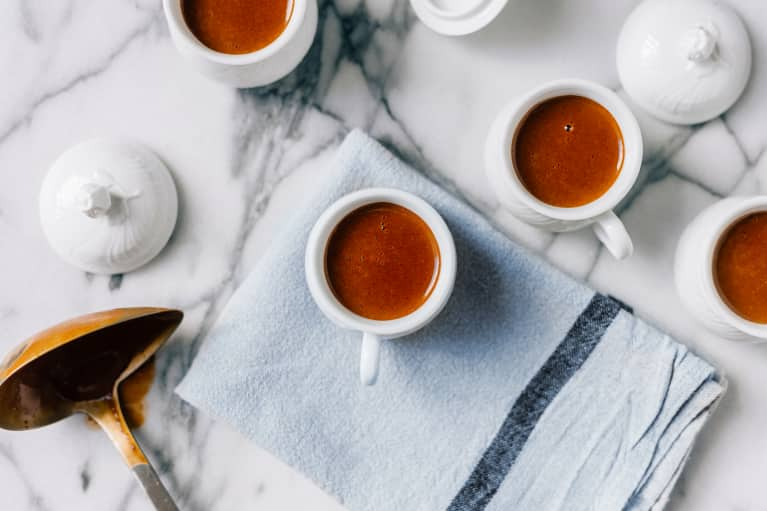 Our editors have independently chosen the products listed on this page. If you purchase something mentioned in this article, we may
earn a small commission
.
I'm a big fan of shortcuts—and also getting the best bang for my buck. That's why I love creating recipes with multiple benefits. I love this Healing Hot Chocolate because it combines the soothing, comforting smoothness of hot chocolate with some pretty powerful healing properties.
The individual ingredients are medicinal foods individually but also create a powerful synergy, which is greater than the sum of its components. This synergy is especially beneficial for your digestion and gut health!
This humble root gets a lot of attention for its numerous properties, which can be more powerful than medication: antioxidant, anti-inflammatory, anti-cancer, antibacterial, antimicrobial. Turmeric can help reverse conditions like arthritis, leaky gut, and Alzheimer's.
Another common spice with amazing properties, cayenne has been studied to help with digestion, pain relief, boost metabolism, and is anti-inflammatory.
One of the greatest benefits of gelatin is that it repairs the gut lining, helping reverse conditions such as leaky gut. It also supports general digestion and the health of your whole system. Gelatin is great for your joints. Gelatin also improves the quality of your sleep and supports brain health.
If you like chocolate sweet, I recommend a couple of alternative sweeteners, which won't spike your blood sugar. Stevia, especially in liquid form, is a great, healthy sweetener. Monk fruit is my new favorite, as it's extremely low on the glycemic index and tastes just like cane sugar!
1 cup (240 mL) unsweetened almond milk
½ cup (120 mL) water
2 tablespoons (14 g) raw cacao powder
½ teaspoon ground turmeric
½ teaspoon ground cinnamon
¼ teaspoon ground cayenne
1 tablespoon (9 g) powdered gelatin
1 tablespoon (12 g) sweetener of choice
2 tablespoons (30 mL) coconut oil
In a small saucepan, heat the almond milk, water, cacao powder, turmeric, cinnamon, cayenne, gelatin, sweetener, and coconut oil on medium heat, stirring constantly, until hot, about 2 minutes.
Use an immersion blender in the saucepan to blend until the coconut oil is emulsified and foamy. Serve immediately.
Based on excerpts from The Keto Paleo Kitchen by Vivica Menegaz, with the permission of Page Street Publishing. Copyright © 2017.