A Nutritionist-Designed Dinner To Calm Inflammation & Heal Your Gut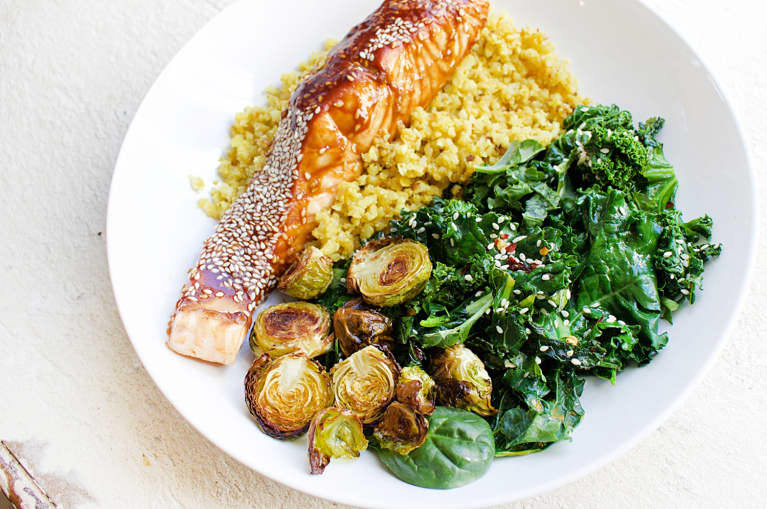 One of the first things I learned in nutrition school is that you're not what you eat, you're what you digest and absorb. The gut is the second brain of the body and is so vitally important in helping us to sustain good health. Eating a whole-food diet filled with probiotics and anti-inflammatory foods is key for optimal gut health, and this bowl will help you do just that! Gluten and dairy-free, this bowl will soothe your digestive system with turmeric and salmon's anti-inflammatory power. It's filled with nutrients and fiber (so important for feeding those healthy bacteria) from the greens and liver-detoxifying enzymes in cauliflower and Brussels sprouts. Not to mention, it tastes incredible!
Gut-Healing Salmon & Cauliflower Rice Bowl
2 salmon fillets, sustainably sourced or organic
10 to 12 Brussels sprouts, chopped in half
1 bunch kale, washed and shredded
½ head cauliflower, pulsed into cauliflower rice (you can use a whole cauliflower head if you wish)
3 tablespoons olive or coconut oil
1 teaspoon curry powder
Himalayan salt
¼ cup tamari sauce
1 teaspoon Dijon mustard
1 teaspoon sesame oil
1 teaspoon honey or maple syrup (optional)
1 tablespoon sesame seeds
Preheat oven to 350°F.
Line a baking tray and add chopped Brussels sprouts. Coat with 1 tablespoon oil and season with salt. Add to oven and roast for 20 minutes.
Meanwhile, make marinade by combining all ingredients in a bowl and whisking until combined.
Remove Brussels sprouts after 20 minutes and add salmon fillets to the baking tray. Spoon marinade over salmon fillets and return to oven for a further 13 to 15 minutes, or until salmon is cooked to your liking.
While salmon is cooking, heat a pan over medium-high heat and add 1 tablespoon oil. Add kale and sauté until wilted (2 to 3 minutes). Remove from pan and set aside.
Heat remaining oil in pan and add cauliflower rice. Season with 1 teaspoon curry powder and salt and sauté until cooked (2 to 3 minutes).
Remove salmon and Brussels sprouts from oven and divide into two bowls. Add sautéed kale and cauliflower rice to bowls.
Want to dive deeper? Learn how to quit dieting and start eating for health by taking Jessica's class here!