Make These Grain-Free Blueberry Streusel Muffins & Win Your Easter Brunch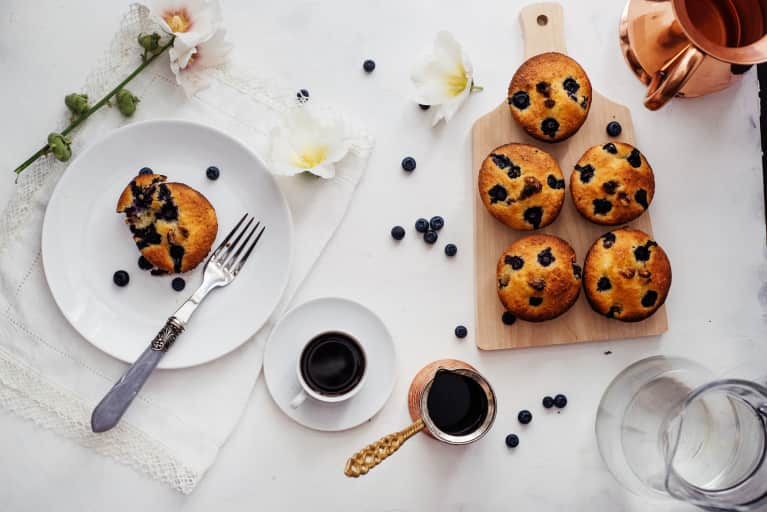 Our editors have independently chosen the products listed on this page. If you purchase something mentioned in this article, we may
earn a small commission
.
Laurel Gallucci didn't come to healthy baking by choice. Diagnosed with an autoimmune condition that forced her to change her diet and lifestyle, she found herself missing the cookies and cakes of her precondition years; out of this necessity, she began whipping up healthier, cleaner-ingredient versions of her past favorites. Fast-forward a few years, and Sweet Laurel Bakery has taken over LA with their whimsical, flower-topped cakes and shockingly fluffy, grain-free goodies. Now, in the Sweet Laurel cookbook, Gallucci (together with business partner Claire Thomas) is sharing the secrets of her delicious treats. The trick? Keeping things super-simple. "Our five core ingredients are almond flour, coconut oil, organic eggs, maple syrup, and Himalayan pink salt," Laurel told mbg. "We don't overcomplicate our recipes with fillers. Rather, these nutrient-dense ingredients give our baked goods structure, moisture, and full-on flavor." Here, she shares a Blueberry Streusel Muffin recipe that will win any brunch you bring it to.
Blueberry Streusel Muffins
After the chocolate cake that launched our bakery, blueberry bread was the second baked good to emerge from our ovens. There's just something so satisfying about blueberry-studded cake punctuated with flecks of lemon zest. For breakfast, we changed the bread into a muffin and added a crunchy and sweet streusel on top. With a cup of coffee, it makes for the perfect morning.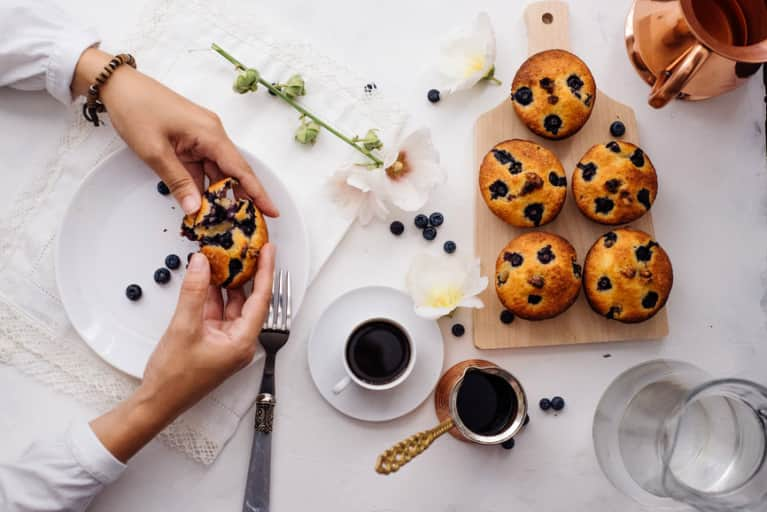 ½ cup almond flour
1 tablespoon coconut oil, melted
1 tablespoon maple syrup
2½ cups almond flour
¾ teaspoon baking soda
¼ teaspoon Himalayan pink salt
4 large eggs, at room temperature
⅓ cup coconut oil, melted
⅔ cup maple syrup
1½ teaspoons grated lemon zest, packed
1 tablespoon fresh lemon juice
2 tablespoons vanilla extract
4 ounces blueberries
Preheat the oven to 350°F. Line a baking sheet with parchment paper. Line 8 muffin cups with paper liners.
MAKE THE STREUSEL: In a small bowl, whisk together the flour, oil, and maple syrup until the mixture comes together. Crumble onto the baking sheet and bake for 20 minutes, or until the streusel begins to crisp up. Remove and set aside, but keep the oven on at 350°F.
MAKE THE MUFFINS: In a large bowl, whisk together the flour, baking soda, and salt. In a separate bowl, combine the eggs, coconut oil, maple syrup, lemon zest and juice, and vanilla. A little at a time, add the dry ingredients to the wet, stirring until a smooth batter forms.
Divide the batter among the 8 lined muffin cups, filling each ¾ of the way. Top each muffin with a few blueberries, and lightly swirl them into the batter with a spoon. Sprinkle the streusel topping over the muffins.
Bake for about 25 minutes, until the streusel is golden brown. Remove the muffins from the tin, set on a rack, and allow to cool completely. Store for up to 5 days in a sealed container, or for up to 2 months in the freezer. Defrost before reheating in a low oven.
NOTE: Blueberry is a classic, but you can swap in any berries or stone fruit in this recipe. If the fruit is very juicy or watery, like strawberries, bake for an extra 5 minutes.