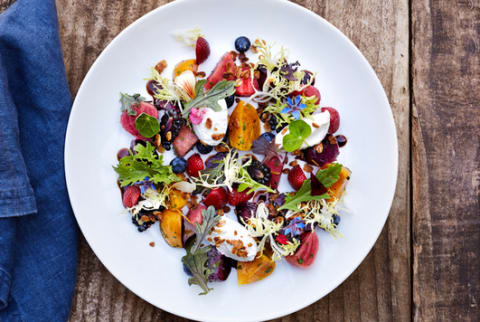 September 11, 2016
Small choices in the foods you eat throughout the day can make a world of difference in your energy level, your cognitive ability, and even the quality of your sleep at night. By choosing foods that promote health, increase vitality, and reduce your risk for serious illness, you are providing your body with what it needs to maximize its self-healing and self-repairing mechanisms. Those who value their health need to focus on which foods provide optimal nourishment and avoid the commercially processed foods that are devoid of nutritional benefit.
My list of the 10 best and worst foods for health and longevity is a guide for those who want to increase their resistance to disease and avoid the pitfalls associated with a poor diet. Consider this my "naughty and nice" list. My recommendations are based on striving to obtain a greater variety of micronutrients in your diet by consuming a larger quantity and variety of nutrient-rich foods and fewer foods of lower nutritional value.
Advertisement
This ad is displayed using third party content and we do not control its accessibility features.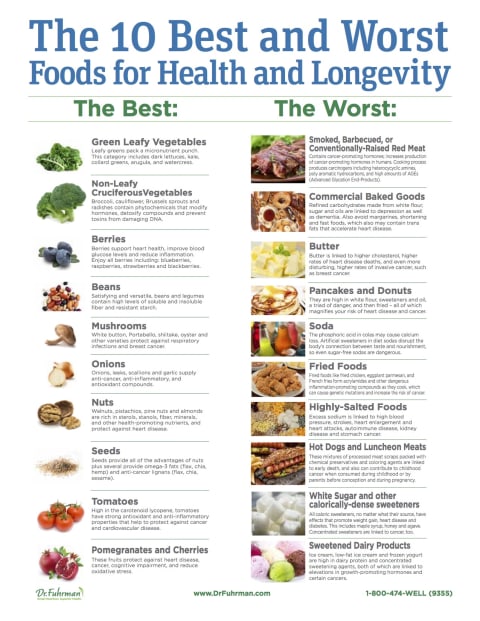 Some foods on my "naughty" list may surprise you. For example, many people use agave, honey, or coconut sugar instead of refined white sugar, thinking that it is better for them. Although they have gained a reputation as healthy, these so-called natural alternatives to table sugar are not better. No matter their source, all caloric sweeteners have negative effects that promote weight gain, heart disease, and diabetes.
How did agave, honey, and coconut sugar get a reputation for being healthy choices? Some natural sweeteners undergo fewer processing steps than sugar, and because of this they may retain some of the phytochemicals they had in their original form. However, their nutrient-to-calorie ratio is still very low, and they contain minimal or no fiber to slow the absorption of their sugars.
On the "nice" list of foods you should be eating, mushrooms rank high. They seem to have almost magical properties to strengthen the immune system. According to a study of healthy volunteers who ate mushrooms daily, mushrooms may help to prevent respiratory infections by improving the production of protective immune substances by mucosal surfaces, such as in the mouth, nose, and throat.
They also contain phytochemicals that research has indicated provides protection against breast cancer. Frequent mushroom consumption has been linked to up to a 64 percent decrease in the risk of breast cancer.
Beans are another wonder food on the "nice" list. High in fiber and plant protein and low in glycemic load, beans are among the world's healthiest foods. They stabilize blood sugar, blunt your desire for sweets, and can prevent midafternoon food cravings. The fiber content of beans is much higher than even intact whole grains. And because much of the starch in beans is resistant starch and slowly digestible starch, it limits the overall glycemic effect of the carbs in beans and bacteria fermenting it into anti-cancer compounds in the colon. Beans are also high in iron, B vitamins, fiber, and protein.
This list will help you strive to obtain a variety of micronutrients from your diet by eating whole plant foods that offer your body the most nourishment and to avoid foods that are commercially processed and are devoid of nutritional benefit.
Related reads:
Advertisement
This ad is displayed using third party content and we do not control its accessibility features.

Dr. Joel Fuhrman
Joel Fuhrman, M.D. is a family physician, NY Times best-selling author and nutritional researcher who specializes in preventing and reversing disease through nutritional and natural methods. He is an internationally recognized expert on nutrition and natural healing, and has appeared on hundreds of radio and television shows including The Dr. Oz Show, the Today Show, Good Morning America, and Live with Kelly and Michael. Dr. Fuhrman's own hugely successful PBS television shows, 3 Steps to Incredible Health!, Dr. Fuhrman's Immunity Solution!, and Dr. Fuhrman's End Dieting FOREVER!, bring nutritional science to homes all across America.
Dr. Fuhrman's #1 New York Times best-selling book, Eat to Live, originally published in 2003 (Little Brown), has sold over 1,000,000 copies and has been published in 16 foreign language editions. In October 2012, Super Immunity (HarperOne) reached the NY Times best sellers list and in January 2013, The End of Diabetes (HarperOne) became his third NY Times Best seller. Dr. Fuhrman's most recent books, Eat to Live Cookbook (HarperOne) reached #1 on the best seller list during its debut week in October 2013, and The End of Dieting (HarperOne), released in March 2014 was #2 on the list for its debut. In addition, Dr. Fuhrman has written several other popular books on nutritional science, including: Eat for Health (Gift of Health Press), Disease-Proof Your Child (St. Martin's Griffin), Fasting and Eating for Health (St. Martin's Griffin) and Dr. Fuhrman's Nutritarian Handbook and ANDI Food Scoring Guide (Gift of Health Press).
Dr Fuhrman is the father of Nutritarian eating. His health (longevity) equation H = N/C, (healthy life expectancy is proportional to lifetime intake of micronutrient diversity and quantity per calorie) has interested scientists the world over. As an advocate of diets rich in a vast array of plant micronutrients per calorie, his ANDI scoring system, featured in Whole Foods Market, has directed millions of consumers to eat an anti-cancer diet-style. Dr. Fuhrman's discoveries in differentiating the physiology and biochemistry of true hunger from addictive hunger (which he calls toxic hunger) is essential for understanding and resolving both health and weight concerns, and an essential element to solve our nation's obesity and health crisis.