Integrative Medicine Doctor
By Sara Gottfried, M.D.
Integrative Medicine Doctor
Sara Gottfried, M.D., is three-time New York Times bestselling author and a graduate of Harvard Medical School and MIT.
April 7, 2017
I love to shop, but I don't always have the time I need to get it all done. So I rely on online delivery services like GoodEggs, Instacart, and Amazon. This bag of organic groceries represents the things I buy to feel and look young. They all begin with the letter B, including varietals of cruciferous vegetables that regulate liver detoxification by inhibiting phase I and stimulating phase II detox, thereby regulating my estrogen levels; Brazil nuts to support my thyroid; bone broth to supply collagen for my skin and to seal my leaky gut; and a bag of avocados to provide healthy fat to rejuvenate and moisturize hair and scalp. The price is a bit higher than you may find at your local shop, but for me, the convenience makes the difference.
When you know that you're predisposed to be a poor methylator like I am, you can change your inputs to create balance in the body. You can eat more green vegetables (broccoli, spinach, collard, mustard greens, asparagus) and drink less wine as a genetic workaround. This is the concept of nutrigenomics: inputs like alcohol and folate from dark leafy greens may exert a greater impact on your body than your genes do.
Advertisement
This ad is displayed using third party content and we do not control its accessibility features.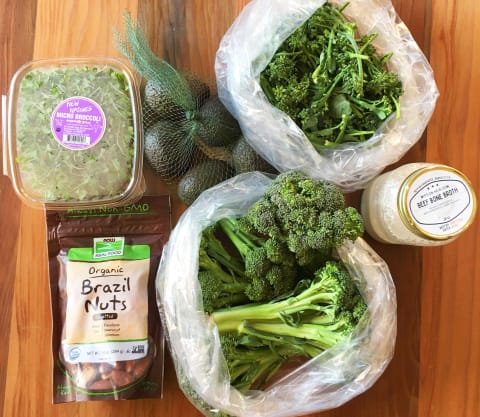 The Grocery Haul
Broccoli Sprouts ($4.49)
Advertisement
This ad is displayed using third party content and we do not control its accessibility features.
Broccoli DiCiccio ($4.79)
This form of Italian heirloom broccoli produces a 3- to 4-inch green central head with many medium-size shoots and lots of leaves. I find this varietal to be the best-tasting of all broccoli. I like to sear my Broccoli DiCiccio in coconut oil over medium-high heat, covered for 1 minute, and then uncovered for 3 to 5 minutes to desired consistency. I add ½ cup minced preserved lemons.
Did you know? Broccoli is dense in vitamins A (helps your eyes), C (keeps progesterone balanced), K (helps to keep bones strong), potassium (good for fluid balance in the body), phosphorous (also good for you bones), and iron (you need this after your period!).
Eat 6 to 8 ounces of lightly steamed or pan seared Broccoli DiCiccio per day.
Broccoli ($6.99)
My kids don't agree that Broccoli DiCiccio is the best-tasting variety of broccoli, so I always buy a few pounds of crowns for them because they like old-school steamed broccoli the best. I think of cruciferous vegetables as crowding out environmental toxins. Crucifers act as housekeepers of your immune system. Seventy percent of your immune system is beneath the layer of your gut, which is thinner than a piece of tissue paper. Vegetables trigger cleanup in your immune system. In fact, the very same receptor on cells that environmental toxins use for their bad xenobiotic effects is also used by cruciferous vegetables. So by eating more cruciferous vegetables, you crowd out the bad environmental toxins2. You may prevent cancer. You receive fiber to purify your liver and vitamin C to counteract free radicals. My daughters don't yet care about such things, but the data are impressive!
Did you know? One study showed that eating 500 grams a day of broccoli does improve your 2:16 ratio, or good-to-bad estrogen ratio, by 30 percent. In fact, every 10-gram increase in consumption of Brassica vegetables in women is associated with an 8 percent increase in the 2:16 ratio—a positive outcome.
Eat 6 to 8 ounces of lightly steamed broccoli per day.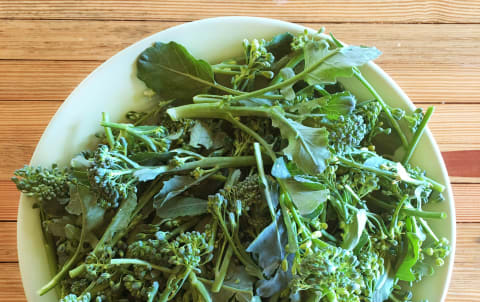 Advertisement
This ad is displayed using third party content and we do not control its accessibility features.
Bag of Avocados ($6.99)
OK, it doesn't officially begin with the letter "B" but I eat fresh avocados almost daily, so they're always in my grocery bag. They are one of my favorite forms of monounsaturated fat.
Did you know? Avocados contain a lot of fiber and are rich in vitamin Bs, C, E, K, potassium, and copper.
Eat 2 ounces per day of fresh avocado for weight loss and more if weight is optimal.
Bone Broth ($14.49)
Every week, I order chicken and beef bone broth from Mission Heirloom in Berkeley. They taste so good that I sip them throughout the day like water. Mission Heirloom is a rare-food-based company and restaurant that uses locally sourced food that's 100 percent organic or biodynamic. They never cook with refined oils, and all of their products are gluten-free, grain-free, soy-free, peanut-free, legume-free, and added sugar-free. When I eat their food, it's the best information for my DNA. I never feel sick, gassy, or bloated. Their chicken bone broth contains lavender and lemongrass, which brightens the flavor. In all of their broths, Mission Heirloom blends collagen back into the broth to create a cloudy source of nutrients to repair skin, hair, and nails.
Did you know? A randomized trial showed that exogenous collagen improves skin elasticity3. Another study showed that collagen improves the appearance of cellulite4.
Drink 4 to 8 ounces of bone broth per day.
Advertisement
This ad is displayed using third party content and we do not control its accessibility features.
Brazil Nuts ($11.99)
I add Brazil nuts to my shakes and salads. They are one of the richest sources of selenium found in whole food.
Did you know? Eating one Brazil nut per day increases selenium and glutathione production, and glutathione is the most powerful antioxidant your body makes5. That allows you to run your thyroid more efficiently and detoxify chemicals better.
Eat 1 to 2 Brazil nuts daily.
Total: $49.74
If you have a little extra cash, pick up another B: biodynamic wine. My favorite varietal is Emiliana Cohan (2012). It's a certified biodynamic blend of syrah, carmenere, merlot, cabernet sauvignon, and Malbec from Chile and can be purchased at wine.com.
You may already know that nutrigenomics refers to the ways that foods such as broccoli and bone broth help you stave off physical and mental decline. It's the powerful new science of how nutrients in your food, drinks, and supplements may affect your health by changing the expression of your genes. This is the realm of "personalized lifestyle medicine" and the future of medicine—dietary intervention based on your nutrient status, nutritional requirements, and genes. This knowledge can be applied to prevent or cure diseases such as cancer and autoimmune disorders. It all starts with your grocery bag!
Advertisement
This ad is displayed using third party content and we do not control its accessibility features.

Sara Gottfried, M.D.
Sara Gottfried, M.D. is three-time New York Times bestselling author of The Hormone Cure, The Hormone Reset Diet, and her newest book, Younger. After graduating from Harvard Medical School and MIT, Dr. Gottfried completed her residency at the University of California at San Francisco. She is a board-certified gynecologist who teaches natural hormone balancing in her novel online programs so that women can lose weight, detoxify, and slow down aging. Dr. Gottfried lives in Berkeley, CA with her husband and two daughters. Learn more at SaraGottfriedMD.com.
Read More