How To Pick The Perfect Gift For Anyone, Based On Their Enneagram Type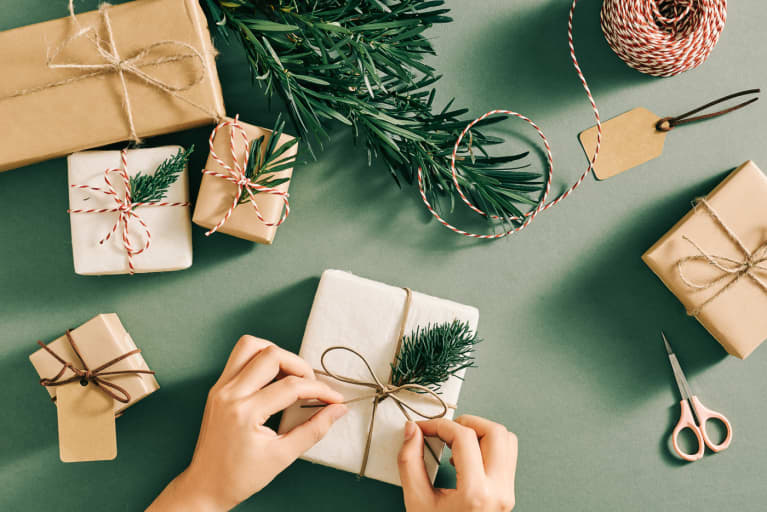 The holidays are a welcome reprieve from a long and tumultuous year. And gifts are the perfect opportunity to show loved ones, near and dear or far away, our care and gratitude.
If you're unsure what to give, you can use the Enneagram—a popular personality typing system—as a tool used to gain insight into what your friends and family members may be looking for. In a recent survey conducted by personality test provider Truity, 105,000 people shared their Enneagram types as well as what kinds of presents they enjoy receiving. Based on the results, here are some gift ideas to make sure each Enneagram type feels seen.
Note: All nine types overwhelmingly reported wanting thoughtful gifts, so keep that in mind!
Type Ones: An invitation to slow down.
Favorite gift vibes: practical
Favorite gift types: travel, sentimental
Ones (aka Reformers) could always use a reason to rest and relax. A surprise staycation close by or a day trip somewhere fun—when it's safe to travel!—are the perfect types of presents to inspire them to lean into the lighthearted side of their personality and free them up from their typical responsibilities and obligations.
Ones are also drawn to gifts that invite beauty and purpose into their workspaces and can enhance their organization in a creative way. Things like scented candles, beautiful stationery, and dated planners appeal to their natural sensibilities.
Type Twos: Show appreciation through self-care. 
Favorite gift vibes: surprise
Favorite gift types: sentimental, travel, fashion
Chances are, Twos (aka Helpers) are the ones organizing meal drop-offs to their family or volunteering at food drives during the holiday season. They're the type that will go above and beyond to make sure that the food is delicious with multiple vegan and gluten-free options to accommodate everyone's preferences and that no one feels left out.
Since Twos are typically very aware of what others need and want, they may be secretly hoping to have that same effort returned to them. Because they might be harboring that desire, they'll enjoy surprise presents, sentimental offerings, and gifts that reveal care of and attention to their passions. Twos would especially like any type of self-care present that encourages emotional rest.
Type Threes: Objects that bring joy.  
Favorite gift vibes: surprise
Favorite gift types: travel, fashion
Threes (aka Achievers) aspire to excellence in many areas of their life, and their home/work life is no exception. Since the world is still in quarantine and our homes have evolved into a self-contained universe of sorts, presents that delineate work and play will be beneficial to help Threes wind down for the night.
Some ideas are smartwatches to remind them to take breaks and track their sleep, noise-canceling headphones, or fidget toys to quiet their busy mind during work meetings. Invigorate their instinct to pause and slow down with home items that appeal to a cozy and hygge aesthetic like a fashionable robe, massage items, candles, and cool types of artwork.
Type Fours: An eye for the special and unique.
Favorite gift vibes: surprise
Favorite gift types: sentimental, media, decadent
Fours (aka Individualists) are sentimental creatures who value nostalgia and meaning. They're interested in creating and cultivating a striking interior home that showcases their respect for beauty and art. They're appreciative of luxe, decadent presents, but it's not always about the price point for them—the thought behind the gift matters more. Fours particularly cherish handcrafted or meaningful one-of-a-kind tokens that reinforce their self-presentation, express who they are, or draw them inward.
Fours treasure gifts like esoteric art, a record from their favorite obscure rock band, or something they can put a stamp on and create themselves like a creative DIY tarot card deck.
Type Fives: Feed their curiosity. 
Favorite gift vibes: practical
Favorite gift types: tech, media
Fives (aka Investigators) are already keenly aware of their hobbies, and they adore gifts that help them tunnel deeper into the ins and outs of their unique passions. It's likely they probably already have a very specific, carefully researched item in mind, so pay attention to what they're looking for.
Fives are minimalists at heart, so they'll appreciate practical, thoughtful gifts that help them recharge at home, play with something new in the tech space, or explore a new area of knowledge they can conquer at home. Fives would also be thrilled to receive books or media-based gifts in line with their interests (music, movies, apps, subscriptions).
Type Sixes: Calming gifts to de-stress. 
Favorite gift vibes: practical
Favorite gift types: fashion, sentimental
Sixes (aka Loyalists) are incredible troubleshooters and loyal to a fault, but staying in a state of hypervigilance can deplete them energetically. To counter this, giving Sixes presents that bring comfort and peace can be nourishing for their anxiety.
Show how much you care for their presence with gifts that advocate for self-soothing practices and items like weighted blankets, toys, and teas. Sixes also have a soft spot for sentimental and wearable gifts.
Type Sevens: Inspire their next big adventure. 
Favorite gift vibes: surprise, experiential
Favorite gift types: travel, fashion
Sevens (aka Enthusiasts) are usually the life of the party. Their mercurial and fast-moving minds are constantly spinning and thinking about an upcoming trip or a fun experience they've been excited to try out. Since Sevens love trying out new things and often taking their family and friends along for the ride, gamified gifts like toys or something playful that the whole group can engage in can be a source of pleasure.
Sevens chart their own paths, and they could always use on-the-go gifts for their adventures that enable them to reflect on unforgettable moments. Thoughtful fashion-oriented gifts are meaningful to them too.
Favorite gift vibes: practical, experiential
Favorite gift types: travel, tech, fashion
Eights (aka Challengers) are confident and direct, so they're probably aware of what they already want. If you don't want to waste time, you can just ask them outright, and they'll likely give you a wish list.
If you're looking to surprise them, they'll value gifts that help them tap into their vulnerability and bring out their inner child or allow them to express their physicality and get their energy out in a productive way. Eights also appreciate tech, fashion, and experiential items.
Type Nines: Good vibes only. 
Favorite gift vibes: practical, surprise
Favorite gift types: sentimental, travel, fashion
Nines (aka Peacemakers) enjoy surrounding themselves with comforting, relaxing things at home and being out in nature. They're always looking to bring more harmony and peace into their life, wherever possible. Nines naturally gravitate to items that help them drop into their natural, relaxed way of being. Bath oils or comfortable, fuzzy fashion items may be a great option.
Nines also enjoy presents that allow them to center who they are and show that they're important. They will revere gifts that support their interests and give them a strong sense of ease and contentment.
Want to turn your passion for wellbeing into a fulfilling career? Become a Certified Health Coach! Learn more here.