The Three 10-Minute Dinners A Nutritionist Makes On Repeat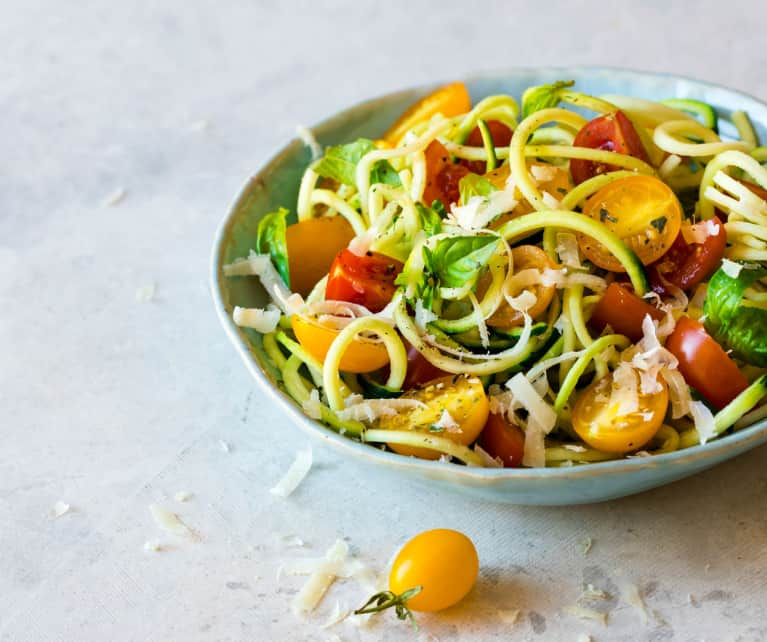 Even as a wellness professional, I often get home from work exhausted, starving, and lacking creative inspiration for dinner. Luckily, I've created a few weeknight dinners for exactly this type of situation. As a clinical nutritionist, the founder of a new healthy eating app, and an mbg class instructor, I've devoted much of my life to figuring out how to help people eat healthy—without adding any stress or complication to our already busy days.
With that in mind, here are three of my favorite weeknight dinners that I have on rotation. Pro tip: I like to purchase my ingredients on the weekend and portion them out on Sunday night to cut time from my prep throughout the week. Even if you don't do that, these meals can all be made in 10 minutes, flat—and they have tons of health benefits.
Mushroom, Kale & Cauliflower Rice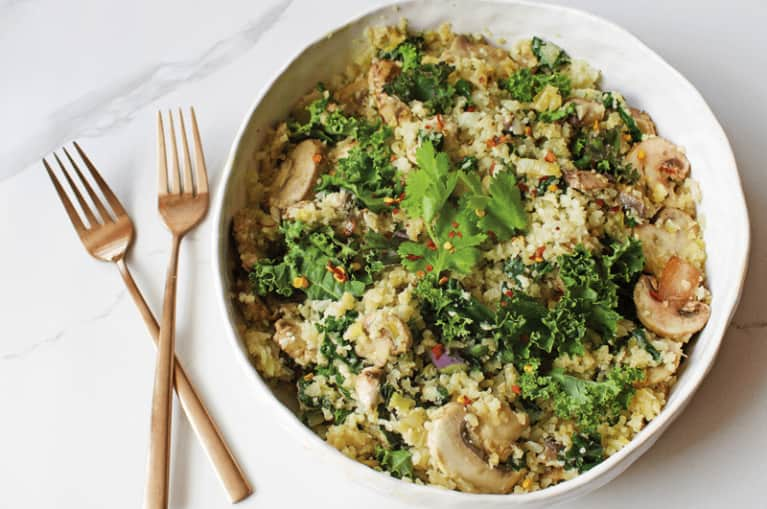 This dish is grain-free, nutritious, and utterly delicious. It's one of my go-to recipes. It is so incredibly easy to make. The kale, parsley, and cauliflower contain liver-detoxifying enzymes, making this dish brilliant for skin, hormones, and energy.
Serves 2-4
Ingredients
2 to 3 tablespoons olive oil
½ leek, chopped finely
½ head cauliflower, pulsed into cauliflower rice (you can use store-bought cauliflower rice instead)
250 grams (about 1 cup) button mushrooms, sliced
½ bunch kale, chopped
pinch of sea salt
1 teaspoon curry powder
chili flakes (optional)
fresh parsley, chopped, to garnish
Heat 1 tablespoon olive oil in a medium-size frying pan and heat over medium heat. Add the chopped leek and sauté until they turn translucent and golden.
Add cauliflower rice and sauté for 2 to 3 minutes or until it starts to brown. Next, add the mushrooms and kale to the pan. Continue to sauté for another 4 to 5 minutes, or until the vegetables are cooked through. Season with salt, curry powder, the remaining olive oil, and chili flakes, if using.
Plate up and garnish with fresh herbs, to serve.
One-Pan Cajun Salmon With Zucchini Pasta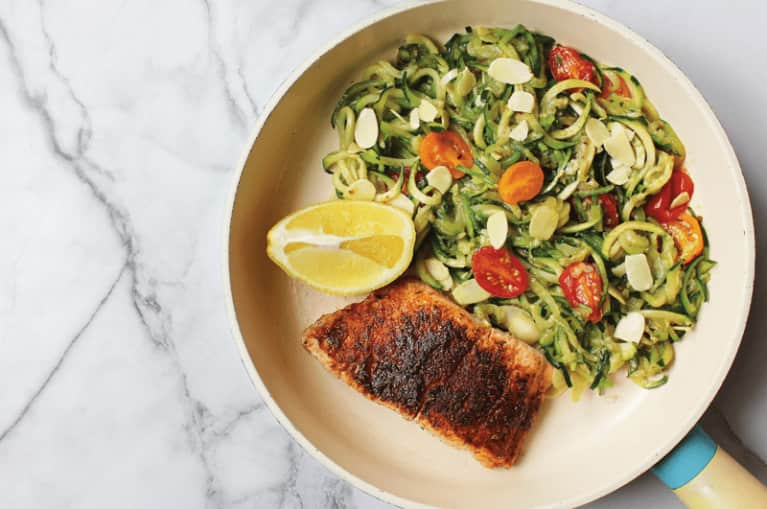 This is the easiest and most nutritious dinner or lunch option when you're strapped for time. The essential fatty acids in the salmon are sure to give your skin a healthy glow.
Serves 2
Ingredients
2 salmon fillets
2 tablespoons Cajun spice
1 to 2 tablespoons olive oil
1 garlic clove, crushed
2 to 3 medium zucchinis, spiralized or 2 packets of store-bought zucchini noodles
8 to 10 cherry tomatoes
sea salt, to taste
pepper, to taste
lemon wedges, to serve
Coat the salmon fillets in the Cajun spice. Set aside.
Heat a large frying pan over medium heat. On one side of the pan, drizzle 1 tablespoon olive oil and the crushed garlic. Fry the garlic in the oil until it starts to brown.
Next, add the spiralized zucchini, tomatoes, more olive oil, sea salt, and pepper.
Add the salmon fillets to the other side of the frying pan and cook for 3 to 5 minutes on each side until the salmon is golden.
Keep tossing the zucchini noodles in the pan until they're cooked. After about 7 minutes, everything should be well-cooked.
Serve in the pan with a squeeze of fresh lemon juice.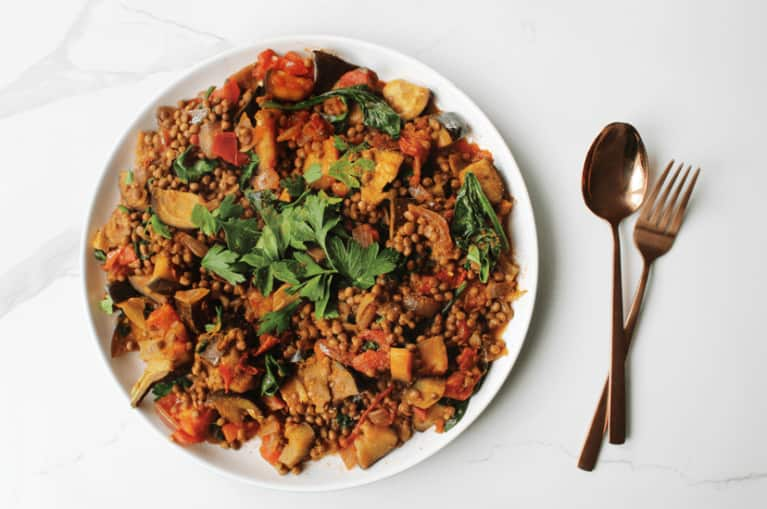 This is perfect if you're after a curry in a hurry. This dish is ready in 10 minutes and is a great protein- and fiber-packed vegetarian option for lunch or dinner.
Serves 2
Ingredients
2 tablespoons olive oil
1 red onion, diced
salt and pepper, to taste
1 tablespoon curry powder
2 tomatoes, chopped
½ medium eggplant, cut into cubes
1 to 2 tablespoons tamari sauce
1 x 400g-tin (about 14 ounces) organic lentils, rinsed and drained
1 to 2 cups baby spinach
handful of fresh parsley, chopped
Heat 1 tablespoon olive oil in a medium-size frying pan over medium heat.
Add the diced red onion and season with sea salt, pepper, and curry powder. Sauté for 3 to 4 minutes, or until the onion is translucent and fragrant.
Add the chopped tomatoes, eggplant, and a drizzle of tamari sauce. Sauté the vegetables until they start to soften.
Add the lentils, baby spinach, and the remaining 1 tablespoon of olive oil. Stir until heated through and combined.
Divide into two bowls and garnish with fresh parsley.