Contributing Food Editor
By Liz Moody
Contributing Food Editor
Liz Moody is a food editor, recipe developer and green smoothie enthusiast. She received her creative writing and psychology degree from The University of California, Berkeley. Moody is the author of two cookbooks: Healthier Together and Glow Pops and the host of the Healthier Together podcast.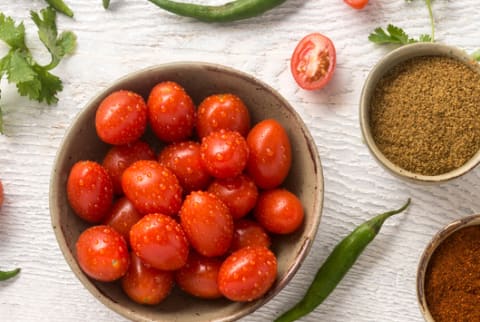 May 21, 2017
Katie Taylor from popular blog Cookie & Kate is one of the most personable people on the internet, and her new cookbook, Love Real Food, is just as accessible and bright as her blog, filled with plant-based recipes that are low enough on the complicated-scale to actually be made. This salsa is no exception. An ingenious, super-quick recipe, this is the perfect thing to make when you're having last-minute guests over, or you want something bright and fresh to spice up a barbecue. "Whip up this salsa before your next party, and everyone will ask you for the recipe before they leave!" says Katie. "Tortilla chips aside, I love to offer this salsa with a variety of veggie-packed tacos, quesadillas, and nachos. It's also fantastic with scrambled or fried eggs in the morning."
Cookie & Kate's Easy Homemade Healthy Salsa Recipe
1 can (15 ounces) diced fire-roasted tomatoes
1 clove garlic, roughly chopped
½ cup roughly chopped white onion (about ½ small onion)
¼ cup lightly packed fresh cilantro leaves
½ medium jalapeño, seeded, deribbed, and roughly chopped
1 tablespoon lime juice, or more if needed
½ teaspoon fine sea salt
Drain off about half of the tomato juice from the can (about 1⁄3 cup) and discard it.
In a food processor, pulse the garlic to chop it more finely. Add the tomatoes and all of the remaining juice from the can. Add the onion, cilantro, jalapeño, lime juice, and salt. Process the mixture until it is mostly smooth and no big chunks of tomato or onion remain, scraping down the sides as necessary. Season to taste with additional lime juice and salt, if necessary.
Serve the salsa immediately or store it for later. This salsa keeps well in the refrigerator, covered, for about 10 days.