This 5-Step Home Cleanse Will Get You Decluttered In Just An Afternoon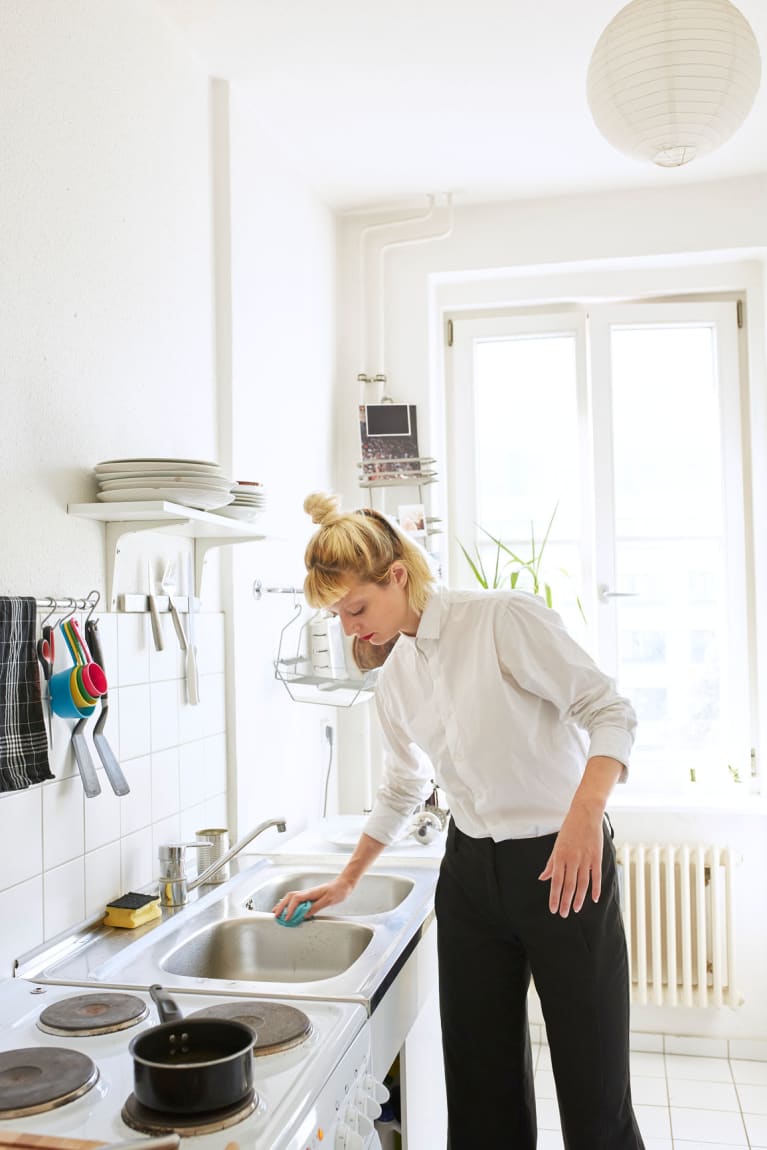 Our editors have independently chosen the products listed on this page. If you purchase something mentioned in this article, we may
earn a small commission
.
Take a look around your home: Does it feel like a flawlessly edited sanctuary that resets and recharges you day after day? If so, you can stop reading now and go on your merry way. But if you, like the majority of people, feel you still have some work to do on the homefront, the following cleanse could help.
I've guided people through hundreds of decluttering sessions and seen it work time and time again. It only takes an afternoon (about four hours) but can help you set the foundation for your best decluttering streak yet.
Before starting your afternoon cleanse, make sure to eat a healthy, filling breakfast or lunch. Yes, that's really Step 1! A nutritious meal will set you up to approach decluttering decisions with a clear and sharp mind.
Step 2: Do some emotional clearing.
Set your timer for 20 minutes and put pen to paper to answer the following questions:
How would I spend my time if I didn't have to spend it organizing, cleaning, and managing my stuff?
How would I benefit from simplifying parts of my life?
What is my weak spot when it comes to my stuff?
These are just some of the questions that can help you identify why you need to declutter in the first place. (If you're curious, you can find some more in my new book.)
Take two hours to sweep your entire home and put every last thing away. Clear all your countertops, surfaces, and floor space with the intention of finding a home for everything. This will remind you of what you have to start with and where it should theoretically go. A clean sweep will also highlight which categories are bursting at the seams and need some attention.
As you do this, play clutter detective. What items seem to be strewn across your counters and why? More often than not, that's the stuff we actually use. The stuff we don't is taking up valuable storage space behind closed doors.
Step 4: Reset your décor.
Next, set your timer for one hour and do a home sweep of all decorative pieces. Remove art from the walls, take down tchotchkes from various shelves, etc. Gather all these items in one place until you are ready to go through them at a future date.
I recommend this step because I've found that people tend to have a different approach to décor after a deep declutter. And who knows: You might be surprised by how clear, calm, and centered you feel with less visual distraction on your walls and fewer emotion-laden artifacts peppered throughout your home.
Step 5: Mark your calendar for the year ahead.
No matter how speedy you are, a deep home declutter won't happen in a day. So the last step of this cleanse is to take 10 minutes to schedule the dates you will tackle each area of your home. Divide everything in a way that feels doable for you. For example, Saturday, January 11, 9 a.m. to noon can be "Wardrobe," Saturday, January 18, 9 a.m. to noon can be "Kitchen Cabinets." It's not a bad idea to enlist the help of a friend for this part. Having an accountability buddy will deter you from canceling or pushing your plans, and it also makes the day more fun.
Here's to a clean, clear, and constructive year.