Former mbg Deputy Editor
By Elizabeth Inglese
Former mbg Deputy Editor
Elizabeth Inglese is a writer living in San Fransisco, California. She earned her bachelor's in english literature and cultures from Brown University and her master's in writing from The University of Southern California. She's the former Deputy Editor of mbg, and has also worked for Vogue, Architectural Digest, Bon Appetit, and Good Magazine covering food, health, and culture.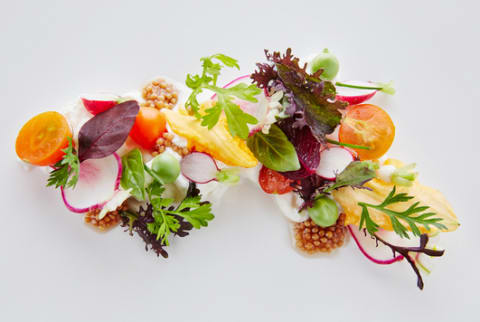 March 3, 2017
In London, a consortium of the world's best chefs is serving a lavish meal, and it's made entirely of food waste. The event, spearheaded by luminary Dan Barber, is the latest incarnation of wastED, a dining series launched in 2015 at the chef's New York City restaurants Blue Hill. Running through April 2 from the rooftop dining space atop the storied Selfridge's department store, wastED features an evolving menu of cuisine made from the scrap produce and spare animal parts gathered by farmers and markets. Barber's high-end transformation of edible refuse shines a light on the burgeoning problem of global food waste. The U.N. Food and Agriculture Organization estimates that one-third of food produced across the planet goes uneaten, amounting to nearly $990 billion in losses.
This year's event uses its host city as culinary inspiration, offering playful interpretations of British classics like bubble and squeak and fish and chips prepared by the continent's most progressive chefs. "It's all very exciting," Barber told Bloomberg. "To put together a menu in a different city is to be forced to learn about its history and its agricultural realities. And the food scene in London is very vibrant." Iain Griffiths of Mr. Lyan offers his spin on sustainable cocktails while Henrietta Lovell of Rare Tea Company partners with pastry chefs to compose a nontraditional tea service. "What I like about London is the openness to these ideas. The culture around food waste is fantastic—way ahead of America's."
Just because we're able to afford fresh produce doesn't mean that we should toss out day-olds. Our purchases strain the environment.
Barber is outspoken about the necessity for developed countries to rethink their valuation of food. Just because we're able to afford fresh produce doesn't mean that we should toss out day-olds. Our purchases strain the environment. Barber told Vice, "If you're a person who is concerned about food waste and then eat a meat-centric plate of food, twice a day, seven days a week, that diet is creating a tremendous amount of waste. It's truly inefficient to grow acres of wheat and then feed 80 percent of it to animals."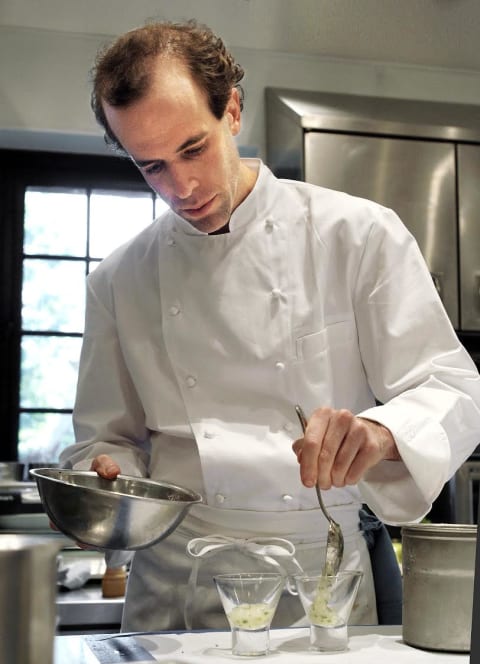 Dan Barber in the kitchen of Blue Hill at Stone Barns
He points to older modes of cooking as systems of efficiency. "Every peasant at one point in the history of any country's culture was confronted with, for a long period of time, trying to eke out what the land can produce and make it delicious," Barber told Vice. "You weren't allowed to waste. There wasn't food waste because you couldn't afford food waste. This morning we were talking about French cuisine and bouillabaisse. The stew used fish that farmers couldn't sell or damaged fish that came off the dock. The fishermen's wives would create a magical fish stew. They didn't call it wasted; they called it bouillabaisse."
Similarly, Barber hopes to use the constraints of availability to create new, delectable dishes. On his wastED menu is a burger comprised of a juice-pulp patty and off-grade cheese from a local monger pressed between a stale, rehydrated bun. His New York City restaurant serves a ravioli made from lamb leftover from the previous night and the shaved off portions of vegetables from another dish. "We can talk all we want about sustainability but we need to start with our own diets. Everyone eats three times a day, so you're voting three times a day. I think wastED is one way to start activating this idea."