I Sleep With 5 Pillows Every Night, But This One Is My Favorite
mbg Deputy Commerce Editor
By Braelyn Wood
mbg Deputy Commerce Editor
Braelyn Wood is the Deputy Commerce Editor at mindbodygreen. She has a B.S. in journalism from Northwestern University, along with a certificate in marketing.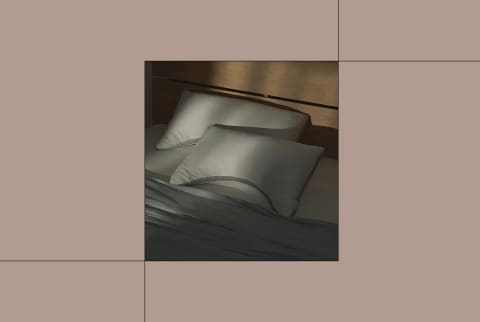 August 7, 2023
We carefully vet all products and services featured on mindbodygreen using our
commerce guidelines.
Our selections are never influenced by the commissions earned from our links.
My bed has always been my sleep oasis—and I'm extremely peculiar about its set-up. I need soft, cooling sheets, a temperature-regulating duvet, and at least five pillows to support a night of quality shut-eye. And I wish I was joking about that last one.
Needless to say, I consider myself something of a pillow connoisseur. I've tried everything from fully customized designs to budget friendly options, and it takes a lot for me to be impressed by a pillow. But after just one month of cuddling up with Coop's new Eden Cool+ Crescent, I can firmly declare it my favorite pillow in the line-up.
What is Coop Sleep Goods?
If you've ever scrolled through Amazon's best-seller page for pillows, then you've probably come across Coop Sleep Goods. The brand's original pillow has racked in more than 55,000 reviews from shoppers who can't get enough of the customizable design.
But the brand's offerings go far beyond pillows; it also sells comforters, mattress toppers, sheets, silk pillowcases, and even a pet bed. The common denominator across every product? High-quality materials with an adjustable element for customization.
For example, all of the brand's hypoallergenic bed pillows have adjustable shredded memory foam fill; each pillow comes with an extra bag of stuffing, which you can add for firmness or remove for a softer feel.
Coop launches cooling pillows & cooling sheets
As someone who runs warm, I hadn't tried many of Coop's products previously. I tend to lean towards items with cooling technology, which helps regulate my body temperature. After all, research shows1 heat exposure increases wakefulness and decreases deep and REM sleep—and we all know the negative health effects of low quality sleep.
But then the brand launched its Cool+ Collection last month, introducing cooing sheets, cooling blankets, and my personal favorite, cooling pillows. These new cool-to-the-touch additions have a higher Qmax Score than the rest of the brand's products. This test determines how well a fabric disperses heat and stays cool to the touch, with the new sheets earning the highest ranking and the new pillow cover falling just below them.
Coop Cool+ Collection
How I tested the Cool+ collection
After making my bed over with the Eden Cool+, Eden Cool+ Crescent, and The Cool+ Sheet Set, I spent one month testing out the new releases. This included washing the sheets at least twice, as well as running the machine washable covers through the wash.
While I enjoyed my experience with all three products, one of them quickly become my holy grail find: The Eden Cool+ Crescent.
How the Eden Crescent Cool+ is made
The cooling version of the Eden Cool+ Crescent takes everything people love about the original version—adjustable fill, dual-sided support, and an ergonomic shape–and improves upon them with cooling technology.
Each pillow has a cool-touch fabric cover wrapped around a heat-wicking inner liner filled with Oomph™ Cool+ fill. The gel memory foam and microfiber blend is 50% more breathable than the original Oomph™ fill—and it's GREENGUARD Gold and CertiPUR-US® certified. The dual-sided design also has a ventilated phase gel layer on one side, which adds extra firmness and further draws heat away from the body.
Like all Coop pillows, it comes with a half pound of extra fill, which you can add through the 2-inch zip opening. The pillow arrives compressed and rolled in a box with the extra Oomph™ fill added into the bag. When you unbox the pillow, you're immediately greeted with certifications on the packing.
Once unwrapped, the pillow inflates in less than a minute, and you'll have exactly 100 nights to decide whether the design is for you.
What makes this pillow special
In my opinion, there are three features that make the Eden Cool+ Crescent one of the best sleep products that I've ever tried.
Shape
A funky shape is the pillow's most obvious differentiator. Designed specifically for side sleepers who also occasionally roll on their backs, the ergonomic pillow has a crescent cut-out along its bottom.
When you lay on the pillow, it nestles between your head and shoulders, reducing the gap between your neck and pillow. This ensures you get the right amount of support to keep your cervical spine aligned throughout the night.
It sounds dramatic, but I can feel the support difference when I cuddle up with this pillow. I typically layer at least two peoples to get a similar cradling effect for my neck, but I've found the crescent shape offers the same support without excess bulk.
The only downside? A strange shape means this pillow looks a little off-putting in a normal pillowcase, but it's a sacrifice that I'm willing to make.
Cooling technology
As mentioned, this pillow is optimized for heat distribution, and you can tell. When I touch all of my pillows outside of their cooling pillowcases, the Eden is noticeably chillier than the rest.
In fact, I sometimes leave the pillow case off on cooler nights, so I can feel the cool side of the pillow rest again my check. It's the closest thing I'll get to a mini ice roller in bed.
Adaptability
Initially I only added extra fill to the pillow to see how easy it was to customize, but I realized the added fill actually made a huge difference. My head felt a little more lifted, putting my neck at just the right angle.
I continued to experiment with adding and removing fill until I reached my Goldilocks point. We talk a lot about keeping your cervical spine in line in our sleep content, but it was shocking to discover how different just a tiny bit of fill could make a pillow feel.
Plus, I can opt for the side of the pillow with an added gel layer on days when I'm craving more support. Sometimes the grass is greener on the other side!
The takeaway
After a month of sleeping on a few hero products from Coop's new Cool+ Collection, I'm shocked to announce the Eden Cool+ Crescent has officially usurped the rest of my pillows as the most comfortable one that I own. The adjustable, ergonomic design a worthy investment for side and back sleepers who need extra cervical support. Plus, the cooling technology is one of the most effective options I've tried yet—adding yet another reason to the list for making the switch.
Braelyn Wood
mbg Deputy Commerce Editor
Braelyn Wood is the Deputy Commerce Editor at mindbodygreen. She has a B.S. in journalism from Northwestern University, along with a certificate in marketing. After interning at Bustle Digital Group and Cosmopolitan, her love of products (and a good deal) led her to the commerce space, and she joined Meredith Corporation as its first health and wellness-focused shopping writer. During this time, her byline appeared in Health, Shape, InStyle, People, and Travel Leisure, as she covered topics like workout gear, home goods, and coronavirus essentials to help shoppers lead healthier lives. In her current role, she helps readers find the best deals, uncover the latest launches, and understand which items are worth the splurge (or not) from her home in Brooklyn, New York.