Vegan Chocolate Truffles You'll Want To Eat Every Day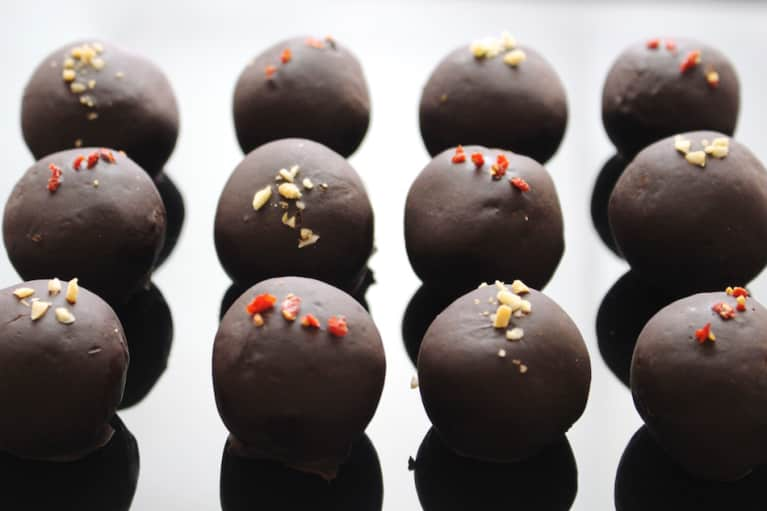 With the perfect smooth and rich filling, these Chocolate Truffles satisfy even the most sinful chocolate lover's taste buds! They're beautiful enough to make as a statement piece for after dinner but also easy enough to make at home any night of the week.
Makes 20 to 24
Ingredients for the Truffle Base
1 cup hazelnuts
1 cup cacao powder
⅛ teaspoon salt
1 teaspoon vanilla extract
12 fresh Medjool dates
¼ cup dried Bing cherries
1 medium ripe avocado
Preparation
1. Process all dry ingredients together until a flour-like consistency in the food processor. Add pitted dates and cherries. Process until dough turns into ball.
2. Add remaining ingredients and process until an even consistency.
3. Roll into bite-size balls.
Ingredients for Chocolate Shell
¼ cup refined coconut oil, melted
½ teaspoon vanilla extract
3 tablespoons yacon syrup*
¼ cup cacao powder
*Yacon is a liquid sweetener that is low glycemic (scores a 1 on the glycemic chart) and is high in fiber. You can find it on Amazon or at Whole Foods.
Preparation
1. Mix all wet ingredients together in a small mixing bowl. Add cacao powder and whisk until well-blended.
2. Dip truffles into chocolate with a fork and place onto a plate lined with parchment paper. Top with your choice of goji berries, coconut, peanut butter drizzle, or any other fun combos you can come up with!
3. Place in the refrigerator for 10 minutes; serve and enjoy. Extras can be stored in the refrigerator for up to 1 week.
Helpful Hint: Be sure to buy fresh dates that are soft and chewy. This is what helps make the filling extra smooth. If you make this recipe with dates that are slightly out of season, you will find the texture a little less fudge-like.
Looking to add some variety? Create a Citrus Truffle by adding 2 teaspoons of orange zest and 2 teaspoons fresh squeezed orange juice to the original truffle base.