Close Banner
Advertisement
This ad is displayed using third party content and we do not control its accessibility features.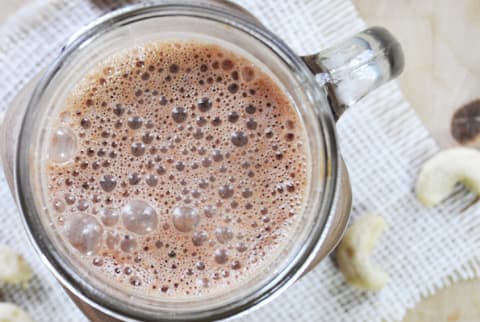 Photo by Shutterstock.com
This is not the chocolate milk from your childhood. Raw and dairy-free, this easy-to-make Chocolate Cashew Milk will definitely hit the spot!
Cashews provide a creamy texture but you can get creative by trying different types of nuts (almonds, macadamia, brazil nuts). Maca powder gives this recipe a little extra zing (it's energizing and strengthening) but if you don't have any on hand you can feel free to omit it — it will still taste great!
1 cup raw cashews, soaked in water at least 4 hours
3 cups of filtered water
1 tsp vanilla extract
1-2 Tbsp. agave or maple syrup, added to desired sweetness.
1/4 cup cacao powder
1 Tbsp. maca powder
1. Rinse and drain cashews. Combine with water in blender and blend until smooth.
2. Strain contents of blender through a nut milk bag.
3. Return to blender and add remaining ingredients.
4. Chill for at least an hour before serving. Store in refrigerator for up to 4 days.

Ilene Godofsky
Ilene Godofsky is a health coach, recipe developer and food blogger dedicated to sharing plant-based recipes that are colorful, not complicated.
Connect with Ilene on her recipe blog The Colorful Kitchen and sign up to receive your free 2-day vegan meal plan!