Chai-Spiced Banana Bread Recipe From Solstice Canyon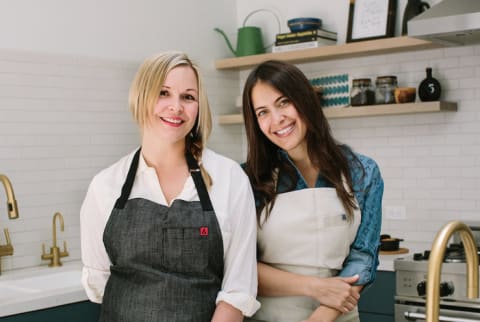 February 12, 2016
Advertisement
This ad is displayed using third party content and we do not control its accessibility features.
The stylish women behind cult almond butter brand Solstice Canyon know all about quality organic food. Their small-batch products are all about keeping things raw, minimally processed, and delicious.
Get co-founder Jessie Kimmel's favorite grain-free and refined-sugar-free banana-bread recipe below — and don't forget to serve it with a dollop of almond butter.
— Leah Vanderveldt, MBG food editor
Chai-Spiced Almond Butter Banana Bread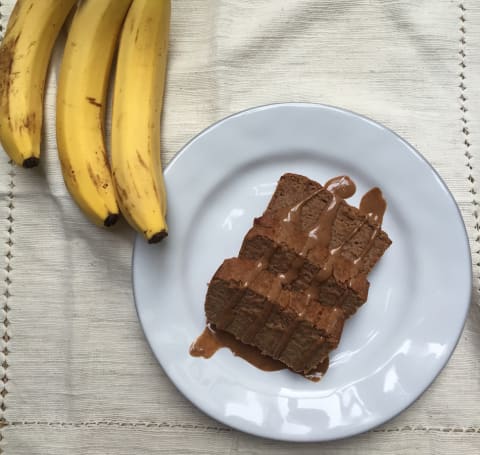 Photo by Jessie Litow Kimmell
Advertisement
This ad is displayed using third party content and we do not control its accessibility features.
½ cup organic coconut flour, sifted
3 tablespoons coconut sugar
1 teaspoon organic cinnamon
½ teaspoon organic ground ginger
¼ teaspoon organic nutmeg
¼ teaspoon organic cloves
¼ teaspoon organic cardamom
¾ teaspoon aluminum-free baking powder
¼ teaspoon baking soda
⅓ teaspoon fine Himalayan pink salt
4 large very ripe bananas, mashed
½ cup almond butter*
3 large organic eggs
3 tablespoons organic coconut oil, just melted (not hot, just warm)
1 tablespoon organic vanilla
*Note: We used Solstice Canyon cardamom and clove almond butter, which adds additional chai spices to the flavor of the bread. If making with plain almond butter, adjust ground spices to taste.
Preparation
1. Preheat oven to 350°F. Spray a silicone loaf pan with coconut oil cooking spray.
2. In a medium mixing bowl, whisk together all dry ingredients: coconut flour, baking soda, baking powder, coconut sugar, spices, and salt.
3. In a large mixing bowl, mix together the mashed banana, almond butter, eggs, coconut oil, and vanilla.
4. Add dry ingredients into wet ingredients gradually, mixing with a hand mixer with whisk attachment, and scraping down the sides of the bowl after every addition. Mix until well combined, but don't over-mix.
5. Pour batter into prepared loaf pan. Place loaf pan on a baking sheet and bake for 50 to 55 minutes until a toothpick inserted into the center of the loaf comes out clean and the loaf feels firm when gently squeezed from outside of the silicone loaf pan.
6. Let cool for 10 to 15 minutes before removing from the pan and setting on a cooling rack. Serve at room temperature or warm drizzled with almond butter and honey, coconut oil, or melted pastured butter. Enjoy!
Tip: Leftover Paleo breads are best kept refrigerated for up to 5 days or frozen in individual slices. You can toast slices to reheat them, or leave them on the counter to come back to room temp.
Advertisement
This ad is displayed using third party content and we do not control its accessibility features.

Jessie Kimmell
Jessie Kimmell and Rachael Sheridan are the co-founders of Solstice Canyon almond butter. Close friends and prior food industry co-workers, both women share a deep interest in natural remedies and healthful cooking. Solstice Canyon was formed after they realized there was a void in the market when it came to the type of snack that they both favored day-to-day: deliciously flavored nut butters made with raw, organic, unpasteurized almonds.
Jessie worked in restaurant and food brand public relations for seven years before she began to consider founding her own organic food line. In her previous career, she enthusiastically secured millions of dollars worth of placements for her clients in A-list publications and media channels, and recently was credited as a Co-Producer of Eat Drink Love, an unscripted series focused on women working in the LA food industry that aired on Bravo in 2013. Jessie is a passionate natural-health devotee who spends her spare time practicing yoga and learning about how to create the cleanest, healthiest, most delicious foods that benefit our bodies and minds.
Rachael is a former gourmet buyer who spent over 10 years scouring the globe to find the most unique, esoteric, and mouth-watering foods available. During her tenure as head buyer at LA's Cube Marketplace, the products that she sourced gained nationwide media exposure for the store in outlets including The Today Show, O, The Oprah Magazine, and Food & Wine. Sheridan was also personally profiled as a tastemaker in California Home & Design and featured in Bon Appetit. Rachael is a talented long-time home cook who is inspired by international cuisines and is motivated to create products that are both incredibly healthy and flavorful.