Contributing Food Editor
By Liz Moody
Contributing Food Editor
Liz Moody is a food editor, recipe developer and green smoothie enthusiast. She received her creative writing and psychology degree from The University of California, Berkeley. Moody is the author of two cookbooks: Healthier Together and Glow Pops and the host of the Healthier Together podcast.
February 26, 2017
Welcome to Meal Prep Sunday, where you'll make a single, healthy recipe with serious bodily benefits, whether it makes your skin glow, helps soothe your gut, boosts your immunity, or more! Because it gets boring to eat the same thing every day, you'll do the bulk of the prep on the first day—and every day after that, there will be one small, five-minute-or-less, tweak that will transform the leftovers into a new, amazing meal. This beautiful carrot and tomato soup meal prep comes from Mariela Alvarez-Toro, author of the chic and minimalist Coseena. Be sure to check back next Sunday for an all-new set of recipes.
This tomato soup is comforting and refreshingly unique. Berbere, a traditional Ethiopian spice, makes it both earthy and spicy. We'll start by serving it as soup then transform it into a delicious sauce to serve with eggs, pasta, and cauliflower steaks.
Shopping List for the Week
½ bunch carrots
2 to 3 small leeks
3 cloves garlic, minced
4 to 6 chives, roughly chopped
1 small cauliflower
1 to 2 eggs
Pantry Staples (purchase if you don't have)
1½ tablespoons berbere
2½ cups water or broth
2 cups crushed San Marzano tomatoes
Roasted, shelled pistachios
Tahini
Olive oil
Kosher or sea salt, to taste
1 can cooked chickpeas
optional, crusty baguette or gluten-free bread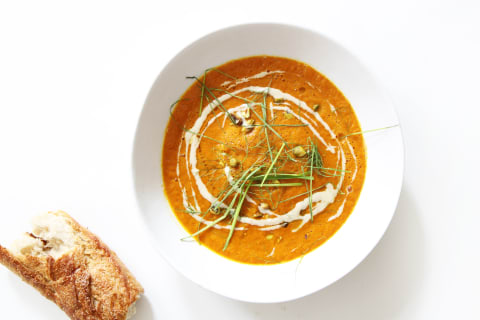 DAY 1: Berbere-Spiced Carrot and Tomato Soup
½ bunch carrots
2 to 3 small leeks
1 tablespoon olive oil
Kosher or sea salt, to taste
1 tablespoon berbere
2½ cups water or broth
2 cups crushed San Marzano tomatoes
3 cloves garlic, minced
1 handful crushed roasted pistachios
4 to 6 chives, roughly chopped
1 tablespoon tahini
A crusty baguette (optional)
Wash, peel, and cut the carrots into 1-inch pieces.
Wash the leeks and remove any bruised outer leaves. Cut off the stems where the green and white parts meet. Discard the green leaves and stems and slice the white parts into 1-inch pieces.
Place a large pot over medium-high heat for 3 minutes. Add the leeks, carrots, oil, and a pinch of the salt into to the pot. Cook, stirring occasionally, for 5 minutes over low heat, until the leeks soften and start to become translucent.
Once the leeks have softened, add the berbere. Cook, stirring constantly, for 1 minute.
Reduce the heat to medium-low. Add the water, tomatoes, and garlic and cook for 10 minutes.
Remove from the heat and transfer into a high-speed blender. Pulse for 2 minutes, until the mixture is silky smooth.
Transfer to serving bowls and drizzle with the chives, pistachios, and tahini. Serve hot.
DAY 2: Chickpea Shakshuka
Strain a can of cooked chickpeas. Place half of the chickpeas in a skillet with a drizzle of olive oil and a pinch of salt. Toss for a couple of minutes, then add a cup of your leftover soup. Heat through for a couple of minutes, then crack one or two eggs into the chickpeas. Cover and cook for five minutes or until set. Garnish with chives and serve immediately with bread, if using.
DAY 3: Cauliflower Steaks With Carrot and Tomato Sauce, Tahini, and Crushed Pistachios
Cut one or two 1-inch thick slices from the center of the cauliflower. Place a large drizzle of olive oil on a large skillet over high heat. Place the cauliflower steaks on the skillet. And cook for 5 to 7 minutes, flipping once halfway through. Cauliflower is ready when golden and tender. As the cauliflower cooks, heat the remaining chickpeas in another skillet with olive oil, salt, and ½ tablespoon of berbere. Warm up a cup of the tomato soup. To serve, spoon the soup at the bottom of a plate, place cauliflower steaks directly on top, then top with chickpeas. Garnish with a drizzle of tahini and crushed pistachios.
DAY 4: Tomato Pasta with Roasted Cauliflower Florets and Chives
Cook one serving of your favorite pasta. Cut remaining cauliflower into florets. Place in a skillet with a drizzle of olive oil and salt. Cook tossing occasionally for 5 minutes. Add cooked pasta and remaining cup of the soup into the pot with the cauliflower. Heat through for a couple of minutes, taste for seasoning, then serve immediately with chopped chives.