A Practical New Moon Ritual For Attracting Abundance
mbg Contributor
By Ruby Warrington
mbg Contributor
Journalist and curator, Ruby Warrington, is author of Material Girl, Mystical World, and founder of cosmic lifestyle platform The Numinous. She holds a bachelor's from the London College of Fashion, and is also the co-founder of sober-curious event series Club SÖDA NYC and online spiritual mentoring program Moon Club.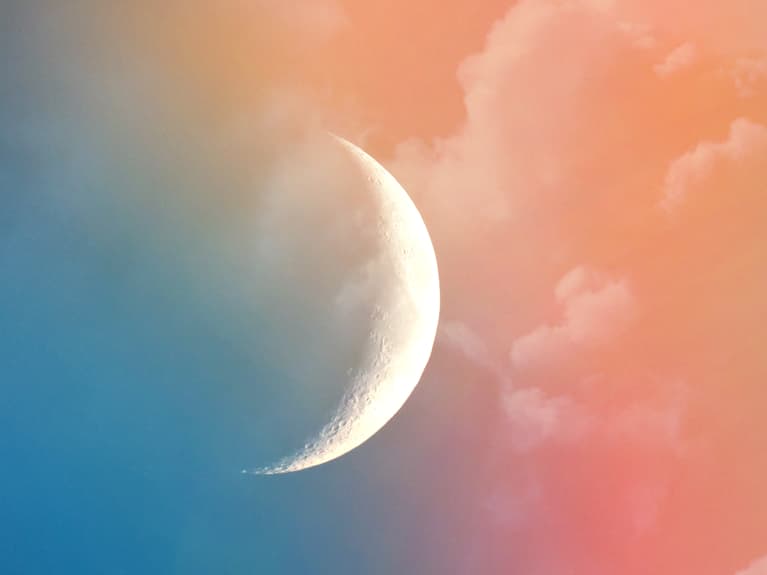 Often we look to the New Year to save us. "A fresh start!" "A new beginning!" But in truth we are still the person we have always been. Attempting to start again from scratch may feel great for a moment, but why not radically accept and celebrate who we already are and build on that?
The Capricorn New Moon gives us a moment to do just that. After a buzzy holiday season, it seems only fitting the Capricorn—the sign of all things practical, loyal, and real—comes through to usher us into 2018. With Capricorn energy, there is no glitz to hide behind. No fantasy. No ideal you. No mood boards. No resolutions list. It's a no-frills look at who you really are and an opportunity to accept it.
Does that mean you should stop transforming come Tuesday's Capricorn new moon? Hell no! The message of the new moon is to learn how to balance your hustle (which can equate to more masculine practices) with your flow (those more feminine practices).
How can you embrace Capricorn energy this season?
Since Alexandra Roxo and I launched Moon Club, a digital spiritual mentoring program attuned to each moon cycle, we've noticed that a lot of people have trouble balancing these energies. So in honor of the new moon this week, we advise you to notice if there are any days when you can't be soft and in receiving mode, and see when there are ones when you don't follow through on any of your to-do list items. Try to make time daily for both: long, luxurious tub soaks and productive email sessions.
You can also experiment with your communication style to feel the difference between the two states of being. Try talking softly and sweetly to get into flow and being more direct when you're in your hustle. Pay attention to the way you move, too. Are your movements gentle and open? Or more defined and structured?
Most of us operate in a "go" mode all the time, focused on the future and how we are achieving what we want. But in truth, sometimes when we stop pushing and striving, the thing we want falls into our laps. This season is about getting into the present and finding what is already in the here and now. From that place of acceptance, you can set goals and open your arms to receive.
A new moon ritual for balance:
Write out three things you want to achieve and three things you want to receive on the night of the new moon (Tuesday, the 16th), or shortly after. Post it by your bed to review for the remainder of the moon cycle.
At the end of each day, notice when you are achieving and when you are receiving.
Set aside one day to practice taking time to forbid "future thinking," goal-orientated living—whatever you want to call it—and live each moment like it was your last. Practice radically accepting the present.
Notice how naked you may feel without your to-do list and notice what begins to trickle in when you get into the receiving mode. By the full moon on the 31st, you should have some juicy data to celebrate and reflect upon!
Check out why this January's energy lends itself so well to reflection and intention setting here.