Can't Find The Ingredient You Need? Here Are Some Common Alternatives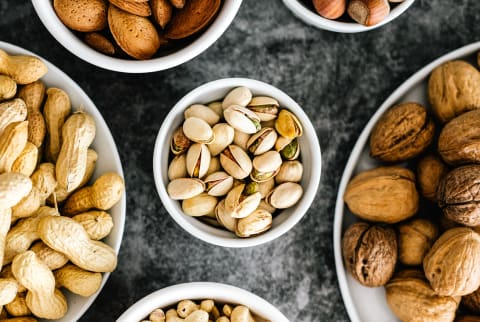 Image by Good Vibrations Images / Stocksy
June 7, 2019
We carefully vet all products and services featured on mindbodygreen using our
commerce guidelines.
Our selections are never influenced by the commissions earned from our links.
If you or someone you know has a food sensitivity or allergy, then you know how frustrating it is when you can't eat a meal because of one ingredient. That's where this list of alternatives comes in handy. Nealy Fischer, the founder of
The Flexible Chef
and the author of the new cookbook
Food You Want
,
shares her go-to swaps for when she's in a pinch. With this in your back pocket, you can cook for yourself and loved ones in a way that satisfies everyone's dietary needs.
How often have you gone on a wild-goose chase for an ingredient a recipe calls for or just skipped over an ingredient entirely, bewildered by where to begin? Don't flip out. Just flip it! Many of the ingredient swaps listed below are precise and seamless in effect and flavor, like swapping coconut oil for butter; others are acceptable but produce a different result, like using soy sauce or tamari in place of fish sauce.
Soy or tamari will lend a similar saltiness, and they're good swaps for fish sauce if fishiness isn't your thing. Similarly, coconut cream is a wonderful swap for heavy cream; just make sure it is very chilled if it must be whipped. The main point here is to stay flexible, adapt, and use what you have!
Baking swaps
Butter = margarine = coconut oil (Coconut oil can be measured soft or solid.)
Heavy cream = coconut cream (Make sure it's well chilled if whipping—chill it overnight and use only the solids.)
Dairy milk = almond milk = any dairy-free milk
Sugar = brown sugar = date sugar
1 cup regular flour = 1 cup gluten-free flour + ½ teaspoon xanthan gum (Note: If your gluten-free flour has xanthan added already, omit it in the recipe.)
1 12-ounce bag chocolate chips = 2 cups = 1 12-ounce chocolate bar, chopped
Almond flour = slivered almonds ground into superfine crumbs
1 egg = 3 tablespoons flaxseed meal plus 6 tablespoons water (Mix to make a paste.)
Tapioca starch = potato starch
Applesauce = mashed banana = cooked pumpkin, sweet potato, or carrot purée
Grated zucchini = grated carrot
Spaghetti squash = spiralized raw zucchini noodles = spiralized raw sweet potato noodles
In most recipes, if you don't have chia, flax, or hemp seeds, you can just omit them. If they are crucial for the dish, it will be noted in the recipe.
Arrowroot = cornstarch
Cooking
Yellow onions = red onions = pearl onions
Fresh garlic = garlic powder, 2:1 ratio (Not great but OK if you're really stuck.)
Olive oil = canola oil = melted coconut oil
Pine nuts = pili nuts = chopped macadamia nuts = cashews = peanuts
Almonds = pecans = walnuts
Soy sauce = tamari
Hoisin sauce = BBQ sauce
Fish sauce = soy sauce or tamari (But you will lose the fish's added umami flavor.)
Minced beef = minced turkey = minced chicken
Black cod = Chilean sea bass = any fatty fish
Halibut = flounder = haddock = any flaky white fish
Chives = green part of scallion
Basil = cilantro = parsley (For pesto, seasoning eggs, garnishes.)
Chickpea flour = any rice flour (Works in all the recipes in this book.)
Capers = chopped pitted green olives
Sake = mirin
Kale = romaine lettuce = chicory (Or cabbage or spinach, depending on the recipe.)
A specific vinegar = any vinegar (Except balsamic, which is unique.)
Goldenberries = cranberries = raisins = dried cherries
Pumpkin = acorn squash = butternut squash
Drizzle of chili oil = pinch of red pepper flakes
Glass noodles = thin rice noodles
Mango chutney = apricot or peach jam = citrus marmalade
Upgrade your stick of butter into ghee by heating it and then skimming off the white foam to create a clarified butter.
Nutritional yeast = grated Parmesan
Based on excerpts from
Food You Want
by Nealy Fischer with the permission of Hachette Books a division of Hachette Book Group. Copyright © 2019.

Nealy Fischer
Nealy Fischer is the founder of The Flexible Chef and author of the book, Food You Want For The Life You Crave. As a mother of four, home chef, yoga teacher, world traveler, and wellness entrepreneur, Nealy's mission is to inspire people around the world to live their most vibrant and crave-worthy lives.
The Flexible Chef is a global food and lifestyle brand with a large social media presence, consisting of blog shares, inspirational photos, and step-by-step YouTube videos where Nealy teaches her healthy yet flexible approach to cooking and eating to her tens of thousands of fans. Her book, Food You Want For The Life You Crave (April 2019, Da Capo Lifelong Books), features over 100 fresh, gluten-free and flexible recipes that create craveable and energizing dishes—all while saving time and banishing meal prep stress. Nealy's adaptable cooking system gives readers a simpler recipe for success, both in and out of the kitchen.
In between Nealy's entrepreneurial adventures, she grocery shops and cooks dinner every night for her husband, four children, puppy, and often a handful of surprise guests. The Fischer's currently divide their time between Hong Kong, Israel, and their ranch in Montana.