This Bulletproof Pumpkin Spice Latte Will Keep Your Blood Sugar Stable Until Lunchtime

Contributing Food Editor
By Liz Moody
Contributing Food Editor
Liz Moody is a food editor, recipe developer and green smoothie enthusiast. She received her creative writing and psychology degree from The University of California, Berkeley. Moody is the author of two cookbooks: Healthier Together and Glow Pops and the host of the Healthier Together podcast.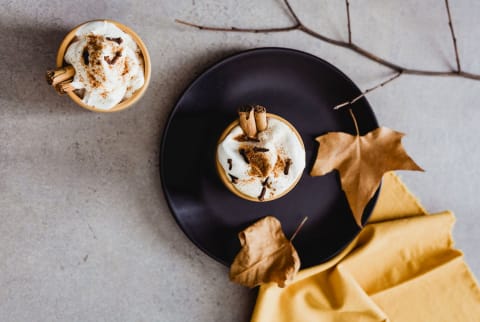 Photo by Tatjana Zlatkovic
September 25, 2018
If the drop in temperature and sudden ubiquity of pumpkin in your Instagram feed didn't clue you in, allow me to officially welcome you to fall. Ah, the season of cozy sweaters, warm baths, crisp breezes, and...PSL everything. The pumpkin-spiced beverage is the theme food of the season, appearing in dairy-free creamer, deodorant (!!), and, of course, Starbucks' signature latte.
But I wondered—could I make it healthy? Somehow, in a sea of sugar syrups and artificial flavors, the true essence of the pumpkin spice latte had been lost. But at its core, stripped down, a PSL is a pretty healthy drink. Spice? One of the world's first superfoods. Pumpkin? A fiber-filled, prebiotic, gut-healing fruit1. Coffee has even been linked to its own health benefits, including increased longevity.
I went for a Bulletproof-ish version, adding in some grass-fed butter (you can sub ghee or omit) and using coconut milk in lieu of traditional coconut oil for a more whole-foods latte feel, while maintaining all of the healthy, blood-sugar-balancing fats. The result? A fiber- and healthy-fat-filled drink that takes seconds to make and will keep you full till lunch (or dinner, if you use it as an afternoon snack—just be careful of the caffeine, or do the caffeine-free version, below). Plus, it tastes like a perfect day of leaf-peeping and apple-picking in a glass, with a gentle sweetness, and a subtle pumpkin pie flavor melding with the creamy, slightly bitter coffee.
Hello, fall, old friend. I think we'll get along just fine this year.
Bulletproof Pumpkin Spice Latte
1 cup brewed coffee
½ cup full-fat coconut milk
1 teaspoon pumpkin pie spice
4 tablespoons canned pumpkin puree
1 tablespoon pastured butter or ghee
1 to 2 tablespoons maple syrup, to taste
1 teaspoon vanilla extract
Pinch of salt
Blend together until smooth. Pour into mug and serve immediately.