This Plant-Based, Protein-Packed Dinner Takes Less Than 10 Minutes To Make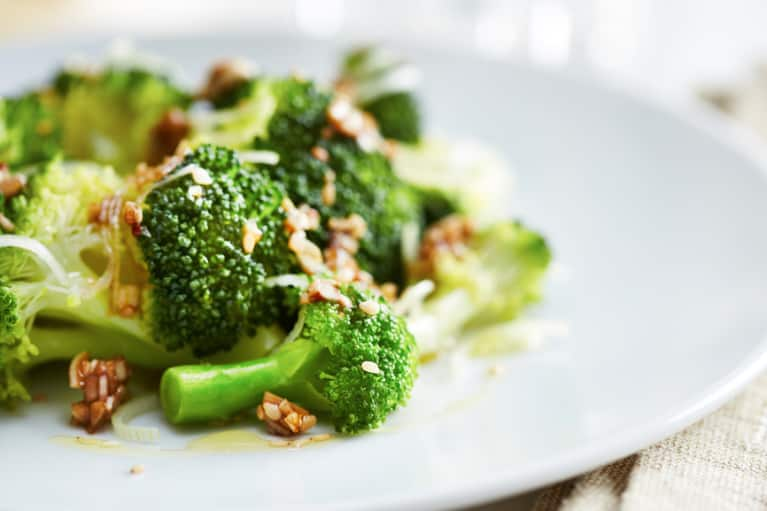 One of the best ways to approach weeknights is to take a fresh ingredient (in this case, broccoli), and pair it with pantry staples. A few little tricks elevate this recipe to a weeknight classic—using thinned hummus as a flavor and protein-packed sauce and an ingenious way of cooking the broccoli that makes the florets crispy and delicious. "You should taste the garlic, of course, but also the hot pepper, the olive oil, and the good salt and freshly cracked pepper—they combine to make it all lively," says chef Peter Miller, the author of Five Ways To Cook Asparagus (from which this recipe is excerpted), one of this season's most buzzed-about books. "The hummus is a smooth luxury, and the lentils keep it all grounded. If made with a light touch and some tempo, it can seem quite a piece, especially in light of its simple structure." Try it, and then kick back and enjoy your evening—you've earned it!
Broccoli with Hummus + Lentils
½ pound (225 g) broccoli
Sea salt
¼ cup (60 mL) extra-virgin olive oil
2 garlic cloves, minced
6 to 8 seeds from a small, hot, dried chile
2 tablespoons cooked lentils, cooked cannellini or kidney beans, or cooked quinoa, at room temperature
¼ cup (60 mL) hummus
1 tablespoon chopped fresh flat-leaf parsley
4 or 5 fresh mint leaves, chopped (optional)
Fresh cracked black pepper
Trim the dried end of the broccoli stalk and peel the outer skin from it. Soak the broccoli in a large bowl of cool water for 5 minutes. Bring a big pot of water to a boil. Add 1 tablespoon of salt. Drop the broccoli into the boiling water and cook for 3 minutes. Drain it quickly. Chop the broccoli stalk and florets into 1-inch (2.5-cm) pieces and give them a sprinkle of salt.
Heat a 10-inch (25-cm) sauté pan over medium heat for a moment, then add half the olive oil, the garlic, and the hot red-pepper seeds, and stir together. After a minute, as the garlic starts to smell, add the chopped broccoli and stir well to mix. If it seems too dry, add a bit more olive oil. You are not frying the broccoli, but it is not lying in the sun, either—keep it moving.
After 2 to 3 minutes, taste a piece. It should be hot and nearly ready. Add the lentils and a pinch of salt, stir well, and cook for a minute to refresh and introduce the lentils. Scrape the mixture onto a warmed plate, wipe out the pan with a paper towel, and return it to the stove over low heat.
Add a little more of the olive oil to the pan and heat for 10 seconds. Add the hummus, warming it in the olive oil. Stir the hummus, add 1 teaspoon of warm water to thin it slightly, and stir to combine it like a gravy. Using a rubber spatula, lay the softened hummus across the broccoli like a shawl, with some of it free on the plate. Garnish with the parsley (and mint, if using), season with some salt and cracked black pepper, and drizzle with the rest of the olive oil.