This One-Day Plan Is All You Need To Eliminate Bloat

Registered Dietitian
By Jessica Cording, M.S., R.D., CDN
Registered Dietitian
Jessica Cording, MS, RD, CDN, INHC is a registered dietitian, health coach, and author with a passion for helping people simplify their wellness routine and build sustainable healthy habits.
Aside from being uncomfortable, bloating can be a major confidence-killer. It's also super-common—even people who work out regularly and generally eat well deal with it. In fact, it's one of the most common issues my nutrition clients struggle with. Somebody can be crushing it at the gym and sticking to nourishing, whole foods, all while killing it in their career, but rather than acknowledge their awesome work, all they can focus on is how puffy they feel and want to know what they can do about it in time for that wedding this weekend.
Some common culprits behind bloating:
Advertisement
This ad is displayed using third party content and we do not control its accessibility features.
Dehydration
Salty food
Eating too fast
Chewing gum
Carbonated beverages
Foods that are hard to digest
Hormonal fluctuations
Keeping a food journal and tracking how bloated you feel is a great way to pinpoint whether certain foods or beverages are triggers for you. It may also give some insight into other factors like hormonal fluctuations, stress, or physical activity (or lack thereof). That said, talk to your doctor if your bloating is persistent or severe. Sometimes it can be a symptom of an underlying health issue.
The good news is that what we eat (and don't eat) can usually help. If you want to feel better fast, try this one-day de-bloating plan.
Advertisement
This ad is displayed using third party content and we do not control its accessibility features.
Your one-day bloat-busting plan:
Start your day with warm water with lemon.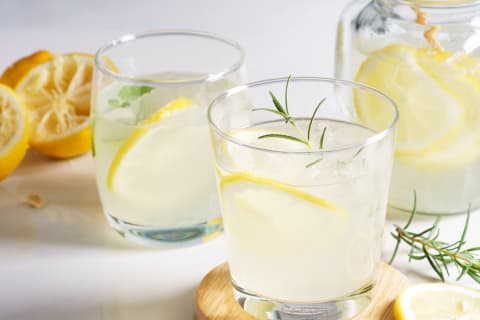 Advertisement
This ad is displayed using third party content and we do not control its accessibility features.
Dilute the juice of one lemon with 8 ounces of warm water. Sip slowly and take a moment to allow your brain and body to wake up. While the lemon acts as a diuretic, the warm water helps hydrate you and stimulates digestion as your body gets used to the idea of being awake. For the rest of the day, drink plenty of water—but stay away from alcohol and carbonated beverages, since they can make you feel more bloated. You can have a cup or two of coffee or tea (they act as mild diuretics, and can help de-bloat you) but don't overdo it.
Breakfast: Kefir Smoothie
Probiotic bacteria found in fermented foods like yogurt and kefir promote good digestion and fight swelling and inflammation. I often recommend kefir because it's almost lactose-free, making it easier to digest if you're sensitive to dairy. Just stick with plain to sidestep sugar and artificial sweeteners.
Ingredients
1 cup plain kefir
1 cup cubed papaya
½ cup blueberries
1 teaspoon grated fresh ginger (or 1 tablespoon ginger juice)
1 handful baby spinach
1 cup ice
Advertisement
This ad is displayed using third party content and we do not control its accessibility features.
Blend ingredients in a blender until smooth. Pour into a glass.
If you want to make it a smoothie bowl, pour into a bowl and garnish with a tablespoon of chia seeds
Dairy-Free Breakfast Alternative: Sweet Potato Toast with Almond Butter
Potassium is a mineral that plays a key role in cell function, including regulating fluid balance. Potassium-rich foods can help counteract the effects of sodium and ease bloating. Reach for avocado, banana, sweet potato, pumpkin, tomatoes, leafy greens, oranges, and cantaloupe.
Ingredients
1 small sweet potato
1 tablespoon almond butter
Advertisement
This ad is displayed using third party content and we do not control its accessibility features.
Thinly slice sweet potato, lengthwise, into ¼-inch slices.
Toast slices in a toaster, toaster oven, or conventional oven until cooked through.
Top each slice with almond butter.
Lunch: Spinach Salad with Roasted Asparagus and Soft-Boiled Eggs
Asparagus is a particularly powerful bloat-fighting food, thanks to amino acid asparagine. It's also a potent source of antioxidant glutathione, which has been noted1 for its detoxifying effect.
To make grilled asparagus, trim stems and toss asparagus with olive oil and spices of choice. For example, garlic powder, onion powder, oregano, dried parsley, pepper, rosemary, and thyme.
Preheat oven to 400°F and roast asparagus until tender and starting to caramelize—about 7 to 10 minutes, depending on the thickness of the asparagus.
To assemble salad, toss spinach leaves with halved cherry tomatoes and cucumber wedges with 2 teaspoons olive oil and the juice of one lemon. Pour onto a plate. Top with roasted asparagus spears and two soft-boiled eggs (or however you like your eggs).
Snack: Easy Avocado Snack
Spritz lime or lemon juice over half an avocado and top with 1 teaspoon hemp hearts. Enjoy with a spoon right out of the skin.
Dinner: Parchment-Baked Salmon with Fresh Herbs and Fennel and Cucumber Salad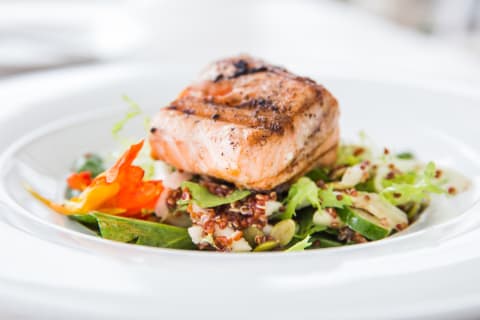 Makes 2 servings
Ingredients for Fish:
2 large squares of parchment paper (about 6 inches)
Kitchen twine
2 4-ounce filets of salmon
2 teaspoons fresh rosemary (or ½ teaspoon dried)
1 teaspoon dried oregano
½ teaspoon each garlic powder and onion powder
4 teaspoons olive oil
2 lemons, sliced
Ingredients for Fennel Salad:
1 small head fennel, ends trimmed
1 medium cucumber, ends trimmed
1 tablespoon lemon juice
1 tablespoon olive oil
1 tablespoon chopped fresh mint leaves
Preheat oven to 400°F.
Place salmon in center of parchment paper. Drizzle olive oil over salmon and add herbs and spices. Lay lemon slices on top of salmon.
Gather the sides of the parchment paper together and tuck under to form a pouch with no openings. Secure tightly with kitchen twine.
Place parchment pouch on a baking sheet and bake at 400 for 20 to 25 minutes. Transfer package to a plate and open to release the steam before serving.
To make fennel salad, slice fennel and cucumber into thin strips.
Toss fennel and cucumber with lemon, olive oil, and mint leaves.
Serve each salmon filet with half the fennel salad.
Dessert: Chocolate Banana Nice Cream
1 frozen banana, peeled and sliced
1 tablespoon cacao powder
1 teaspoon cacao nibs
In a food processor, pulse banana slices until texture resembles soft serve ice cream.
Add cacao powder and blend until well-mixed.
Transfer to a small bowl or dessert dish. Garnish with cacao nibs.
Cap off your night with peppermint tea.
Peppermint is a great choice for soothing the digestive tract after a meal. You can buy bagged tea or make your own by steeping fresh mint leaves in hot water and straining into a cup to drink.
Want to turn your passion for wellbeing into a fulfilling career? Become a Certified Health Coach! Learn more here.