Black Bean-Hemp Superfood Patties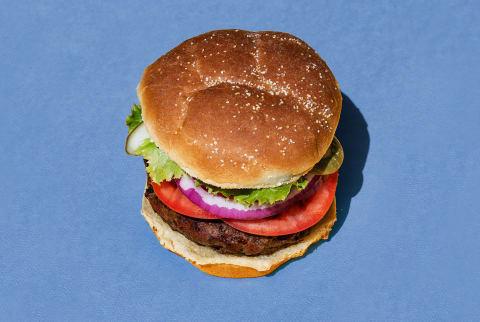 Image by Sean Locke / Stocksy
August 10, 2011
These patties are packed with premium protein, essential fatty acids, iron, calcium, fiber, and trace minerals, and won't contribute one bit to heart disease or diabetes like animal-derived burgers. Perfectly aligned spices celebrate three plant-based protein sources: black beans, hemp seeds, and quinoa.
Ingredients (makes 6 patties)
1 cup finely diced sweet yellow onion (about 1/2 medium onion)
4 large cloves garlic, minced
1 cup finely diced red bell pepper (about 1 pepper)
1½ cups cooked black beans (unsalted)
10 sun-dried tomatoes, soaked in hot water until soft, minced finely
2 teaspoons paprika powder
1/4 teaspoon chipotle powder
1/4 teaspoon cayenne powder
Heat 1 teaspoon coconut oil in a nonstick frying pan over medium heat. Add the onion and garlic, and cook until onion begins to turn translucent, about 3-4 minutes. Add the bell pepper, and continue to cook until vegetables have softened – about 5 minutes. Reduce the heat to low and add the black beans, hemp seeds, sun-dried tomatoes, sea salt, paprika, chipotle and cayenne. Cook, stirring constantly, for an additional 1-2 minutes. Remove from heat and transfer to a large bowl.
Add the miso paste into the mixture. Use the back of a fork to mix the beans and miso together, partially mashing the beans. Mix in the cooked brown rice and quinoa flakes. When cool enough to handle, use clean hands to knead the mixture together to form a dense base. Place in the refrigerator, covered, for 30 minutes to allow quinoflakes to swell and absorb the excess moisture.
Form the mixture into 6-8 patties. Warm a small amount of coconut oil in a non-stick frying pan over medium heat. When the pan is hot, add the patties. Cook for about 4-5 minutes on each side, or until browned.
Serving Suggestions: Pair with spouted grain hamburger buns, avocado, tomatoes, onions and sprouts. Or, try it "high protein-style" – tucked inside a collard leaf wrap or on top of a salad. Regardless of the serving method, including a smear of "Maqui Ketchup" (from Superfood Cuisine, page 170) makes these delectable burgers absolutely outstanding.
Recipe and photo via Superfood Cuisine: Cooking with Nature's Most Amazing Foods, by Julie Morris. Available at JulieMorris.net (signed copy), and Amazon.com

Julie Morris
Julie Morris is a Los Angeles-based natural food chef, superfood expert, and bestselling author of 5 books including Superfood Soups, Superfood Snacks, Superfood Smoothies, Superfood Juices, and Superfood Kitchen. She has worked in the natural food industry for a decade as a recipe developer, culinary writer, on-camera personality, national speaker, and is an active advocate for whole, plant-based foods and superfoods for optimal health. Her mission is simple: to share recipes and nutrition tips that make a vibrantly healthy lifestyle both easy to achieve and delicious to follow.
For more of Julie's superfood kitchen, visit her at JulieMorris.net, or through her social media channels: Facebook, Twitter, and Instagram.