The 8 Essential Tools This Celebrity Makeup Artist Says You Should Have In Your Bag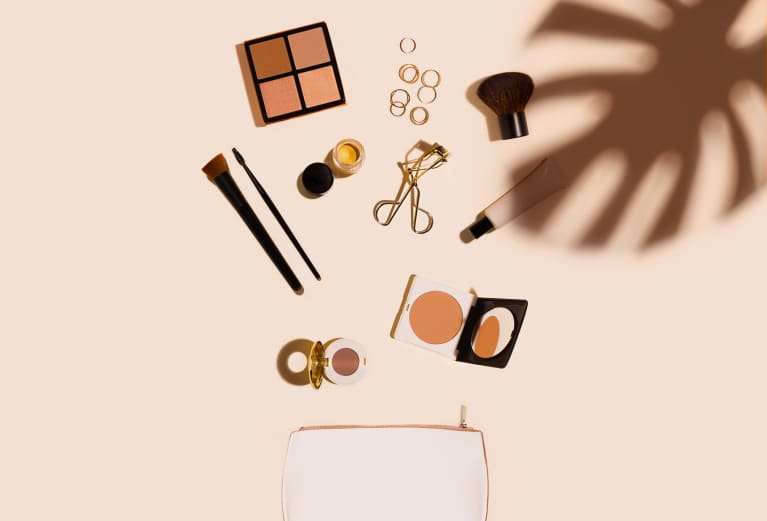 If you've ever wanted a peek inside a celebrity makeup artist's toolkit, you've come to the right place. Us MUAs—both "green" and conventional alike—carry huge, often suitcase-sized bags full of product and tools. We need to come prepared to suit any and all skin types, tones, textures, and preferences, and therefore bring a version of our complete arsenals almost everywhere.
But for doing everyday natural makeup, you only need a few essential tools too make your favorite products sing. So if you're going to go through the trouble of building your own kit, it makes sense to start with the ones that'll give you the most bang for your buck.
Here are my everyday go-to tools:
This is the no. 1 thing everyone should have—the classic Shu Umera is my standby. In general, the curler should feel firm and solid in your hand. Make sure you replace the pad—the curved, solid rubber shape that goes all the way across—every 6-12 months. My gold standard is to angle the curler in a way that ensures every single lash is curled directly from the root and gets even the outer corners up high.
Rubis Classic Elegance tweezers (formerly known as no. 135) have excellent features, in my opinion. The point and slant of each tong, the way the two sides touch, the perforated handle, and even their length are all ideal. Of all the tweezers I've recommended to my clients, Rubis always gets the best feedback. These are a great investment unless your personal preference is a pinpoint tweezer, but I reserve those for digging, like in the case of an eyebrow hair that's stuck under the skin.
3. Quality pencil sharper.
This is important for your eye and lip pencils. I have two in my collection that were my grandmother's from the 1940s that say "German steel," which is a real testament to the quality. They're inexpensive, but getting a flimsy one from the drugstore will not give you long-term use. Plus, they won't necessarily sharpen your pencil effectively—and no one likes accidentally breaking the tip of their favorite eyeliner!
I favor using synthetics (non-animal hair) and there are some great ones! That being said, whether you reach for synthetic or animal hair brushes really does depend on the task at hand. A lot of synthetic brushes don't pick up loose mineral pigment, either because the synthetic material doesn't attract pigment or because the shape of each fiber drawn to a point at the end, which doesn't pick up or deposit well.
You know you need a different brush because product looks "dead" on the face, takes the shape of the brush, doesn't fully blend, or doesn't come off the brush. When looking for new brushes, I tend to advise people to purchase brushes that are weighted well. You can really feel the difference between a quality brush and one that will fall apart when you have it in your hand.
Here are three types of brushes to start your collection:
Cheek color and/or bronzer brush.
Yes, your cheek color and bronzer brush can be one and the same. Just swipe it over a dark towel to get whatever you've put down first off before moving onto the next application! Ilia makes a big and fluffy brush I love for cheeks.
I like foundation brushes but I really like the beauty blender!
Pro-tip: Hold it under running water and squeeze it. Then, squeeze it into a clean towel (one you don't mind getting dirty) until it's barely wet. This will keep it from absorbing too much liquid foundation from your face. I like using it with a press and roll action, which creates the perfect texture—no finger marks or brush strokes.
When it comes to the eye area, it makes sense to have a few different brushes.