Are You A Sweet Snacker? These Are The Best Healthy Options

Contributing Food Editor
By Liz Moody
Contributing Food Editor
Liz Moody is a food editor, recipe developer and green smoothie enthusiast. She received her creative writing and psychology degree from The University of California, Berkeley. Moody is the author of two cookbooks: Healthier Together and Glow Pops and the host of the Healthier Together podcast.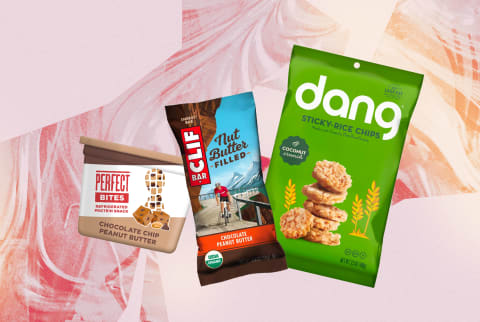 Image by mbg creative + custom
September 2, 2019
Sometimes you just want something sweet to munch on—not a full-blown dessert but not savory either. We have strict standards when it comes to sweet snacks, but a number of brands rose to the challenge, with options that are organic, blood-sugar-balancing, vegan, paleo, gluten-free, and so much more. Here are the best of the best sweet options for noshing.
Lily's Dark Chocolate Covered Peanuts
Lily's has redefined the chocolate category with their innovative, stevia-sweetened confections. These dark-chocolate-covered peanuts taste incredibly decadent, but they contain, magically, zero added sugar and just 1 gram of total sugar per serving. They also boast 5 grams of fiber per serving, which will help keep your blood sugar stable, making these the perfect sweet snack. There are also milk- and dark-chocolate-covered almonds and milk chocolate peanuts but this dark chocolate variety won our hearts. Dark Chocolate Covered Peanuts, Lily's ($5.99 for one 3.5-ounce bag)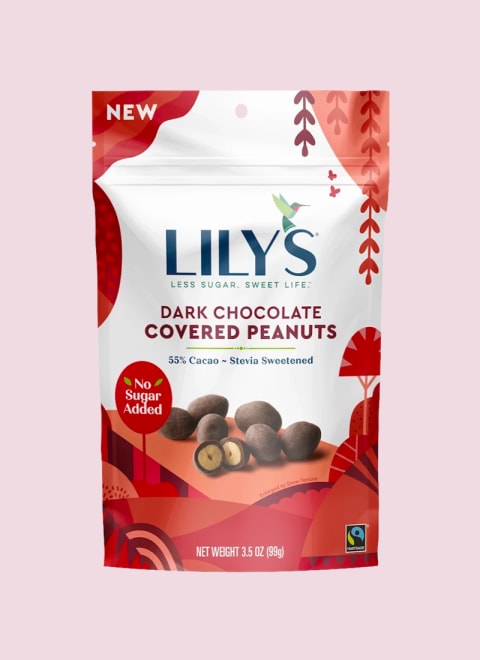 mbg creative + custom
Annie's Sour Bunnies Fruit Snacks
If you love that sweet and sour flavor profile, this is the perfect snack for you. Annie's Sour Bunnies are made with organic fruit juice and have the perfect amount of pucker. Each pack is made up of cherry, lemon, and orange flavors that actually taste like (delightfully sour!) versions of the fruits they're named for. They're vegan, contain no artificial colors or flavors, and are non-GMO. Sour Bunnies Fruit Snacks, Annie's ($4.29 for five single-serve pouches)
mbg creative + custom
Clif Bar Nut Butter Filled Chocolate Peanut Butter
If you want a sweet snack with some heft, Clif Bar has your back. These innovative nut-butter-filled energy bars are essentially the bar equivalent of a peanut butter cup. Unlike candy, they provide 9% of your daily protein and 11% of your daily fiber per serving, helping keep your blood sugar stable even as you're indulging (it's also USDA organic!). The bar itself is soft and chewy, with a gooey peanut butter center that will win your heart every single time. Nut Butter Filled Chocolate Peanut Butter, Clif Bar ($1.79 for one bar)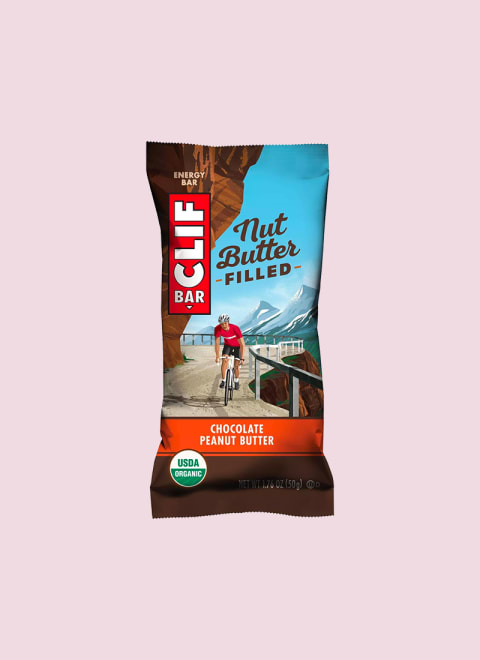 mbg creative + custom
Simple Mills Crunchy Chocolate Chip Cookies
These cookies feel truly too good to be true: They're fully free of gluten, grains, soy, corn, dairy, gums, and emulsifiers but somehow they taste like the best crunchy chocolate chip cookie you've ever had. What IS in them, you ask? Great question. Simple Mills uses the high-quality simple ingredients they're known for, including a base of almonds and flaxseeds, GI-friendly coconut sugar, arrowroot and tapioca starch, and not much else. A cookie you can feel good about eating? Sign us up. Crunchy Chocolate Chip Cookies, Simple Mills ($4.99 for one 5.5-ounce box)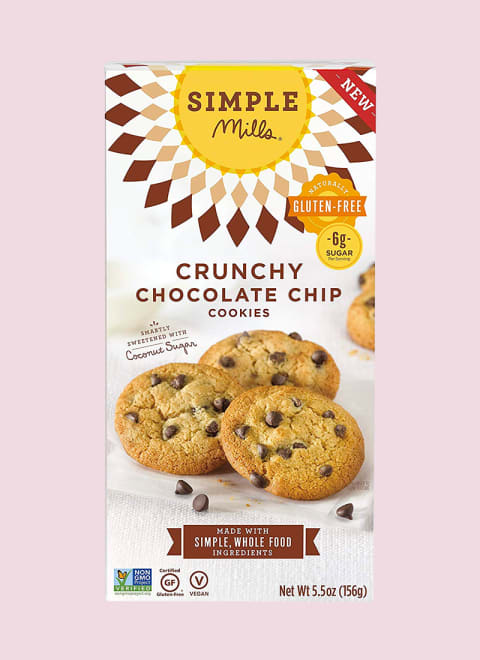 mbg creative + custom
Dang Coconut Crunch Sticky-Rice Chips
These chips are like nothing else you've ever eaten. Made from dried, crisped sticky rice, they're the perfect blend of sweet and salty, with an umami kick. The ingredients are stellar: Everything is gluten-free, dairy-free, non-GMO, and vegan. They come in a few varieties, including sriracha, seaweed, and Cheddar, all of which are worth trying, but the coconut crunch version has just the right amount of sweetness to quell those dessert cravings—in a healthy way.
Coconut Crunch Sticky-Rice Chips, Dang ($13.98 for two 3.5-ounce bags)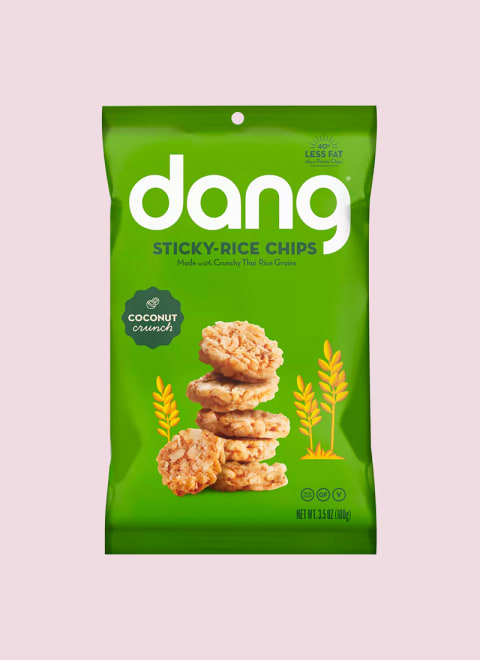 mbg creative + custom
Nana Joe's Chef's Blend Series Strawberry, Coconut, Chocolate Chip Granola
Nana Joe's has long made granola that the food aficionados are obsessed with, with bold, interesting, and fresh flavors. In this Chef's Blend collaboration with Instagram-star Kale Junkie, they do a take on a chocolate-covered strawberry that's completely addictive—and also completely paleo. Made with a blood-sugar-balancing mix of nuts, seeds, and coconut, it's studded with coconut-sugar-sweetened Hu chocolate gems and sweet freeze-dried strawberries. It's as good eaten with a milk of your choice as it is munched straight from the bag. Chef's Blend Series Strawberry, Coconut, Chocolate Chip Granola, Nana Joe's ($12 for one 8-ounce bag)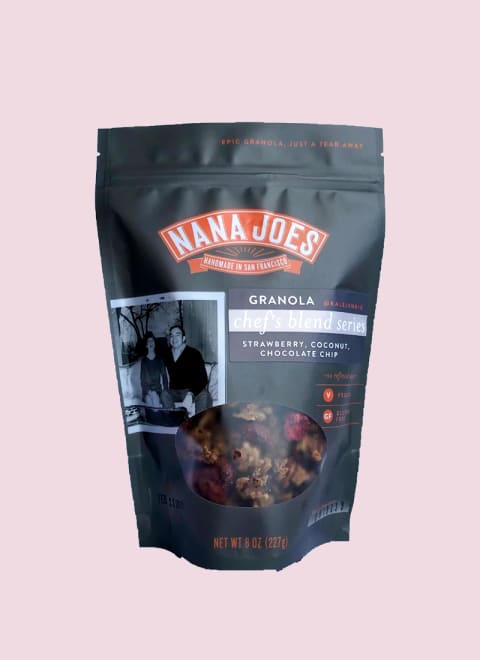 mbg creative + custom
Perfect Bar Chocolate Chip Peanut Butter Perfect Bites
Perfect Bar won over the wellness world with their nutrient-packed bars, but their Perfect Bites are their most snackable variety. They come in two flavors—peanut butter and chocolate chip peanut butter—and encompass all of the signature Perfect deliciousness and superfood ingredients in tiny, bite-size pieces. Each serving includes 7 grams of protein and good-for-you bonuses like kale, flaxseed, rosehip, papaya, and more. Because of their super-fresh ingredients, they should be kept in the fridge long term, but they'll last at room temperature for a few days, making them easy to tote with you anywhere you go. Chocolate Chip Peanut Butter Perfect Bites, Perfect Bar ($24 for four snack packs)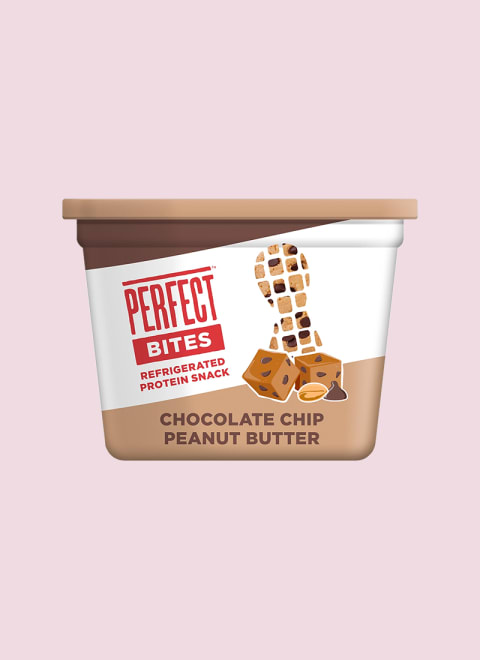 mbg creative + custom
Wholesome Cinnamon Organic Bears
If you love that fiery cinnamon flavor with your sweet treats, these little bears will be your new best friend. They're USDA Organic, with absolute no synthetic colors, flavors, or high-fructose syrup. They're also vegan and gluten-free, making them the perfect allergy-friendly snack. As for the flavor? It's just the right amount of sweet, with a cinnamon-y kick that feels like childhood, without all of the artificial junk. Get ready to get addicted. Cinnamon Organic Bears, Wholesome ($1.99 for one 2-ounce bag)
mbg creative + custom