Close Banner
Advertisement
This ad is displayed using third party content and we do not control its accessibility features.
Brighten Your Day With This Beet, Apple + Raspberry Salad With Herb Millet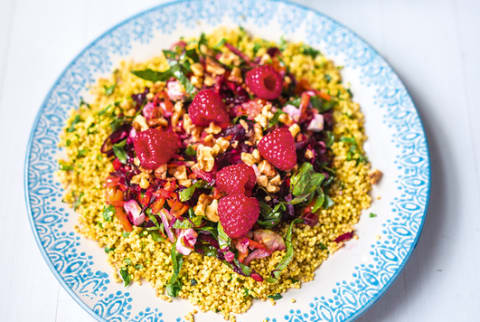 Photo by Alistair Richardson
Millet is a magnificent whole grain and makes a delicious, gluten-free, low-carb alternative to potato, rice, wheat, and all those other things we eat loads of.
I've had millet as porridge for breakfast in villages in the Himalayas, where the ground grains are also made into roti (flatbread). It is used in many communities around the world, especially Africa—in the places where wheat has not yet heavily infiltrated.
Raspberries and beets are two powerful allies that add serious nutrition, color and flavor to this salad. I sometimes like to throw in tofu (which I've done here)—it bulks it out and gives a nice well-rounded, protein-packed feel to the plate.
Beet, Apple + Raspberry Salad With Herb Millet
Ingredients
3 beets with leaves on
1 carrot, scrubbed and grated
1 sour green apple, cored and roughly grated
½ a small red onion, peeled and roughly grated
7 ounces (200g) firm tofu, pressed and diced into small cubes
a handful of raspberries
a handful of toasted walnuts or hazelnuts
generous ¾ cup (175g) uncooked millet
1¼ cups (300ml) water
1 tablespoon olive oil
2 teaspoons fresh thyme leaves
½ teaspoon salt
3 tablespoons finely chopped fresh parsley
1 x raspberry dressing (see below)
Method
Cut the leaves off the beets, keeping them whole. Cut the stems into ¾-inch (2cm) pieces, and scrub and roughly grate the roots.
In a small pot, toast the millet for 7 minutes, until it starts to become golden, shaking and swirling the pot frequently to keep the millet moving. Add the water, lower the heat to the lowest setting and cover. Cook for 30 minutes. Fluff up the millet gently with a fork, and heat a little longer if it is still damp. Turn out onto a plate and leave to cool.
When the millet is just warm, stir in the olive oil, thyme, salt and most of the parsley. The millet may be sticky, which is fine. Break it up with your hands – the olive oil and parsley will help with this.
Make the raspberry dressing. Place all your grated bits in a large bowl and stir in most of the dressing, along with the chopped beet stems.
Arrange the sliced beet leaves around the edge of a serving plate and spoon the millet in the center. Scatter the grated bits and tofu chunks over the top, followed by the raspberries and nuts, then drizzle on a little more dressing and sprinkle with the rest of the parsley.
Raspberry Dressing
It's worth buying raspberry vinegar just for this dressing.
Ingredients
2 tablespoons raspberry vinegar
1–2 tablespoons apple juice concentrate
4 tablespoons olive oil
1 teaspoon sea salt
Method
Simply mix all the ingredients together in a bowl.
Lee Watson
Lee Watson brings a singular sensibility to the vegan cookbook shelf. He has worked in restaurants for more than 20 years, has cooked on TV as one half of the presenting team on Fox's Meat v Veg, and helped open a restaurant on the beach in Murcia, Spain.
Besides growing his own organic fruit and vegetables, Lee writes poetry and plays guitar, practices yoga, hikes and runs in the mountains, swims in the sea, surfs, and enjoys nature. He lives "the good life" with his partner, Jane, in western Wales, where he works as a vegan chef at an idyllic retreat center in Snowdonia National Park.