Banana Nice Cream Sundae For All Your Dessert (& Breakfast) Needs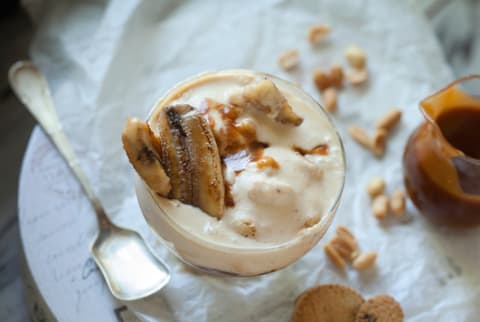 June 4, 2016
Perfect for cooling off in the hotter weather, tastes delicious, is very nutritious, and even counts for one of your servings of fruit in a day. Bonus!
Make sure you leave yourself approximately 2 hours to freeze the bananas before you plan on eating this, as you'll want them truly frozen before blending.
Banana Nice Cream Sundae
Ingredients
2 medium bananas
2 tablespoons almond milk
1 tablespoon hazelnut butter (or another nut butter)
1 teaspoon cacao powder
¼ teaspoon pure ground vanilla pod powder
Berries, chopped nuts, coconut, dark chocolate for topping (optional)
1. Slice the bananas into coin shapes and place into a bag in a single layer then place into your freezer for approximately 2 hours.
2. Take out the bananas and put them, along with the milk, into a food processor and blitz until they go creamy/smooth. Remove half the mix; this will be the banana layer.
3. For the chocolate layer, add in the cacao, vanilla, and nut butter, then blitz again for a few seconds until combined.
4. Pour into glasses in layers and top with whatever you desire.

Siobhan O'Hora
Thanks to my Masters in food security I love learning about what food does for our health & believe that knowing how our food enriches us, makes it easier to live healthier. I want to learn as much as I can about food, health & wellness, so figured why not share this with others? I also love to make delicious treats that are healthy to eat! Check out my blog here.