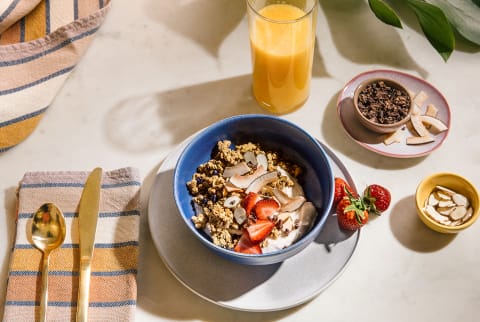 Image by Hannah Schwob / mbg Creative
October 14, 2014
This homemade "raw-nola" is sweet, fragrant, and bursting with the taste of delicious coconut.
1/4 cup almond butter
1/3 cup agave nectar
2 Tbsp. melted coconut oil
1 small banana
1 Tbsp. flax meal
1 1/2 cups dehydrated buckwheat groats
1 cup sliced or slivered almonds
1 cup dried shredded coconut
Note: If you don't have a dehydrator, preheat the oven to 350 degrees Fahrenheit.
Blend the almond butter, agave nectar, coconut oil, banana, and flax meal in a blender until smooth.
Mix the buckwheat, almonds, and coconut in a large bowl. Pour the sauce over the mixture and mix thoroughly with your hands.
Spread the raw-nola on a Teflex or parchment-lined dehydrator tray. Dehydrate at 115 degrees Fahrenheit or overnight (8 hours). Move the granola around a bit to break it up, and dehydrate for another 6 hours.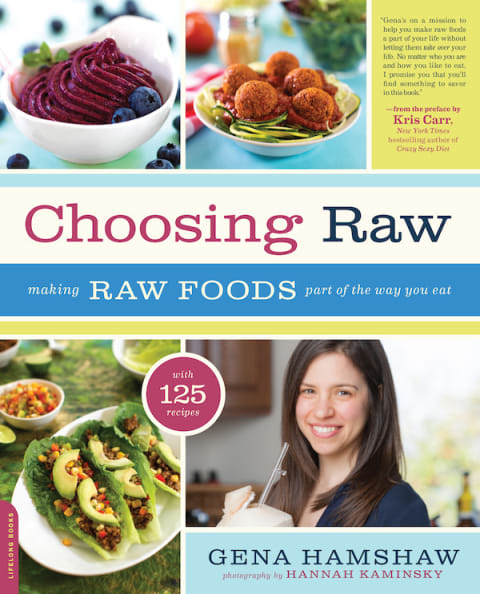 If you don't have a dehydrator, transfer the granola to a parchment-lined baking sheet and bake until it's lightly browned, about 20 to 25 minutes. Remove the granola from the oven and allow it to air dry until completely cool.
Stored in a sealed container, this raw-nola will keep for up to two weeks. It will remain extra crispy if stored in the fridge.
Reprinted with permission from Choosing Raw by Gena Hamshaw. Courtesy of Da Capo Lifelong, © 2014

Gena Hamshaw
Gena Hamshaw who has written the New Veganism column on Food52 since 2012, is a certified clinical nutritionist and the author of the book Choosing Raw. Gena has been published in O Magazine, VegNews, and Whole Living Daily. She lives in New York City, where she is completing her masters degree in nutrition at Columbia University and leads workshops and cooking classes.