Sip This Sweet Turmeric Elixir 30 Minutes Before You Eat To Massively Boost Digestion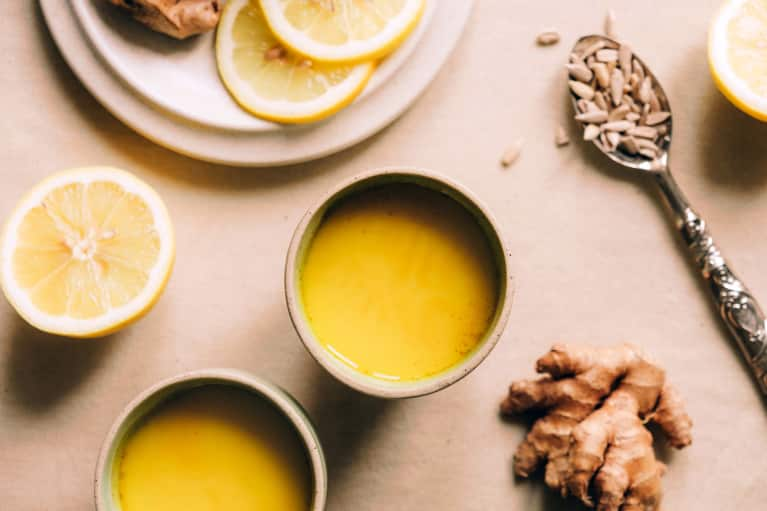 Our editors have independently chosen the products listed on this page. If you purchase something mentioned in this article, we may
earn a small commission
.
Kate O'Donnell's new book, Everyday Ayurveda Cooking for a Calm, Clear Mind: 100 Simple Sattvic Recipes, is filled with ancient ayurvedic wisdom, updated to make sense for everyday modern life, but this trick is one of our favorites. According to O'Donnell, in India,
"this digestive is used 30 minutes before a meal to improve your appetite or following a meal to reduce indigestion and bloating," she says. "Be sure to make it fresh for the medicinal benefit." The traditional use is backed up by Western medicine—turmeric is a potent anti-inflammatory, while ginger soothes the stomach, and yogurt is packed with probiotics that aid in processing your food. The fact that it tastes like a milkshake is only a bonus!
Ayurvedic Turmeric Lassi Recipe
1 cup water, room temperature
¼ cup organic whole-milk yogurt or dairy-free yogurt
Dash of ground turmeric
Double dash of ground ginger
¼ teaspoon freshly ground black pepper
¼ teaspoon ground cumin
Put the water in a 16-ounce glass jar, and add the yogurt and spices. Churn the mixture on high speed for 1 minute with an immersion hand blender, or in a high-speed blender, until it foams. The milk solids will gather on top and stick to the sides of the jar; they look like little bubbles. Skim off the solids with a spoon and discard. Repeat until there are no more fats to remove.
Drink immediately.
And do you want to turn your passion for wellbeing into a fulfilling career? Become a Certified Health Coach! Learn more here.