Former mbg Deputy Editor
By Elizabeth Inglese
Former mbg Deputy Editor
Elizabeth Inglese is a writer living in San Fransisco, California. She earned her bachelor's in english literature and cultures from Brown University and her master's in writing from The University of Southern California. She's the former Deputy Editor of mbg, and has also worked for Vogue, Architectural Digest, Bon Appetit, and Good Magazine covering food, health, and culture.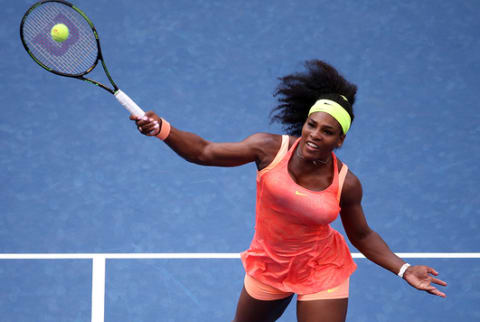 April 28, 2017
1. Female athletes won't let anything slow them down.
With news of Serena Williams' pregnancy, many are wondering how she won her 23rd Grand Slam at a time when many women experience fatigue, nausea, and malaise. Her response? "Pregnant or not, no one knew. Every tournament where I show up, I'm expected to win." (NYT)
2. Humpback babies whisper to their mothers.
Scientists just discovered that newborn humpback whales and their mothers whisper to each other to escape potential predators, revealing the existence of a previously unknown survival technique. "They don't want any unwanted listeners," researcher Simone Videsen, lead author of a study published in Functional Ecology, said. "Potential predators such as killer whales could listen to their conversations and use that as a cue to locate the calf and predate on it." (BBC)
3. Is the future of fitness on YouTube?
If you've started exercising at home more often, you're not alone: The free online workout company Fitness Blender just passed 4 million subscribers on YouTube. When it comes to exercise, apparently there's no place like home. (WSJ)
4. An external artificial womb may help premature babies.
Scientists developed an artificial womb using a plastic encasing and pumps that mimic the flow of amniotic fluid. In trials they were able to keep baby lambs alive for four weeks outside of their mothers' bodies. Their hope is to help the 10 percent of babies who are born prematurely each year. (CNN)
5. Miracle berries are bouncing back.
The schisandra berry, called "a miracle anti-aging pill," is at the center of a new conservation strategy. Overpicking has led to deforestation and ecological disturbances, but new education for China's farmers will allow the berries to continue to flourish, providing both income for the locals and nutrition for the pandas who depend on its nourishment. (NPR)
6. Great news for coffee lovers.
A recent meta-analysis of over 700 studies on caffeine's effects found that 400 milligrams a day (or 300 if you're pregnant) isn't harmful. (The previous limit was stated as under 400 milligrams.) That's four whopping cups of coffee, so drink up! (Science of Us)
7. This app makes it easy to be a conscious consumer.
Financial firm Aspiration just rolled out a new app that compiles data to assign companies two scores, one on "People," which gauges how well they treat their employees and communities, and the other on "Planet," which speaks to their sustainable, eco-friendly practices. It then goes a step further to assign you, the consumer, a score based on the companies that you spend money on by analyzing your debit card statement. (Fast Company)