This Chocolate Potion Features Phenylethylamine — Our Body's Natural 'Love Drug'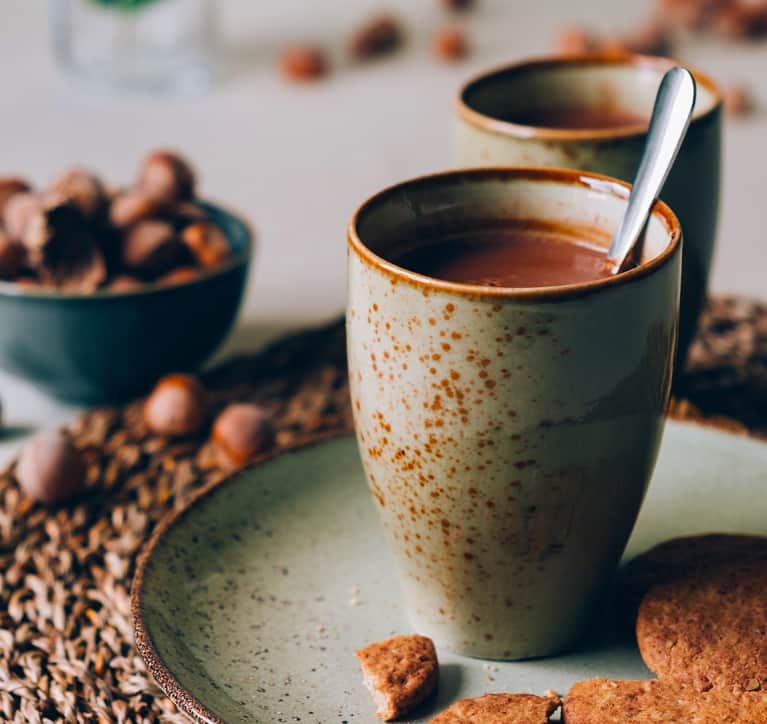 Our editors have independently chosen the products listed on this page. If you purchase something mentioned in this article, we may
earn a small commission
.
If you're wondering how to boost the love in your relationship or call new love into your life, look no further than cacao elixir, excerpted from Tonic by Tanita de Ruijt. The secret? A compound called phenylethylamine. "Also known as 'the love drug,' phenylethylamine triggers a degree of excitement, quickens the heart rate, and arouses feelings similar to those of being in love," explains de Rujit. "Another neurotransmitter, serotonin, lifts your mood." With a spicy, exciting flavor drawing on inspiration from Mexican hot chocolate, your palate will certainly be excited—with potentially more to follow.
Aphrodisiac Vegan Hot Chocolate Recipe
Serves 2
This spicy hot chocolate recipe takes things to another level, with a few warming metabolism- and immunity-boosting spices. Cayenne pepper and cinnamon help boost the healing and "happiness" properties of the cacao and balance out blood sugar levels.
Ingredients
230 mL (7¾ fl. oz.) coconut milk
230 mL (7¾ fl. oz.) just-boiled water
4 tablespoons raw cacao powder
4 squares of your favorite dark chocolate
1 teaspoon ground cinnamon
¼ teaspoon cayenne pepper
¼ teaspoon chili powder
¼ teaspoon pink Himalayan salt
¼ teaspoon ground turmeric
coconut sugar or honey, to taste
Add all the ingredients (except your sweetener) to a large saucepan and bring to a simmer over low heat. Simmer for 2 to 3 minutes, whisking, until thoroughly melted and mixed together, then remove from the heat.
Add your chosen sweetener, to taste, then pour into 2 mugs to serve.
Based on excerpts from Tonic by Tanita de Ruijt, with the permission of Hardie Grant. Copyright © 2018.