Start Your Weekend With This Antioxidant Powerhouse Smoothie!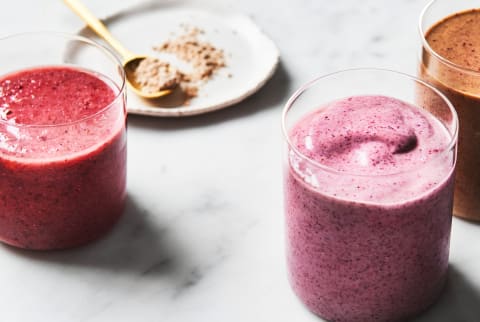 Image by Rochelle Eagle / Contributor
April 26, 2014
This smoothie is a real antioxidant powerhouse. Blueberries, raw cacao and coconut are all packed with antioxidant and/or anti-ageing properties that protect your body not only from the ageing process but also from the free radicals (pollution, computer, radiations, sun, etc.).
Eating these ingredients everyday is a great idea to help your body staying young and healthy longer.
Oh, did I mention it was super easy to make and absolutely delicious?
1 cup coconut water
Flesh of 1 young coconut
1/2 cup blueberries (frozen or fresh)
1 handful cacao beans
2 tbsp sesame seeds
Blend the all the ingredients in your high-speed blender until smooth.
Serve chilled. Garnish with cacao nibs or other nuts and seeds and enjoy!
Want more recipes like this? You can download your free copy of my Healthy & Happy People recipe book here.

Pauline Hanuise
Holistic Health Coach
Pauline Hanuise is a certified Holistic Recovery & Health Coach and one of Cosmopolitan's top 5 women in health and wellness. Having recovered from 15 years of struggles with full-blown bulimia, she is now helping women making peace with food. Get her FREE email coaching series to stop binge eating here.