Kate Hudson's Former Chef Swears By This Super-Simple Anti-Inflammatory Soup
Contributing Food Editor
By Liz Moody
Contributing Food Editor
Liz Moody is a food editor, recipe developer and green smoothie enthusiast. She received her creative writing and psychology degree from The University of California, Berkeley. Moody is the author of two cookbooks: Healthier Together and Glow Pops and the host of the Healthier Together podcast.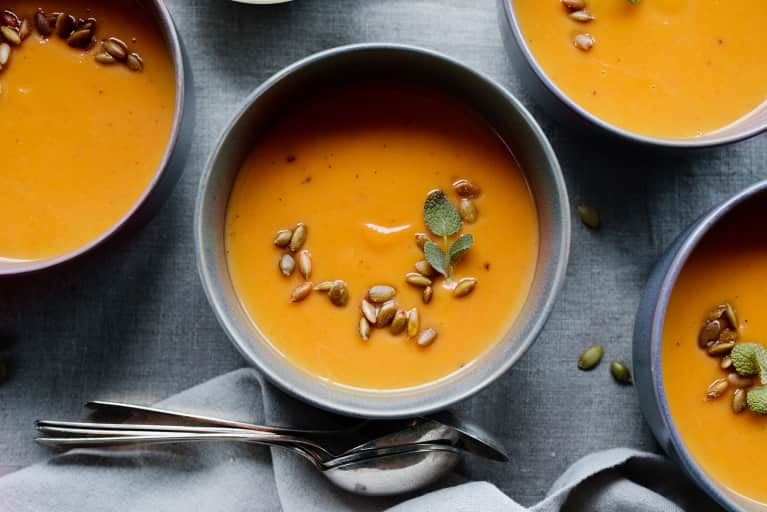 Our editors have independently chosen the products listed on this page. If you purchase something mentioned in this article, we may
earn a small commission
.
Amber Rose is a food stylist and chef who has worked for Gwyneth Paltrow, Kate Hudson, Kate Moss, Sadie Frost, and many more. Her new book, The Wholefood Pantry, is packed with fresh, unique, seasonally inspired recipes designed to nourish the body and soul—this turmeric, ginger, and coconut soup included. "This heavenly bowl of goodness really is a delicious way to nourish yourself when you are under the weather, or just feeling depleted, exhausted, and overtired," she says. "Any recipe prepared with broth provides nourishment, but the ingredients in this soup give added benefit if you are feeling poorly or need some TLC. This is a perfect bowl of warming goodness for those rainy and cold wintry days when sustenance of the highest order is completely necessary." Amber recommends having extra bone broth frozen in batches in the freezer, which makes the recipe take minutes to make.
Anti-inflammatory Coconut, Ginger, and Turmeric Soup
1 quart homemade bone broth or store-bought chicken or vegetable broth
1¾ cups full-fat coconut milk
A knob of fresh ginger, peeled and very finely sliced
½ teaspoon ground turmeric or a knob of fresh turmeric, finely sliced
Juice of ½ to 1 lemon (add desired amount)
¼ teaspoon red chili flakes or cayenne pepper
A small handful of cilantro, roughly chopped
2 teaspoons raw virgin coconut oil
Sea salt and freshly ground black pepper
Put all the ingredients, except for the cilantro and coconut oil, into a medium saucepan, and bring to a gentle simmer.
Simmer for 5 to 10 minutes, remove from the heat, and allow to cool for a few minutes.
Season with sea salt and plenty of black pepper, sprinkle over the cilantro, and spoon in the coconut oil. Taste and add more lemon juice if you like, and serve.
Tip: Do be generous with the black pepper as it's been proved that the piperine contained in pepper helps the main potent active ingredient (curcumin) in turmeric to be fully absorbed by the body during digestion. Turmeric is a powerful antioxidant and anti-inflammatory and has been proved highly effective in reducing the risk of many chronic diseases.
Based on excerpts from The Wholefood Pantry by Amber Rose, with the permission of Kyle Books. Copyright © 2017.