This Essential Oil Blend Smells Like The Holidays & Packs An Immunity-Boosting Punch
Doctor of Chiropractics
By Mariza Snyder, D.C.
Doctor of Chiropractics
Mariza Snyder is a functional wellness practitioner and public speaker currently living in Northern California. She received her Doctor of Chiropractic degree from Life Chiropractic College West and specializes in holistic medicine and nutrition.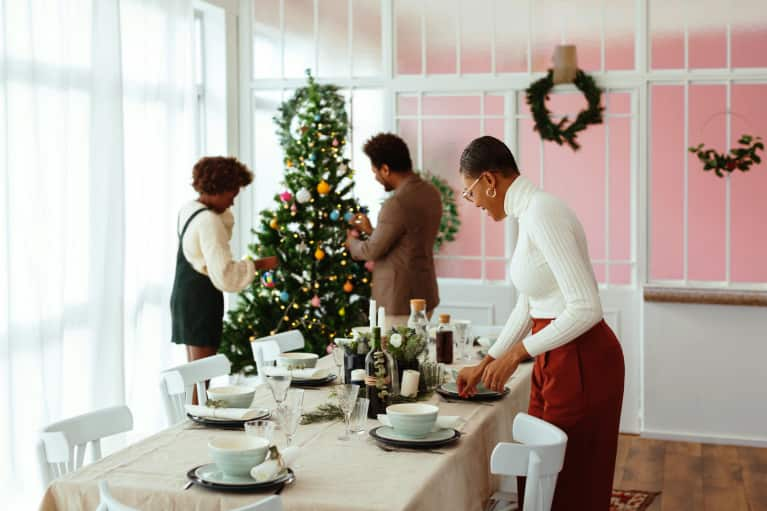 It's that time of the year again! Nothing gets us more in the mood for the holidays than the scents that trigger feelings of warmth, comfort, togetherness. This year we're excited about a sensory tradition that fills the home with holiday aromas AND supports the body. Introducing the perfect synergistic holiday essential oil trio: clove, cinnamon bark, and wild orange. It's safe for kids and pets (you never have to remember to blow it out!) and not only imparts an amazing holiday smell, but keeps us well, all season long.
Let's dive into the properties of each and cover a few ways to enjoy them for more than just their smell-good factor:
Clove (Eugenia caryophyllata) is antimicrobial, and its scent strikes the perfect balance of autumn harvest and winter warmth. Its high antioxidant count has also made it a popular food additive. Since it is a hot oil, it provides a tingly warming sensation when applied topically and should always be diluted if you're thinking of applying directly on the skin. Combine it with some raw honey to create an amazing natural face mask to fight against acne and other seasonal skin irritation.
To keep your immune system in top shape this season, be sure to utilize clove essential oil in your cleaning, diffusing, and cooking. Incorporating a little immune-supporting self-care ritual with diluted clove in conjunction with the other parts of the trio will keep you supported all winter long. I love to dilute it with some coconut oil and rub it on the bottoms of my feet to support immune health or rub it straight on my chest and neck when I'm feeling sniffly.
Cinnamon Bark Essential Oil
Cinnamon Bark (Cinnamomum zeylanicum) will balance out the deep notes of clove in your seasonal blend, adding some spicy, warm notes to the mix. Cinnamon bark essential oil contains cinnamaldehyde, which carries antioxidant values higher than many of the popular superfoods we eat these days (though only about half as high as clove's!). It is also known to be incredibly antimicrobial, making it a powerful addition to your diffuser or your natural homemade cleansers. Research is also being done on its ability to lower cholesterol and support heart health.
Use this essential oil to keep your mind sharp during the holidays while filling your home with a comforting fragrance that will keep everyone's immune system supported. You can also spice up the bedroom by diluting this aphrodisiacal essential oil and using it in a sensual massage; just remember it is a hot oil as well, so it will warm your skin.
Wild Orange Essential Oil
Finally, let's address the wonders that wild orange can do for your mind and body! It's my go-to oil for an instant pick-me-up and focus boost, with its sweet and sharp citrusy scent. Adding it to your water throughout the day or as a flavor agent in your holiday cooking can also support your digestion (just be extra cautious about dose when you're cooking with essential oils).
Holidays can be tense, and diffusing wild orange can calm some of that anxiousness. Even during the most stressful situations, the aroma has been shown to lower cortisol levels and boost energy. Its antibacterial power has been utilized in a variety of cleaning products for centuries as well; add it to white vinegar and you have a solution that can cut through grease (and stress) in a single spritz.
Its immune-supporting power pairs well with both clove and cinnamon to keep your body balanced.
How to blend the three this holiday season.
Try one or all of these amazing blends to amp up your holidays and support your body all season long, sans the chemicals.
5 drops cinnamon bark essential oil
5 drops clove essential oil
12 drops wild orange essential oil
1 cup white vinegar
1 cup distilled water
16-ounce glass spray bottle
Directions:
In your glass spray bottle, add the essential oils and fill with water and vinegar. To use, shake and spritz, let sit for a few minutes, then wipe clean with a microfiber cloth. For added deep cleaning, shake baking soda on the hard surface first before spritzing. Allow to bubble for several minutes, and then wipe clean with a microfiber cloth.
2 drops clove essential oil
2 drops cinnamon bark essential oil
4 drops wild orange essential oil
Directions:
Add to your diffuser and smell away.
8 ounces distilled water or witch hazel
3 drops cinnamon essential oil
3 drops clove essential oil
6 drops wild orange essential oil
8-ounce glass spray bottle
Directions:
In your glass spray bottle, add the essential oils and then the water or witch hazel. Shake and spritz fabrics or furniture to ward off stinky smells and environmental threats. Pro tip: Spritzing this on your wool dryer balls will make a load of towels smell amazing!