If You're Going To Buy One Cookbook This Fall, Make It This One
Our editors have independently chosen the products listed on this page. If you purchase something mentioned in this article, we may
earn a small commission
.
There are cooks who write and writers who cook; the genius of Alison Roman's cookbook is that she's one of the few that genuinely, wholly occupies both spaces. After years honing her culinary skills in fine dining kitchens (including dessert-maverick Momofoku Milk Bar and San Francisco's vegetable-filled Quince), she worked as an editor at Bon Appétit and BuzzFeed. Her first cookbook, Dining In, reflects both of these sensibilities. It's filled with surprising food that plays with flavor profiles and textures (in one dish, raw and roasted carrots come together with fennel and pistachios for a dish that's simultaneously warm and cold, crunchy and sweetly smooth, familiar and exciting), but it also has the type of cooking-school expertise turned into bite-size, digestible information that years on an editorial team provides. You'll learn new techniques (slow-roasting in olive oil) and chef's tricks that'll impress anyone you have over for dinner (how to actually cook an eggplant properly, why toasting nuts actually matters).
While technically a cookbook for omnivores, Dining In is very much a reflection of how we eat now, meaning vegetable-heavy dishes occupy a central portion of the text. Here are a few of our favorite recipes.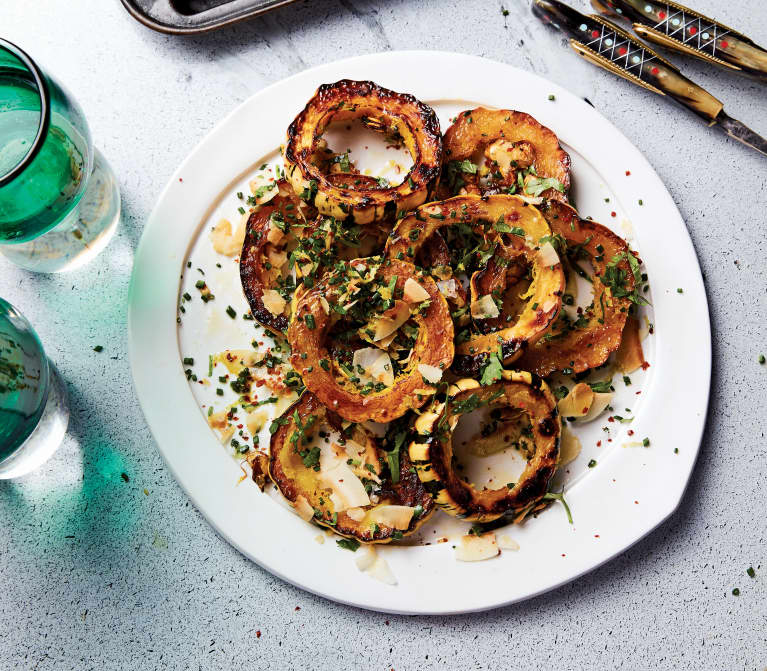 Caramelized Winter Squash with Toasted Coconut Gremolata
Serves 4
I ate a lot of squash with brown sugar and butter while growing up. This recipe is my more practical "I can't have ice cream for every meal" compromise, using honey instead of brown sugar and coconut oil instead of butter. I would probably eat this as dinner on its own, but I happen to know it's also great as a side with things like roasted chicken or pork chops.
While tender, caramelized, salty-sweet squash is magnificent all on its own, it should be mentioned that the real reason for making this dish is for the toasted coconut gremolata: chips of nutty, unsweetened coconut tossed with herbs, lots of lemon zest, and a bit of Aleppo pepper. It's wildly addictive, and there is no reason it couldn't appear over roasted carrots, sprinkled onto a curry or stew, or even over salads as a stand-in for croutons.
Ingredients, Squash
2 medium winter squash, such as delicata or acorn (1½ to 2 pounds)
3 tablespoons coconut oil, melted, or olive oil
1 tablespoon honey
Kosher salt and freshly ground black pepper
Ingredients, Toasted Coconut Gremolata
¾ cup unsweetened coconut chips
¼ cup finely chopped fresh chives
½ cup fresh cilantro, tender leaves and stems, finely chopped
1 tablespoon finely grated lemon zest
2 teaspoons Aleppo pepper or 1 teaspoon crushed red-pepper flakes
Kosher salt
DO AHEAD: Everything but the coconut can be made 1 day ahead; when ready to serve, toast the coconut and add it to the chive mixture (toasted coconut will start to soften once mixed with the herbs and refrigerated).
ROAST THE SQUASH: Preheat the oven to 425°F.
Leaving the skin on, slice the squash into ½-inch-thick rings. (I roast my squash with the seeds still inside, because they get all crispy and I love the texture they bring to the table, but you can remove them if you like. Best way to do that is cut the squash in half crosswise and scoop out the seeds with a spoon, then slice into rings.)
Toss the squash with the coconut oil and honey on a rimmed baking sheet and season with salt and pepper. Roast, flipping the squash once, until it is completely tender, browned, and caramelized, 25 to 30 minutes.
MAKE THE GREMOLATA: While the squash is roasting, heat a small skillet over medium heat and add the coconut. Shake the skillet occasionally until the coconut is starting to brown at the edges and smells all toasty and amazing, 3 to 4 minutes. Place it in a medium bowl to cool completely.
Once the coconut has cooled, add the chives, cilantro, lemon zest, and Aleppo pepper, and season with salt. Using your fingers, mix this together until the oils in the lemon zest have released and everything is evenly distributed (especially the lemon zest, which can stubbornly clump up).
Sprinkle the coconut gremolata over the roasted squash and serve.
Decidedly Not-Sweet Granola
Makes about 5 cups
Aside from eating this for breakfast over yogurt with cucumbers (page 112), this granola is really great to use like croutons in salads as well as for plain old out-of-hand snacking. I don't want to push this recipe too hard, because it'll seem like I have some sort of savory granola agenda, but just know that it's one of the few things in this book that is in my pantry at all times.
Like the sweet version on the facing page, this one gets its crunch from egg whites, and the ingredients are rather flexible. I like to pack as much variety into this as humanly possible, always adding a new seed or grain when I have them on hand, and you should feel free to do the same. The soy sauce here not only adds some good old-fashioned saltiness, but its residual sugars also help everything caramelize and stick together, which is nice since this contains way less sweetener than a regular granola.
Ingredients
1½ cups rolled oats
1 cup raw sunflower seeds
1 cup raw pumpkin seeds
1 cup buckwheat groats
½ cup flaxseeds
½ cup black or white sesame seeds
¼ cup nigella seed (if unavailable, use more black or white sesame seeds)
3 large egg whites
⅓ cup olive oil, peanut oil, or grapeseed oil
¼ cup maple syrup
¼ cup caraway or fennel seed
2 tablespoons Aleppo pepper (optional)
2 tablespoons soy sauce
2 teaspoons kosher salt
Freshly ground black pepper
DO AHEAD: Granola can be made 1 week ahead and stored in an airtight container at room temperature.
Preheat the oven to 325°F. Line a rimmed baking sheet with parchment paper.
Combine the oats, sunflower seeds, pumpkin seeds, buckwheat, flaxseeds, sesame seeds, nigella seed, egg whites, oil, maple syrup, caraway seed, Aleppo pepper (if using), soy sauce, and salt in a medium bowl and toss to mix until everything is evenly coated. Season with plenty of black pepper.
Spread the mixture onto the prepared baking sheet and bake, stirring every 15 minutes or so, until everything is golden brown and toasty, 45 to 55 minutes. Let cool completely and break any large clumps into smaller pieces before storing in glass jars or zip-lock bags.