Close Banner
Advertisement
This ad is displayed using third party content and we do not control its accessibility features.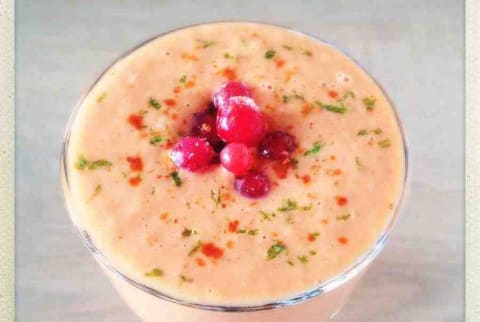 Have you ever felt insecure about your skin? No need to spend thousands of dollars on expensive skin care products! Fresh fruits and vegetables will help you to get you glowing, vibrant skin.
This red currant smoothie is especially high in vitamin C, an essential nutrient that will protect your skin from free radicals and keep it young and beautiful.
A Red Currant Smoothie For Glowing Skin
1 cup of almond milk
½ cup of red currants (or other berries of your choice)
2 small ripe bananas
2 small dates, pitted and roughly chopped
1 Tbsp of goji berries
1 tsp. of lucuma powder (optional)
Lime zest, to taste
Combine almond milk, red currants, bananas, dates, goji berries, lucuma powder and lime zest in a blender. Blend until smooth.
Top with extra lime zest and red currants.
This smoothie will stay fresh for at least 2 days in an airtight container in the refrigerator.
Don't like the tangy flavor of red currants? Replace them with other berries such as strawberries, raspberries or blueberries. Adjust the amount of sweetener (dates in this case) accordingly.
Want to turn this smoothie into a protein shake? Add 1 tablespoon of protein powder of your choice and mix well. I love adding hemp seeds to this shake, too! They'll help you to build muscle and keep your blood sugar level stable throughout the day (which means more energy and a slimmer waistline!).
Julie Van den Kerchove
Julie Van den Kerchove is a certified Raw Food chef, coach & writer graduated from the Living Light Culinary Institute in California. After successfully healing herself from several chronic health conditions with the help of raw food, she founded Julie's Lifestyle, where she now offers customized health coaching in order to help women all around the world to get more energy, reach their ideal weight and 'lose the fear of food' with a healthy diet high in raw fruits and vegetables. She is also the author of 3 raw food books. You can find her on Instagram and at Julie's Lifestyle, where you can get her FREE eBook "Julie's Top 7 Fast, Easy & Delicious Raw Smoothies & Shakes."