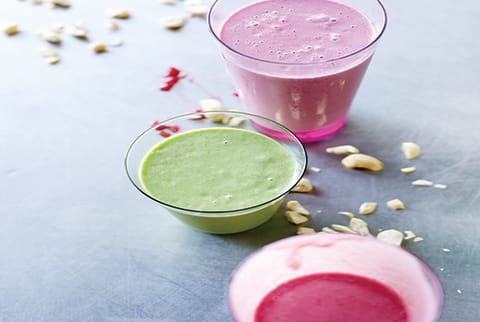 April 10, 2014
I'm a blendaholic. And when it comes to passing my addiction on to others, I'm also an enabler. But fear not. This habit is healthy and comes with a load of positive side effects.
Our lives are hectic and we've taken to bottling, canning, boxing and vacu-packing all of our foods for convenience, a way to fill up on the fly, and it's only human that we make this trade-off. But we don't have to compromise on health, nutrition, or good eating just because we've got pressing things to do.
Advertisement
This ad is displayed using third party content and we do not control its accessibility features.
Enter the blender...a phenomenal machine, the greatest culinary gift bestowed on us since fire and spoons! Blending makes life easier, levels the playing field in the kitchen and allows anyone to whip up nutrient-dense, tasty foods with limited skills and time.
This is why I wrote The Blender Girl, a collection of love letters to the power of whole foods, to the power of balance, and to everything you can make in the miraculous blender.
The recipe from my book that I've included here was inspired by a smoothie created at SunCafe, my favorite local raw restaurant that won the SeriousEats Best Smoothie in L.A. One taste and you'll understand why kale-phobic omnivores line up (and even double-park in front of SunCafe) to get their fill.
Still the most popular recipe on my website, this is the Holy Grail of Kale.
Tastes-Like-Ice-Cream Kale
Serves 2
1/2 cup (120ml) water
1/2 teaspoon probiotic powder (optional)
1/2 cup (70g) raw unsalted cashews, soaked (see note)
1 cup (25g) torn-up curly green kale leaves (1 or 2 large leaves with stalk removed, ripped into small pieces), plus more to taste
2 ripe bananas, fresh or frozen
1/4 cup (43g) chopped pitted dates, soaked (see note), or 1 tablespoon pure maple syrup, plus more to taste
1/2 teaspoon alcohol-free vanilla extract
2 cups (250g) ice cubes (a little less if using frozen bananas)
1/2 teaspoon minced ginger, plus more to taste (optional)
Directions: Put all of the ingredients into your blender in the order listed and puree for about a minute, until smooth and creamy. Tweak flavors to taste (you may like a bit more kale, sweetener, or ginger).
Note: With a conventional blender, you'll get the smoothest consistency if you use maple syrup or chop the dates finely.
Tips on soaking foods for blending...
Nuts, seeds, and grains:
To soak the fast way, place the food in a glass or ceramic container, cover with boiling water and let soak for 10 minutes or more. This softens foods quickly for culinary use, but has no nutritional benefit because live enzymes are destroyed. Drain thoroughly, discard the soaking liquid, and rinse. The soaking liquid should be discarded as it contains anti-nutrients (toxic inhibitors) that are not beneficial for health.
Dates:
Pit and chop, cover with either the base liquid in your recipe or with water. Soak for at least 30 minutes and up to 8 hours. Add both the soaking liquid and dates to your recipe (to add sweetness and flavor) or drain the water and add only the dates.
Other dried fruits and vegetables:
With small fruits and vegetables like raisins, apricots, prunes, cherries, blueberries, goji berries, camu berries, mulberries, and sun-dried tomatoes, place the food in a glass or ceramic container and fill with either the base liquid in your recipe or just enough water to cover. Soak for 15 minutes to 1 hour, then drain.
For more recipes like this, check out The Blender Girl.
This post is presented by Ten Speed Press
Advertisement
This ad is displayed using third party content and we do not control its accessibility features.
Tess Masters
Australian-born, Tess Masters is a cook, writer, actor and voiceover artist. She shares her enthusiasm for plant-based foods at theblendergirl.com.
As a presenter and recipe developer, Tess collaborates with leading food, culinary, and lifestyle brands. She has been featured in the LA Times, Vegetarian Times, InStyle, Real Simple, Clean Eating, Chow.Com, Today.Com, and Glamour.Com among other publications and websites. Away from the blender, Tess enjoys a diverse performance career. She has toured internationally with stage productions, worked in film and television, and lent her voice to commercial campaigns, audiobooks, and popular videogame characters.
Tess and her partner Scott Brick live in Los Angeles with their West Highland White Terrier (and blender-cuisine maven), Cookie.