Nutrition Specialist & New York Times best seller
By JJ Virgin, CNS, BCHN
Nutrition Specialist & New York Times best seller
JJ Virgin is a certified nutrition specialist, board certified holistic nutritionist, certified exercise physiologist, and New York Times best-selling author.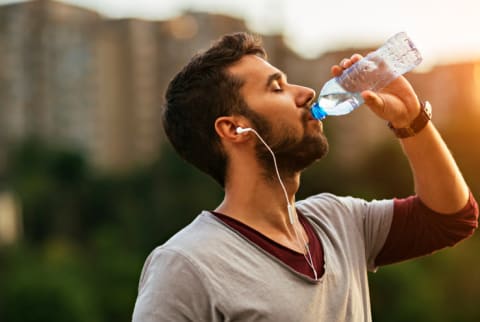 November 3, 2015
A healthy diet is the basis for a healthy lifestyle. Let's be clear: You cannot out-exercise, out-sleep, out-stress, or out-anything a crappy diet. If you're consuming a high-sugar diet, you can get fabulous sleep, exercise like crazy, and curb your stress levels to the moon, but you're still going to be very unhappy about your mood or energy levels.
But if you're being mindful about food intolerances, going low-sugar impact, implementing my three-bite rule, and otherwise eating intelligently, these seven strategies will complement those efforts and help you to stay lean and healthy, even when everyone else is going facedown in the eggnog cheesecake:
Advertisement
This ad is displayed using third party content and we do not control its accessibility features.
1. Get fabulous sleep.
Even one night of crappy sleep can create hormonal hell that plays out as hunger, cravings, and snapping at your co-workers for making an innocuous comment. Optimal sleep becomes especially crucial to reduce stress and stay on top of your game during the holidays. Party down early and flip off those sitcom reruns to meet your seven-to-nine-hour sleep quota.
2. De-stress.
While many of us go out of our way to take care of others all day, we won't take 30 minutes for deep breathing, meditation, yoga, or otherwise unwinding. Chronic stress does more than just make you miserable and cranky. It also revs up cortisol, which does a fabulous job storing fat and breaking down muscle. Treat stress management as a priority, add it to your iPhone reminders, and make relaxation as important a part of your day as clean eating and exercising.
3. Blast fat with the right kind of exercise.
Juggling shopping, preparing for your in-laws' arrival, and a multitude of other stresses that the holidays bring might mean exercise goes on the back burner. Don't let that happen. Hire a trainer and ask him or her to charge you double if you bail last minute. Otherwise, you might drive right past your gym for the shopping mall.
HIIT training, my favorite exercise, takes less time than finding a mall parking space on Black Friday! Oh, and don't make Thanksgiving or Christmas Day sedentary days. Get your whole family moving with a hike, touch football, or maybe Frisbee before or after the big meal.
4. Indulge in non-food rewards.
You've had a hard afternoon shopping, so you're tempted to treat yourself to one of those high-sugar-impact, 600-calorie hot chocolates. Holidays present all kinds of food temptations to appease stress. Make a mental shift to non-edible rewards. If you can't indulge in a massage, schedule a hot bath before bed. Find your brain's feel-good reward mechanisms and you won't be as tempted to devour hot chocolate and a coffee-shop stale pastry.
5. Drink up.
I'm talking about filtered water, not pinot noir! This will be easy when you carry a bottle and sip throughout your day. If filtered water isn't your thing, slice some fresh fruit and make spa water. If that leftover pumpkin cheesecake beckons come 11 p.m., have a glass of water instead. One study found just one 8-ounce glass of water before bed completely curbed cravings. Just watch it during meals, when too much liquid can dilute stomach enzymes that break down protein. Otherwise, drink up!
6. Avoid food pushers.
Think about the five people you spend the most time with. Guess what? You are a conglomerate of those people. So if your best girlfriend's idea of a night out involves a chain restaurant with high-sugar-impact entrées and oversize margaritas, chances are she'll expect you to partake. During the holidays, hang out with friends who prefer manicures instead of manicotti Neapolitan.
7. Have a serious bathroom talk.
Lean on your friends, but never underestimate your own ability to attain your goals. When you're confronted with a tough food choice, proceed to the bathroom or nearest private space immediately. You're going to need to have a talk with yourself in the mirror: Are you going to let a wimpy pastry be your undoing? No. Talk yourself out of this measly temptation. It is not bigger than your willpower.
What strategy would you add so all my readers have a steady arsenal of tactics to avert temptation during the holidays? Share yours below!
Advertisement
This ad is displayed using third party content and we do not control its accessibility features.

JJ Virgin, CNS, BCHN
JJ Virgin, CNS, BCHN, is a celebrity nutrition and fitness expert who helps clients lose weight fast by breaking free from food intolerance. A certified nutrition specialist, board certified Holistic Nutritionist, and Certified Exercise Physiologist, she is the author of the New York Times best-sellers The Virgin Diet: Drop 7 Foods, Lose 7 Pounds, Just 7 Days and The Virgin Diet Cookbook: 150 Easy and Delicious Recipes to Lose Weight and Feel Better Fast.
Read More