6 Questions Every Introvert Should Ask Themselves During The Job Hunt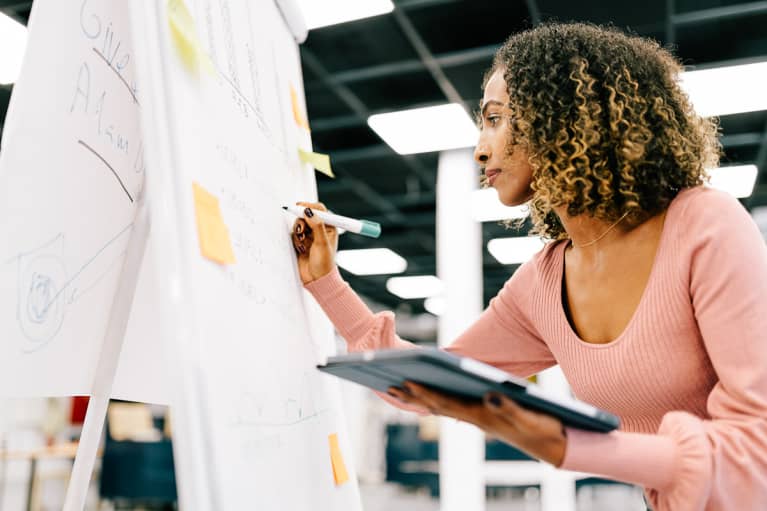 Having a more introverted personality can create challenges during the job hunt. However, an introvert's natural tendency to look inward can actually be a gift when it comes to finding a new job or career that allows them to best express their interests, values, and skills. Here are a few prompts that can help introverts hone in on the perfect work opportunity for them. Cozy up, grab a pen, and start to consider these six questions:
The ability to clearly articulate who you are and the scope of your experience is essential when contemplating a new position or looking ahead to a future career. Most introverts know deep down what makes them special but have difficulty finding the right words to express their uniqueness. To begin, focus on your positive personal attributes.
2.
What captures your curiosity?
You will most likely feel energized when your work mirrors your own deep interests. Below are some sub-questions designed to connect you with your personal interests and aspirations.
What types of activities and hobbies do I enjoy?
What are my natural talents?
What types of activities did I enjoy as a child or adolescent?
What principles, causes, or issues are important to me?
What would I do if I had all the money in the world?
What training or class would I like to take if I had more time?
What dreams have I postponed?
3.
What are your "stellar moments"?
Shining a bright light on your achievements is one of the most positive ways to show off your most meaningful successes. Use your reflective nature to list a variety of achievements you feel deserve respect. They might be personal accomplishments like learning to fix a flat tire, running a 5K, cooking a gourmet meal, or organizing a family event; or they might be career-related, like writing a proposal, training staff, introducing a new program, or creating a database.
Whether simple or complex, achievements instill a sense of pride and boost confidence while offering important clues into your interests, skills, and values.
A big question, I know! But as you look for new job opportunities, do your best to find positions that support your most important values. When you find your work rewarding, your career values align with your daily tasks and work environment. For example, if you are a person who values creativity, you will likely enjoy working in a creative field like advertising or graphic design. Similarly, if "social concerns" is high on your list, you would probably be happiest in a mission-driven organization.
To pinpoint your career values, ask yourself these sub-questions:
Do you find working with others more appealing than working alone?
Do you prefer structured responsibilities, or would you rather have some room for creativity?
Would you rather work in an environment that assists people or one that improves the effectiveness of systems or procedures?
5.
What skills do you have?
It's only natural for potential employers to want to learn what skills you bring to the job, from how you communicate with others to your knowledge of social media to your ability to manage projects. For most introverts, extracting skills from their experience is the easiest part of this self-assessment process because it doesn't feel particularly personal. So be sure to review your current or recent job responsibilities and make a list of your related skills.
6.
What color is your personality?
Personality plays a strong role in your ability to work with managers, colleagues, customers, and clients. As an introvert, you might freeze up when faced with questions that feel personal. But if you defer to the cautious and shy side of your personality, your strong points won't come through in full color. I suggest asking three people, such as a friend, colleague, and relative, to select six to eight adjectives they think best describe you. Their lists will provide insight into how others perceive you—they may observe strengths you don't realize you possess. Then, when it comes to describing yourself, you'll have several descriptive terms at your fingertips.
Going through a self-assessment process is like unwrapping a gift of self-awareness, one that offers perception into your strengths and the language to sell yourself to the professional world. Think of the resulting self-discovery as your compass: a tool for carefully navigating your career choices now and throughout the course of your professional life ahead.