5 Questions To Help You Declutter All. Those. Kids. Toys.
By Cary Fortin
mbg Contributor
Cary Fortin co-authored New Minimalism: Declutter and Design for Sustainable, Intentional Living, alongside Kyle Quilici. They also run San Francisco-based decluttering company New Minimalism.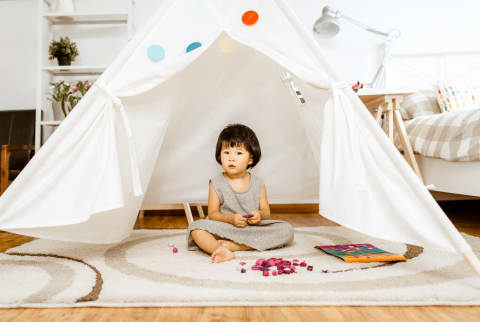 Image by MaaHoo Studio / Stocksy
July 20, 2019
Parenthood is wonderful and joyful and exhausting and hard.
As soon as you think you've got it figured out, something—your kid, your body, your schedule, your home, your child care—shifts. Parenthood for me has also been about embracing seemingly contradictory ideas, like: Clear rules and guidelines make for resilient parenting, and flexibility is key as our family continually evolves. Parenthood is a sea of grays: It's about making and then breaking rules as you and your child grow and change.
And yet, I've found that there is an enormous benefit to developing ground rules, even when you know they will be bent. So when it comes to my home's play space, rather than saying "we can only have so many toys" or "they can only be made by this brand," I've instead created questions I consider before purchasing a (new or used) toy or accepting a hand-me-down. Please take any that suit you, alter as needed, and add your own as you see fit!
1. Will it last?
This first question helps me weed out the majority of toys I'm not certain about. The big winners are well-made toys in natural and durable materials like wood, wool, silk, or food-safe silicone. These materials make for sturdier toys that are often much safer than flimsy, plastic, disposable ones. When your child can drop, step on, "accidentally" throw, and chew on toys without fear of breaking them or getting sick, it's a win.
2. Do we—the parents and caretakers—enjoy it?
This might be controversial to some parents, but I refuse to have toys that I don't like in my house! Our main play area for my child Lark is essentially half of our family room, so its contents are constantly on display. I believe that like adults, like children, enjoy looking at beautiful, charming toys.
For me personally, this rule eliminates:
Items that are ugly, garishly painted, excessively large, or just plain unattractive.
Battery-powered toys. This includes anything that lights up, moves, or makes noise on its own. It's nothing against the "beep beep" sound—I just want the director of the action to be my kiddos and not a battery. So things like maracas and xylophones are A-OK with me. Also, if my kids are like me, they'll quickly become overstimulated and overwhelmed by all the commotion, so I'm protecting the attention span of all family members with this rule.
Things that are overly or excessively gendered. This doesn't mean that pink is forbidden in our home but that all ranges of colors and interests are represented. This currently includes dinosaur puzzles and a purple dump truck, a blue baby doll and rainbow blocks, books and farm animal figurines.
Items that contribute to clutter or might be unsafe. Until my kids are able to clean up fully after themselves (and maybe not even then), we have nothing with teeny, tiny pieces, glitter, or poorly affixed accessories in our home.
3. Does it support open-ended play?
It's important to me that my kids can engage with their toys in a variety of ways—that they can assert their imagination and creativity. For example, consider two different baby dolls: one in a nightdress who has a smiling mouth shaped to accept a bottle and whose eyes close when lying down, another without a mouth or expression on their face dressed in plain clothes.
The first doll is easier to engage with right away, but it's hard to imagine a context where this same baby is sad, or is a father, or is eating a delicious meal because of how she is dressed and her expression. It has a predetermined type of play it fits into. The second doll is a blank slate onto which any story or role or emotion can be projected. In general, objects that aren't overly specific in role or intention free up the child to be more creative and imaginative. Other examples of open-ended objects include blocks and curved pieces of wood, fabric squares or scarves, molding clay, and dirt, sand, or just about anything else you can find outside.
4. Is it worth the trade-off?
One principle I come back to a lot in my work as a professional declutterer is that not having an item does not automatically represent an absence or a lack. It represents space—which, as a mom, I have a whole new appreciation for. I find that a few moments of downtime, an empty shelf, a cozy nook—these little things make my days sane.
Is this item more valuable that the empty space it will fill?
We don't often consider that the alternative of not having something isn't necessarily a glaring absence but is open space. Which to me is very valuable. So consider: Is this item more valuable that the empty space it will fill?
5. Does it align with our values?
This question requires a bit more digging and intentionality. What are the values that you believe in as a family? What are the values that you are hoping to pass on to your kids? In our family, I try to find toys that encourage cooperation, kindness, curiosity, and nonviolent play. In considering books for our little library, for example, I look for stories that share those aforementioned values and that highlight a wide range of people and experiences. (Some of my favorites are Little Feminist, All Are Welcome, Dreamers, Be Kind, and My Princess Boy, but I'm always looking for other suggestions!)
What to do with toys you're phasing out? Donate!
I'm not sure how this became such a popular myth, but kids toys can absolutely be donated. There are exceptions to the rule, of course: Broken toys and toys that cannot be cleaned (think a very well-loved stuffed animal) are generally not able to be passed on. That being said, wooden and plastic toys, dollhouses and baby dolls, cars, trucks, and art supplies are joyfully accepted by a number of organizations locally and nationwide, including Goodwill and Salvation Army; local child care facilities or schools; SAFE (stuffed animals for emergency); local churches, temples, mosques and associated charities; and local children's and family organizations and shelters.
These five questions give me enough structure to make good choices in the moment and simultaneously provide room to adjust based on feedback from my kids and my own evolution as a parent. I hope they do the same for you!